IN THIS ALERT
---
Army refuser Sara Beining arrested and jailed after going AWOL again
The Nuclear Resister, September 23, 2014.
Donate towards Sara Beining's legal expenses and prison fund*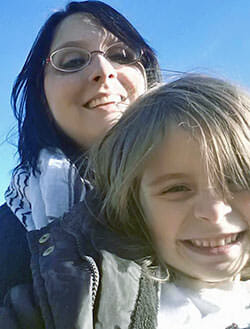 A single mother and Iraq war veteran is in jail in Colorado Springs. Sara Beining went AWOL a second time last summer after a nearly year-long delay in resolving the original charge that resulted when she left her unit at Ft. Hood in January, 2007.
During her past year at Fort Carson, Beining was assigned office duty and lived off-base, but was repeatedly threatened with pre-trial confinement and loss of custody of her child as a consequence of her anti-war activity.
Progress on her case was only stalled. As the summer wore on, and the U.S. resumed aerial bombardment of Iraq, Beining could no longer abide her service nor the delay. She decided to go AWOL again, to speak out publicly against the war, and force the government's hand in her case.
This past summer, watching the news from Iraq and seeing the effects of militarism across the globe coming home to roost in places like Ferguson, Missouri, Beining came to the conclusion, "I can't be a part of that. As sad as it is, the world's reinforcing my decision."..
*A Courage to Resist managed defense fund, all donations are tax-deductible
---
Confessions of a drone veteran: Why using them is more dangerous than the government is telling you
Salon.com. Tuesday, Sept 16th 2014.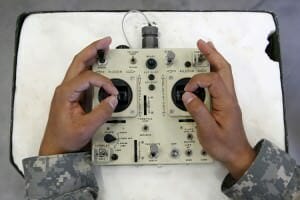 The White House sells drones strikes as legal, ethical and targeted to protect our military and innocent civilians from harm. These are questionable claims, made more dubious by the administration's selectively leaking details of the drone program to assuage the public when reports arise of flawed legal reasoning, mistaken strikes or vastly underestimated civilian deaths.
CIA director John O. Brennan also told the American public that drones "can be a wise choice because they dramatically reduce the danger to U.S. personnel, even eliminating the danger altogether." Director Brennan is wrong.
I know because I am a veteran of the drone program. I served as an Air Force imagery analyst. What I know of drone warfare is that it has dangerous, sometimes devastating, consequences for too many service members participating in the program...
Click here to read the complete op-ed
---
Jacob David George (1982-2014)
Courage to Resist. September 19, 2014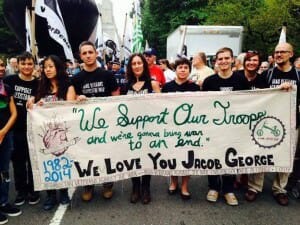 "I'm a bicycle ridin, banjo pickin, peace ramblin hillbilly from the Ouachita Mountains of Arkansas!"
Jacob was also a veteran of three combat tours in Afghanistan—Operation Enduring Freedom. To overcome those demons, Jacob cycled thousands of miles, "A Ride Till the End," he called it, to promote peace and justice.
He rallied fellow veterans to take political action. And he stood strong for military resisters–especially those who were prosecuted for refusing to do the things he himself had participated in. Read more here.