AS INDUSTRY RESPONDS TO DSM…
FRIDAY RELEASE FOR, ER, FRIDAY
A DAZZLING MOVE FOR HOLLAND…
…SPEED RUSHES INTO STORES
LIONSGATE HAS THE NEW BLACK…
CANNES REPORT FROM OUR MAN ON THE SPOT
NETWORK TAKES NO PRISONERS
QUOTE OF THE WEEK
---
---
If you can't read this newsletter or see the ads, pl
ease click
here
It Was A Good Week For... The Theory Of Everything, showing Universal's winning formula working again…
It Was A Bad Week For… Netflix's Ted Sarandos, booed as he appeared at Cannes…
Last week we discussed The Theory Of Everything and Universal's plans for the release and this week it looks as if the company has got the formula spot on – it's shifted more than 100,000 units in its first few days on sale according to the weekly bulletin from the Official Charts Company. Here's Martin Talbot on the week up to the end of play on Wednesday: "
The Theory of Everything looks set to be a new Number 1 on this Sunday's Official Video Chart. It has sold over 100,000 copies at this midweek stage (sales from Sun to Wed inclusive), placing the coming of age biopic well ahead of current chart-topper The Hobbit – Battle Of The Five Armies, which last week logged a third week at Number 1, claiming the title of the longest running Number 1 video of the year. The Theory Of Everything is on track to be Universal's fourth Number 1 title of the year, following Charlotte's 3 Minute Belly Blitz, Lucy and Dracula Untold."
After all the chest-bearing and wealth of PR that's followed in its wake, Poldark, released on Monday May 11 by ITV Studios Home Entertainment after the BBC series' transmission drew to a close, was always going to be strong performer and it's proved thus – according to the weekly Official Charts Company bulletin, it sat rather gorgeously positioned at number three in the midweek charts. Commenting on its success thus far, ITV's Claire Saper said: "We are delighted with the first week's performance of Poldark, the support from retail has been excellent. Poldark is a perfect example of the ongoing strength and appeal of great British TV drama. Beautifully written, acted and filmed with the wonderful Aidan Turner the perfect romantic hero."
A bit of politics now, as Ben Elton used to say, and the industry has given the thumbs up to new appointments within David Cameron's Conservative government. John Whittingdale being given the culture gig may worry some, but the video industry seems at ease with him, not least because of his experience in dealing with our sector. it's the same for business minister Sajid Javid. The importance of the people in power understanding our business was outlined by BVA lobbyist Lavinia Carey, who spoke about the recently published European strategy for the Digital Single Market (see previous newsletters). She said: "The strategy document demonstrates that we have already made an impact on the Commission's thinking as it focused on "unjustified" geoblocking and portability, giving consideration to the need for creative industries' finance models to make use of licensing to raise funds for production, particularly in our sector. Nevertheless, there's a huge amount to do to ensure the EC doesn't mess things up for us. The devil, as always, will be in the detail."
And so, it's the film everyone is talking about this week… Yes, Mad Max: Fury Road, the movie that has not only revived the action franchise but has been wowing critics everywhere (it boasts a hugely impressive Rotten Tomatoes score of 99 per cent) and has arrived in cinemas with a whole host of accolades ringing in its ears. We were lucky enough to see the film at a press screening on Wednesday night and, guess what? It's everything it's cracked up to be and more. And it is certain to be a home entertainment monster (we can't wait to see it on Blu-ray), just as Warner's impressive drafting activity for the film is working in stores right now too. Commenting on Fury Road, Warner md John Stanley said: "This year has now turned out to be much bigger for Mad Max than originally planned and we did originally plan it to be pretty big. With the Trilogy catalogue, the game and the Fury Road movie, we have a fantastic opportunity to chase some big business from now to year-end and beyond (the Thunder-dome)." Oh, and he added a final "sorry" for that Thunderdome gag too… To see a cracking example of Mad Max working in store, see our Twitter feed for how Xtravision and hmv Ireland approached it…
Still on the theatrical side and June 19 is shaping up to be a hugely busy day for Arrow Films, with a trio of big theatrical releases, ranging from romcom Accidental Love, starring Jake Gyllenhaal and Jessica Biel, through to The Burning, starring Gael Garcia Bernal and, in a fully restored print, The Long Good Friday. The latter is notable in that the release will give a renewed burst of life to the recently released Arrow Video SKU of the film, complete with the imprint's usual array of newly-created extras, as well as a new sleeve design. Commenting on the Long Good Friday, Arrow Video's Francesco Simeoni said: "The Long Good Friday has been a wonderful project for us, from being able to right back to the camera negative for a stunning new restoration to lavishing it with attention in packaging and other bonus features. That people are calling it our best restoration and one of the best on the market is having a great impact on sales and with renewed interest from a theatrical launch and partnerships with Titan Publishing and the BFI for a limited edition set that includes a hardback book featuring re-prints from the HandMade book and Mackenzie's Apaches alongside other limited extras it has become one of our major releases for the year."
Good to see our old pal Paul Holland making a return to the industry after some nine months away from the business. The former RLJ Entertainment md, whose CV includes stints at ITV, BBC and EMI, is joining Dazzler Media, the independent set up by another industry veteran, Graham Davidson. Holland joins the former Elevation chief as commercial director at the growing company and will be working across all aspects of the business to increase both DVD and digital revenues. Holland said: "
Graham and I have known each other for a long time and whilst at RLJ, I had been an admirer of Graham's entrepreneurial skills and seen many similarities in what Graham was seeking to build at Dazzler as we had in the early days of Acorn. After taking a planned and very enjoyable break to travel and re-energise, the time was right to find the next opportunity and Graham's plans for Dazzler fitted very nicely into the type of business I wanted to work in. I am really excited and looking forward to being at the heart of the future success at Dazzler." Davidson added: "I'm delighted that Paul has agreed to join Dazzler in the pivotal role of Commercial Director. Paul's experience in the entertainment industry is vast and he's the ideal person to come onboard and help drive Dazzler's continued growth. It's great to finally be working directly with Paul and I'm thrilled to have someone of his calibre on the team."
One of the first titles Holland will be working on is Complete Speed With Guy Martin, due for release on June 1 and shaping up to be something of a biggie for the independent. Martin is the motorcycle whizz who shot to prominence in documentary Road and his success with the Complete Speed series has led to him being tipped as a possible Top Gear presenter. That increased profile and publicity can only aid the release, which is also timed to coincide with Fathers Day and the 2015 Isle of Man TT. Dazzler's Holland said: "Guy's book was a top 10 best seller last Q4 and with 750,000 plus Facebook fans we know they is a very significant potential audience to make this a massive seller for Dazzler."
---
---
And mention of RLJ Entertainment brings us on neatly to the company and the eagerly awaited Jonathan Strange And Mr Norrell. The heavily-trailed and promoted series kicks off on BBC on Sunday night (May 17) and from where we're sitting (on our sofa, natch), it looks set to be one of 2015's finest homegrown drama series. RLJ's Acorn imprint will be releasing the title on DVD and Blu-ray on June 29. The company's Helen Squire said: "
Jonathan Strange & Mr Norrell is one of the best pieces of television I've seen and has all the hallmarks of being a must own drama. We are bringing this title out to own on DVD and Blu-ray the day after the last episode is broadcast in magical shimmering silverboard packaging and we're currently finalising an exciting through the line marketing campaign which will include several firsts for the Acorn label."
Sticking with
RLJ and another of its imprint, the film specialist Image Entertainment, sent us a cracking package this week to mark the impending release of its Zombieworld film. The company is promoting the tongue in cheek DTV horror by sending out zombie packs to key journalists (and us at The Raygun too) featuring all manner of undead-related ephemera, including a toy fish (you'll have to see the film to understand it) as well as – crucial this – zombie-themed sweets. It's a smart wheeze to promote the film, of which RLJ's Helen Squire said: "
What can I say about Zombieworld? Silly, scary, bloody and entertaining it's a zombiefest with probably the highest and goriest body count of its genre. Big thanks to Debbie at Aim Publicity for her hard work sourcing suitably horrific and bizarre items for our Zombieworld Survival packs which I hope capture the fun and originality of the film and will entertain reviewers and buyers across the country."
For pictures of this lovely set, see The Raygun's Twitter feed.
It's been a big week in the world of TV-related materials, with the BAFTAs, held on Sunday May 10, providing a fillip to the market. Among the BBC's big winners were Happy Valley and W1A, both of which have enjoyed a post-BAFTA spike in sales and pre-orders. The latter is due on Monday May 18, complete with plenty of PR behind it, with the likes of Hugh Skinner (Will, the intern) and Jessica Stevenson appearing to promote the release, with Hugh Bonneville himself also getting behind it. BBC Worldwide's Benvon Crumpler said: "Happy Valley DVD sales have doubled since the BAFTA win. We'll release the Blu-ray version of Series 1 on August 31. Meanwhile W1A pre-orders on Amazon have enjoyed an uplift of 170 per cent since the BAFTA win (week to date Vs prior week). The DVD has a great Extra with The Real W1A documentary.
We have s
igned sleeves from Hugh Bonneville, which will be distributed for competitions with retailers and media." The following week is a huge one for BBC Worldwide too – expect to see loads of dad-friendly titles arrive on May 25, including new Top Gear, the excellent Shark, Critical and Atlantis.
---
---
More TV now and it's good to see Channel 4's transmission of No Offence, the latest series from Paul Abbott, the creator of Shameless, continuing to build on its strong start in its second week on air, despite going up against the twin competition of both Champions League football and the launch of the latest series of Big Brother. The series launch has won over audiences and critics, with its 1.6 million viewing figures for the second episode approving outdoing the normal share of audience for the channel in its time slot. The black comedy drama series is due to arrive on DVD on August 10 from Fremantle and is part of an increased focus on TV programming from the media giant which will be making its way to DVD and other formats in the coming months. Commenting on the series, Fremantle's Pete Kalhan said: "The DVD and Digital release of No Offence is shaping up to be one of our biggest releases this year. Superbly acted, packed with clever one liners and brilliantly scripted we are very excited about this dark, but also funny series…"
Still on the TV front and another huge property is Orange Is The New Black and with the third series of the women's prison drama due to air on Netflix in June, it's ideal timing for Lionsgate to launch the second season on DVD, Blu-ray and digital formats – it arrives on May 18. Commenting on the release, Lionsgate's Dan Gilson said: "Orange Is The New Black was the second biggest new US TV series to debut on DVD last year, and Season 2 is looking set up to continue that success. Pre-orders have been very strong, and our engaging press and online creative should really reach out to the show's established fanbase. Furthermore, the forthcoming premiere of Season 3 on Netflix in June will really help drive sales in the new release period."
Films now and a few more big releases on the way: Monday May 18 sees the release of Foxcatcher, the award-winning drama boasting an all-star cast from eOne. Commenting on its impending release, eOne's Tim Westbey said: "
Publicity coverage has been excellent with many 5 star reviews, and support from Mark Schultz himself – including a page interview in Shortlist. With critical acclaim, outstanding performances from its all-star cast and TV spots heightening the action-thriller feel, Foxcatcher is well placed to deliver a strong result."
Also on the film front, and now boasting sales of more than 200,000 across two titles already released, is Metrodome's ongoing saga of Essex Boys-related films, with the first two, The Fall Of The Essex Boys and Essex Boys Retribution set to be followed by the third in a planned trilogy, entitled Essex Boys Law Of Survival. It's due in September and is introduced by Carlton Leach, he of Rise Of The Footsoldier fame, who gives it an added air of authenticity. Commenting on its arrival, Metrodome's Jezz Vernon said: "The Rettendon Range Rover murders have taken on a near mythic status in the last two decades. We're delighted to close the chapter of our hugely successful trilogy with a unique story and delighted that Carlton is working with us, he brings an incredible level of insider knowledge into that world."
---
---
And so, the astute among you will have noticed that a few of your emails to particularly acquisitions people are coming back with slightly showy-offy bouncebacks informing you that the intended recipient is down in Cannes for the film festival. We're taking a break after spending one of our days there last year still stuck on the runway at Luton, so it's down to our old pal Rod Smith, buyer turned acquisitions director turned film producer (at hmv, Anchor Bay and now his own Evolution Pictures) for his view of the festival. He said: "Cannes, a week of trawling around the Palais des Festivals, running up and down the Croisette and spending hours in darkened cinema screens except for the first time ever none of this applies for me as I've crossed the shop floor and am attending as a seller for Evolution Pictures representing my initial slate of seven films. I have a new found respect for the sellers, the work and preparation that goes in to a market is intensive, from pulling together price lists, creating marketing assets, arranging screening links, contacting literally hundreds of international buyers arranging meetings, setting up your market office then waiting, waiting for your appointments to arrive, listening to their view on their local markets, pitching your slate and trying to close deals. It's a mentally exhausting process, its also very exhilarating when you do close a deal and a whole new discipline to learn. So far the reaction to the films has been really positive, I have four completed films, one in post production, one in production and one in pre-production as well as couple in development so have plenty to talk about plus the support and well wishes from friends and colleagues within the industry has been very encouraging and gratefully received. My experience has been an eye opener, a learning curve and a real buzz, I look forward to more markets, meeting new buyers, building new relationships, learning new skills and most importantly selling films."

Anyone noticed how youtube seems to be filling up with illegal content again? Every time we click through to trailers we're offered a bewildering array of snide uploads of films for free. Avoiding getting caught out quickly by putting things such as Action Movie instead of the proper title, they seem to be all over the place at the minute. We contacted FACT for some advice and the anti-piracy organisation's views on this, an official spokesperson said: "
YouTube provide tools to copyright owners which allow them to detect and remove infringing content directly themselves, so we would only monitor or take action in relation to content appearing on YouTube at the specific request of a member.
Not using the actual film name in the title or other methods such as changing the length of the film, for example, does appear to be one way for unloaders to attempt to evade YouTube's content protection systems." Our advice to distributors, have a look under searches such as Action Movies and get on to FACT and YouTube straight away…
And we'll end with a bit of vinyl news – regular readers and pals will know of our affection for this format above and beyond almost all else, so it's with great joy that we can point you in the general direction of a brace of releases from Network, with the independent moving into this area again. Both are soundtracks to classic TV series in keeping with the label's modus operandi. The Prisoner and Gideon's Way have been lovingly pressed on to vinyl by the company, the former in two different editions, the latter, meanwhile, was thought long lost until recently unearthed. Commenting on the release, Network's Tim Beddows said: "I'm delighted we're adding some more fantastic vinyls to our existing collection. This is the first time the Gideon's Way soundtrack has been released on any format, and the two versions of The Prisoner vinyl include music suites which weren't available previously. The control we had over the source material and, indeed, the final output, makes this new vinyl release the ultimate if you are a fan of the music element of the series, which we all are."
---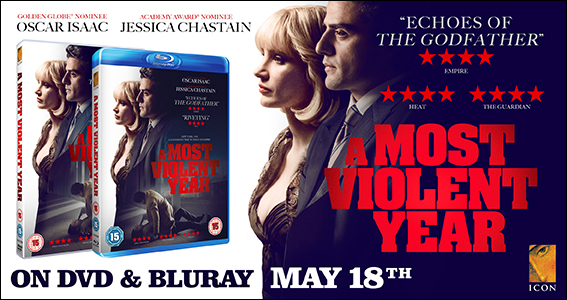 ---
QUOTE OF THE WEEK
"You can say this windows system will last forever but I don't believe that's true…"
Netflix's Ted Sarandos, who gave a lengthy Q&A – and was, according to some reports, booed by delegates – at Cannes. More on this next week…
AT THE MOVIES
An impressive opening from Spooks: The Greater Good, which took more than £1 million in its opening frame but failed to topple The Avengers Age Of Ultron from the top slot, the latest Marvel dil has now taken more than £40 million. Other new entries in the top 10 were The Age Of Adaline (£570,386) and Big Game (£535,905).
For the older ones among us, The Craft still seems like a relatively new film, arriving at the dawn of the DVD era. But not so to many others – the film, it's emerged this week, is the latest to be up for a remake, with Sony again backing it. The new take on the not even 20 years old flick will be helmed by Leigh Janiak…

Latest name to be closely linked to the next take on Spider-Man, meanwhile, is Asa Butterfield, most famous for his role in Ender's Game. He joins the seemingly endless list of fresh-faced youths being courted to play Peter Parker and his web-slinging alter-ego ahead of its next reboot…
And this week's eagerly awaited sequel news? Kevin Smith has announced that his taken a while to come along sequel to Mallrats will be entitled Mallbrats. Did you see what he did there?
TWEET OF THE WEEK
Follow us on www.twitter.com/theraygun for stuff we've been sent, pictures, gossip, potentially libellous material and more. Ten times more followers than your average trade magazine…
TRAILERS OF THE WEEK
Del Toro, horror, what more do you need to know?

More Beach Boys mayhem, Dr Landy is spot on…
The film Limitless, now a TV show…
More Minions, this is great…
To subscribe to The Raygun newsletter, please email info@theraygun.co.uk
with subscribe in the subject matter
To unsubscribe, email info@theraygun.co.uk with unsubscribe in the subject
For editorial or advertising queries, contact tim@theraygun.co.uk