---
mail@anotherfilm.org
ANOTHERFILM ANOTHERNEWS
Non-regular newsletter: ANOTHERFILM
August 2015

What's on Where

by Whom

with Whom


TURN project photo: Verona van de Leur, photo credits: Robbie Rader
TURN a filmproject by Bea de Visser, produced by KeyDocs at HFM Co-Pro Selection 2015
A disturbing black-humorous quest for the undercurrent of boundless ambition in the life of turn legend, webcam girl Verona van de Leur and her astonishing comeback.
The HFM Co-Pro will run 24-27 September.
During the Platform´s 17th edition, 20 entertaining and thought-provoking Dutch and international film projects in development from 13 different nationalities will be presented to a wide group of international cinema's most important and influential financiers, distributors, sales agents and co-producers.
---
filmstill BLOWUP, Bea de Visser

BLOWUP at the International Festival of New Film Split, Croatia
12th – 19th September 2015
4 Girls and 4 pieces of chewing gum together make a world of difference in terms of seduction, dirtiness, emotion, sensitivity, sweetness, playfulness, innocence, color, smell and bewilderment.
BLOWUP [BUBBLS] by Bea de Visser, Cineboard/ One-Channel, 23" loop
The one-channel projection will be presented 24/24 hours on the wall of the Diocletian Palace
photo credits Nicoline van Harskamp
A Romance in Five Acts and Twenty-one Englishes by Nicoline van Harskamp

2014/2015
live translations, exhibition, publication and theatre play
This work was created in a process involving live translation, publishing and theatrical staging. At its basis is "Pygmalion – a romance in five acts", a play from 1912 by Bernard Shaw. It tells of the power relations between language, class, and gender: working class girl Liza Doolittle is attracted by the notion that Professor Higgins can raise her social standing by teaching her to speak English like a lady. But entering into a contract with him, she comes under his manipulative powers – not only her diction, but her identity is remoulded against her wishes.
---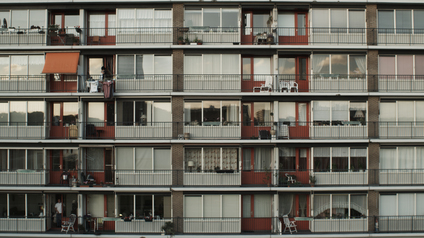 filmstill MOTOR, Simone Bennett

MOTOR by Simone Bennett at the I

nternational Kansk Video Festival (Russia/Siberia)
A program curated by Pim Zwier with work from i.e. Jeronme Schlomoff, Martijn Veldhoen and Pim Zwier
Motor
[excerpt] A short film about how fear and paranoia spreads like a virus.
---
image filmstill CHAIRS MISSING, Bea de Visser

Chairs Missing by Bea de Visser at VidéOGraphies
A project by Vidéographe, Montréal – Québec
curated by Sonja Zlatanova
From 8 June to 15 July 2015
only on VisualcontainerTV Videoart webchannel
The video selection " VidéOGraphies " oscillate between documentary and fiction , the fiction and testing plastic , video art and art films , cinema and contemporary art . They occupy a territory entirely investigated by authors who work in galleries , museums and festivals and investigating this porosity between contemporary art and cinema.
Chairs Missing
[excerpt] A post-narrative, staged documentary image of an almost deserted pool, a day before the demolition.
---
recommended to watch
Mama Superfreak
[excerpt] adapted for screen and directed by Bea de Visser.
In one long shot this adaptation of La Mamma Fricchettona, a monologue by Nobel Prize winner Dario Fo, shows Viviane De Muynck in a humorous elucidation of a woman' s odyssey from doting motherhood to a state of independence whilst addressing an invisible and anonymous man
---
Thanks for your interest,
Anotherfilm
---
Anotherfilm looks forward to film projects thought of beyond the horizon of film, visual arts, design, literature, sound and performance.