2019 NSW State Election
Saturday, 23 March 2019
8:00 AM - 6:00 PM

Election of the 57th Parliament of New South Wales, including all 93 seats in the New South Wales Legislative Assembly and 21 of the 42 seats in the New South Wales Legislative Council.

Voting Centres in the Pittwater Region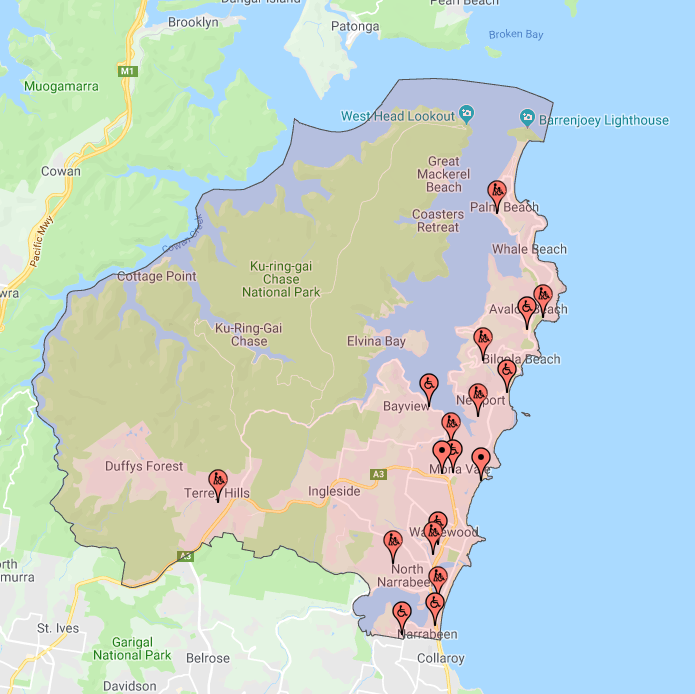 ---
Scotland Island Rural Fire Brigade Win Inaugural Merv Collins Trophy:
2019 Combined District Fire Boat Exercise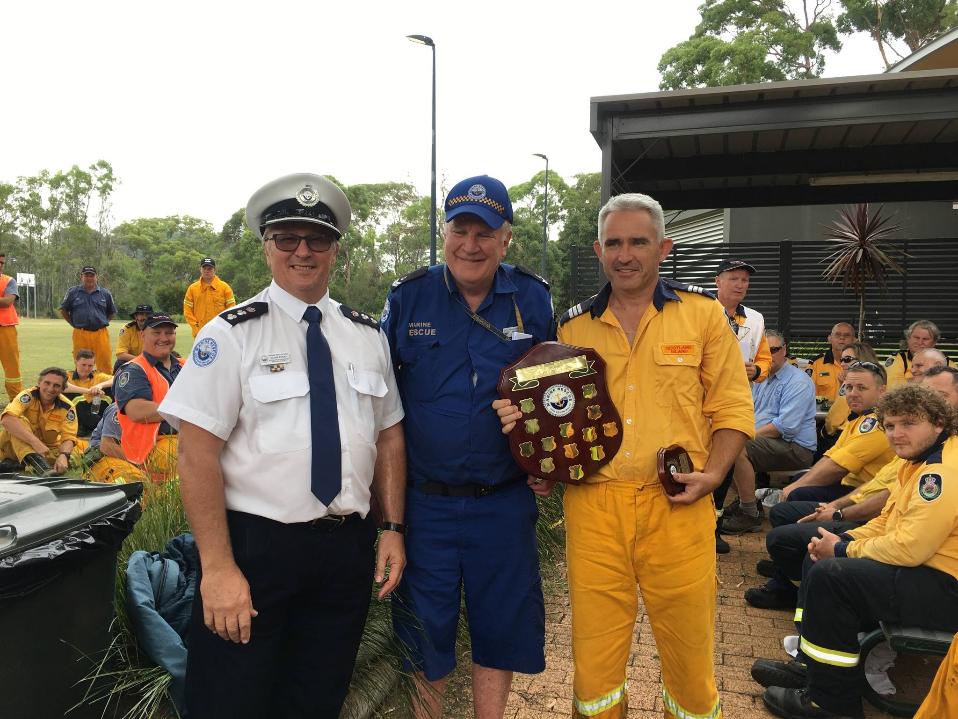 MRNSW Greater Sydney Regional Operations Manager Glenn Evans, MR Hawkesbury member Ken Bate presenting the Merv Collins memorial trophy to the Scotland Island brigade's 

Peter Lalor, Captain of Scotland Island RFB.

Saturday March 9th, 2019 

The Scotland Island brigade competed in the annual RFS Combined Districts Fire Boat Competition held at Milsons Island on the Hawkesbury River today and won the inaugural Merv Collins Trophy. The trophy is named after the late Marine Rescue Hawkesbury Unit Commander and 24-year service veteran, who passed away in 2017.

MRNSW Greater Sydney Regional Operations Manager Glenn Evans and MR Hawkesbury member Ken Bate presented the Merv Collins memorial trophy to the Scotland Island brigade's Peter Lalor, Captain of Scotland Island RFB.

The competition required teams to complete 5 scenarios: controlling a marina fire, rescuing a sinking vessel, controlling a ferry fire, controlling an LPG fire and searching for and rescuing people missing in the water.

SIRFB took the opportunity to practice using another boat - thanks to West Pittwater RFB. Ten RFS boats, four MRNSW vessels and more than 200 personnel took part in the event. Crews from Marine Rescue Hawkesbury, Broken Bay and Cottage Point joined their volunteer colleagues from the NSW Rural Fire Service for the training exercise today.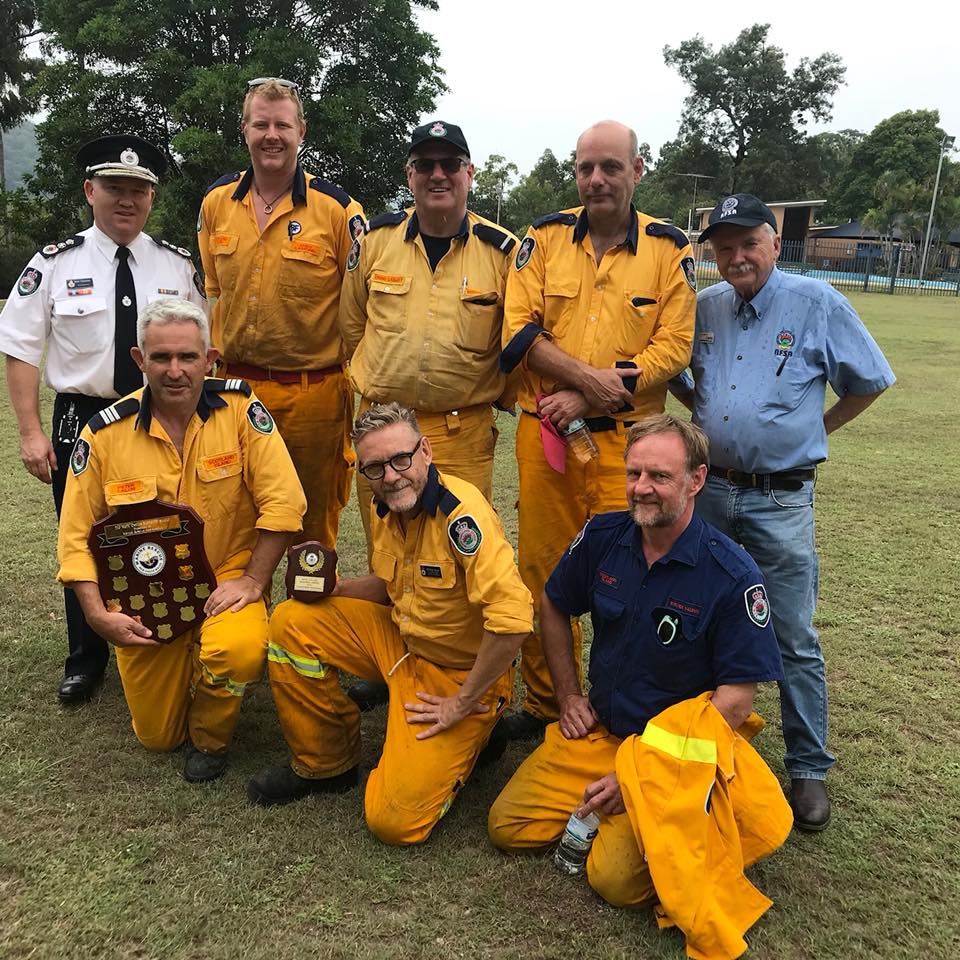 Commissioner Shane Fitzsimmons with SIRFB Members and RFSA President Ken Middleton.
Complete Article can be viewed at
HERE - Pittwater Online News
With thanks to Pittwater Online News
March 10 - 16, 2019: Issue 396
---
Kindy News
The SIOCS Kindy has 2 new programs starting, we are now opening our doors for playgroup on Monday mornings, and our School Holiday Program.

---
Scotland Island Players is asking for expressions of interest in a
Story Telling Night
Once upon a time, there were two people talking.
Larry said, "How about a story telling night?"
Petra said, "What a great idea! Are you going to organise it?"
And Larry said, "Not on your life!  You can!"
So Petra said, "Lazy b*st*rd.  OK, I'll do it."

Target date – 6 April 2019
Expressions of interest to me (contact details below)
Stories no more than 5 minutes.
Any story is welcome – ghost story, short story, shaggy dog story, morality tale, tall tale, mouse tail.  Just no boring ones
If you want to participate, please let me know
There will be no rehearsal
There will also be opportunities for people to volunteer on the night itself, but only if there is space
Audience – you will be invited when we know if anyone will be there to perform.

Thanks!
Petra Godfrey
0404 867 768
petra@petragee.com



---
Scotland Island Garden Organics - Roadside Collection
from 25 March
---
Lovett Bay Fire Shed Dinner Trivia Night
Saturday March 30, 6pm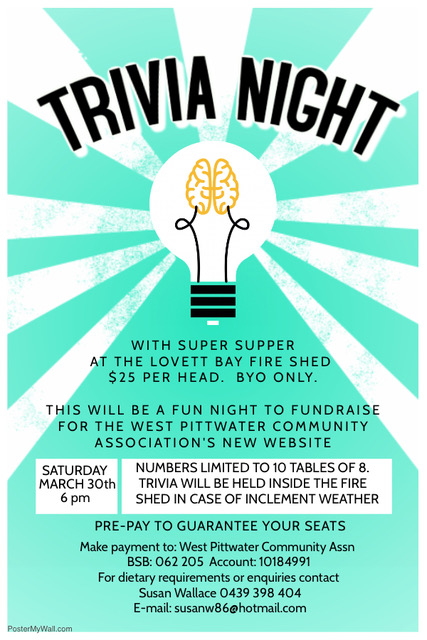 ---
House for Rent in Frog Hollow, Lovett Bay
Three bedroom, three bathroom house for rent in Frog Hollow, Lovett Bay from the beginning of, tentatively June to the end of November or possibly 12 months.
 
The bedroom below the house is self contained with a cooking area, sink and fridge.
The deep water jetty is short and and there are many entertainment areas.

For expressions of interest please contact Andrew on 0417 249 405 or email andrew@amadesign.com.au



---
Wanted - Whitegoods
I'm looking to buy a second hand washing machine, dryer and fridge in good working order.
Preferably ones that are already on the island and needing a new home.

If you have any please let me know ASAP

Sophie on 0432611976
or email sophie_hay@hotmail.com



---
House for Rent
Eastern Side of Scotland Island
above Eastern Steps – dual street  frontage – Florence Terrace and Thompson St.

1 year lease from 1 May 2019
Fully  furnished.
3 bedroom plus attic and study/office-, open plan layout, 1 bathroom.
Wood Fired Stove.
Timber floors throughout 
New decks.
Comes with use of berth on Eastern and use of Golf Buggy.
House is on rain water...electric hot water.
Gutters have guards.

$575 per month excl electricity and water.

Owner going cruising.
Call Mark on 0415 163151



---
House to Rent for 4 months
Available for four months (May, June, July, August)

2-bedroom waterfront home, fully furnished. 

Please call Carolyn 0411221051




---
---
---
A complete set of past electronic newsletters since May 2000 can be found and read at https://ymlp.com/archive_gesgjgm.php  or by clicking here or by visiting the Mona Vale Library.

The Island website is at www.scotlandisland.org.au



---
To Contribute
If you would like to contribute to this newsletter it's easy!. Send an e-mail to the editor (editor@scotlandisland.org.au) or by clicking here. Type your contribution (100 words or so would be fine) and assuming it is of general interest to the community, does not include matter of a political nature and is not offensive, it will appear next month.
Subscription Information
To get on and off this newsletter,

click here

or got to:

http://www.scotlandisland.org.au/signup .


To change your address, click the 'modify' link at the bottom of this newsletter or send an email to the

editor@scotlandisland.org.au


---
Follow the PON
---
The Online Local Contacts Guide
Click HERE to load
---
T

he

Editor

and the publisher disclaim responsibility for any injury to persons or property resulting from any ideas, articles or products referred to in this publication. Further, t
he views expressed in this newsletter are not necessarily the views of the Scotland Island Residents Association (SIRA), or the Western Pittwater Community Association (WPCA)
---