Mundelein Community Connection (MCC) is a not for profit organization dedicated to the economic development, historic preservation and healthy community spirit of Mundelein's central business district. Working together we provide an atmosphere where new and established businesses can grow and where families find the hometown they always wanted.
A Message from the Executive Director
MCC, Mundelein Community Connection, was incorporated in July 1993 as Mundelein Pride.  Thirty years, and a couple of name-changes later, we are still going strong. Perhaps stronger than ever! Unfortunately, we still struggle with name-recognition and brand identity. We are working to change that.

MCC is a not-for-profit community service organization focused on enhancing the economic vitality of our central business district. We believe that by working together we can create a downtown where businesses and families can grow, and thrive in a hometown they are proud of. MCC is a grass-roots organization, run by a volunteer Board of Directors and assisted by
hundreds of volunteers every year.

In spite of our successful events and community participation over three decades, many people are unsure of what we do, and frequently confuse us with the Mundelein Park District or the Village of Mundelein. This is understandable because we work closely with both entities; but, MCC is an independent, self-governed, organization. We rely on our partnerships with the
Village and the Park District, but we also partner with local businesses, the GLMV Chamber, and other non-profits.
Sponsorships and memberships are very important as well.
For more information on becoming an MCC member, or sponsoring an MCC event please contact me.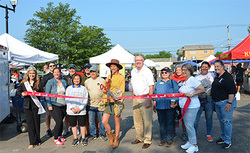 Farmers Market - If you haven't heard, the Mundelein Farmer's Market is now on Saturdays from 8 am to noon and it is a colossal success.  Each week, Market Manager, Becca Merkau, assembles over 30 vendors featuring a wide selection of fresh foods and vegetables, arts and crafts, prepared foods, and special events.  Attendance and excitement way up.  There is plenty of parking.  Please check it out. 
The market runs every Saturday through September.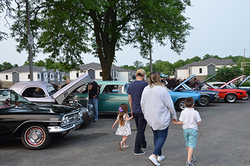 Park-on-Park - The next Classic Car nights are August 9th and September 14th on Seymour and Park Streets in downtown.  The July show was canceled due to bad weather, but May and June were great.  August and September are typically our biggest events, with up to 500 cars on display if the weather is right.  Stroll through the grounds, have a bit to eat at one of the participating food-vendors or any of the downtown restaurants or a libation at a local tavern.  Music at the August event will be provided by Taylor and Strat, Old #1 will be on hand, and WLS FM will be on site for a remote radio broadcast.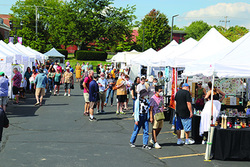 Mundelein Fine Arts Festival - The 12th Mundelein Arts Festival, a juried art festival showcasing 45 fine artists, will be held on September 9th and 10th from 10 am to 5 pm daily in Kracklauer Park (100 N. Seymour Ave.).  In addition to professional artists, Mundelein Fine Arts Festival will also highlight artwork by select students from Carmel Catholic and Mundelein High Schools plus food and music.
A committee of well-known judges will award cash prizes for Best of Show and Best in Category (six categories). The Kirk Players will award a $500 Emerging Artist Award. There are also Purchase Awards including the Village of Mundelein's Annual Purchase Award. In addition, Mundelein High School and Carmel Catholic High School will receive scholarship money to award to students.
Downtown Art Projects Now Underway

Wall Mural - The latest downtown mural project is a joint venture between local business owners, Mike Majestic of Luke's Restaurant, and Remax realtors Kevin and Janine Walsh.  Five Lake County artists from the Dandelion Gallery & Studio - Jesus Ortega, Shawn Killackey, Deanna Guidry Cruz, Sandie Bacon, and Rej Ray Works - are working on the 20' x 40' painting on the side of the commercial building just south of Luke's (551 N. Lake St.).  Check out their progress.  A ribbon-cutting ceremony is planned for later this summer.
Pollinator Garden - A pollinator garden is currently being installed on Crystal Street, just east of Seymour Street.  A walking path and pollinator-friendly plants are being placed on the south side of the street through the sculpture garden that currently contains the sculpture, Earth Flight, commissioned by the Arts Commission.  This is Village of Mundelein project with support from the Arts Commission and Beautification Committee, and funded, in part, by a grant from America in Bloom, a national community-advisory organization. 
Skate Park Mural - The Mundelein Arts Commission in cooperation with the Mundelein Park District is sponsoring a mural to be painted on the cement wall surrounding the Skateboard Park at 601 Noel Drive.  Artist selection is underway.  Completion is anticipated this Fall.
In Memory of Oscar Demski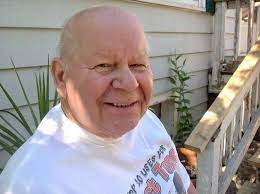 In 1993 the first Volunteer of the Year award for Mundelein Pride, as MCC was then known, was awarded to Oscar Demski.  Oscar loved helping others and spent a lifetime supporting family, friends, neighbors and strangers. Oscar was honored that year because he had an idea to bring "Santa's Cottage" to downtown Mundelein and worked diligently to make it happen.
Oscar created the plans, solicited donations, enlisted volunteers and helped to build the cottage. It is his legacy to Mundelein, still displayed every year, welcoming its children.  Oscar lived in town for many years.  MCC is grateful for his lasting contribution to our town. 
Oscar passed on July 15th, but his memory lives on.
MCC cannot succeed without support from the following businesses: 
Farmers Market: Allstate Calderwood Agency; Crack Master Chicago, Inc.; Cutler Workwear; Dunkin Donuts Mundelein; GLMV Chamber of Commerce; Holly Kim; Just Bee You; Kristan Funeral Home; Luke's of Mundelein; MGN Lock; Mouse In The House; Mundelein Automotive; Mundelein Community Bank; Mundelein LGBT Alliance and Allies; Park Street Restaurant; Sam's Club Vernon Hills; Service Construction of Illinois, Inc.; Signs Now; University of St. Mary of the Lakes; TieMart; Tina G's; Youth Age Culinary
Park-on-Park:  Ace Hardware; Allanson Auto Body; All State Calderwood Agency; Auto Land Group Inc.; Barrington Construction Services; Berry Tire & Auto; Braun Masonry Inc.; Chicago Picture Cars; Edward Jones – Jim Glenn; Flatout Products; Glenn and Sons Automotive; Golz Motors; Gustafson Body Shop; H.P. Performance; Hagerty Insurance – Jim Kelly Agency; Interstate All Battery Center; Luke's of Mundelein; Mid-West Tree Service Inc.; Integrity Group; Mundelein Automotive Inc.; Mundelein Community Bank; NAC Supply Inc.; North End Garage; North Shore Classics; Prime Beef Ltd.; Sudden Impact Collision Center; The Carpet Corner; Van Dorf and Freund; Volo Museum
Mundelein Craft Beer Festival: Oak Trails Tap House and Liquor Store; Gold Eagle Wine and Spirits; Rustic Tattoo; Mundelein Community Bank; Rise Mundelein; Tres Real Estate Services; Bike Attic; Allstate Calderwood Agency; Tighthead Brewery.
Fine Arts Festival:  Mundelein Community Bank; Gerry Brin, Service Construction of Illinois, Inc.; Allstate Calderwood Agency; Mundelein LGBT Alliance and Allies; Mundelein Automotive Inc
; Tonality Brewing Co.; The UPS Store Libertyville; the GLMV Chamber of Commerce;
McDonald's.
Summer Shakespeare Shorts: Sounds and Sweet Aires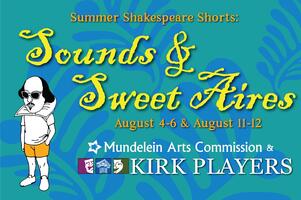 August 4th-6th and 11th – 12th
The Mundelein Arts Commission (MAC) and the Kirk Players will present Sounds and Sweet Aires, a Summer Shakespeare Shorts, a lively, comical, and romantic patchwork of the bard's greatest works, sweetly seasoned with live madrigal music, at the Kracklauer Park gazebo. Enjoy memorable scenes from Midsummer Night's Dream, The Taming of the Shrew, Hamlet, and more!
NO ADMISSION FEE. All shows start at 7PM, except for August 6, which will start at 2PM. Bring your own lawn chair or blanket and enjoy!
Other Community Events in August
August 6th -  1:00pm-3:00pm, Arts Commission's Acoustic Music Jam, Mural Park, 22 East Park Street
August 6th - 5:00pm-6:30pm, Summer Concert Grupo Zubia

August 13th - 5:00pm-6:30pm, Summer Concert South of Disorder
August 19th - 10:00am-4:00pm, North Central O Gaugers, Model Train Open House, 428 N. Chicago Street.
                      (3rd Saturday each month)
August 20th - 5:00pm-6:30pm, Summer Concert Real Time Noise
August 26th -  4:00pm-5:00pm, Arts Commission's Family Dance Party, Kracklauer Park
August 28th - 5:30pm-8:00pm, Bingo at Tighthead
September 8th - MHS Homecoming Parade
September 16th & 17th - 12:00pm-9:00pm & 10:00am-7:00pm, Mexican Heritage Festival
September 25th - 5:30pm-8:00pm, Bingo at Tighthead