Hello Quilters,
I hope you all had a wonderful relaxing Labor Day Weekend. I had a family reunion to go to in Linton. My family is just as competitive as I am. We played "spoons" and I have the injuries to prove it. I didn't win, so between now and next Labor Day, I am in training!!
My goodness, the heat certainly hasn't slowed down the quilters of Evansville. So many new projects under way and finished tops heading off to the long armers!!! One is as beautiful as the next. We are so fortunate to be a drop off for quite a few long armers, so we get to see so many gorgeous creations. We are trying to keep up our end of the bargain and bringing in new fabrics all the time. Sometimes its hard to keep our "standards" in stock, they come in and go out so fast. A good problem to have!!!
Mary has finished up the Strip Night Sample and its stunning. This is one of the fabric choices and only one way you can set it together. The pattern we chose this year has several different choices for you, and they all begin with the same block. You will be able to complete all of your blocks, then you can play, lay them out, change them until you find the one that you like. All of the fabric choices have arrived.
We only have a couple of spots left for Strip Night, so if you want to sign up, I suggest you let us know right away. If we start getting a waiting list, people who have not paid their $25.00 registration fee will get bumped. It's only fair. Mary is having an instruction "lesson" on Saturday, September 27 @9:30, and we ask that you pay for your quilt kit at that time.
Mary's Strip Night Quilt
Our classes are going along very well so far, lots of new techniques and designers. (And you should see some of the quilts we already have in mind for next year!!!) Let me tell you what's coming up in September.
September 5 – Open sew, 5 – 9. We provide supper and dessert.
September 6 – I am teaching Diamond Star, a two part class, the second class is on the 20th of this month. Both classes 9 – 3. This is the second time I have taught this class, and it will probably be the last, so if you have thought about making it, now is the time!!!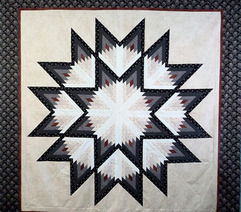 Diamond Star
September 6 – Mary is teaching Double Wedding Ring. This is a technique class, but be sure to bring your machine and all of your normal sewing supplies.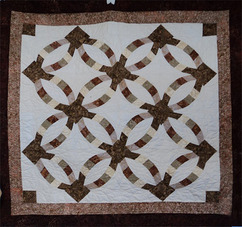 Double Wedding Ring
Monday, September 8, I begin an Advanced Beginner class.
A little change in time for the afternoon class, its 12:15 – 3:15. This is a 4 part class and you make a wall hanging. If you need work on half square triangles or flying geese, this is the class for you.
Advanced Beginner Piecing
Saturday, September 13 – Mary is teaching Stained Glass Christmas Tree, no we are not branching out into other areas, this is a Holiday Wall Hanging that resembles stained glass. You will learn how to sew bias tape onto your quilt in this class.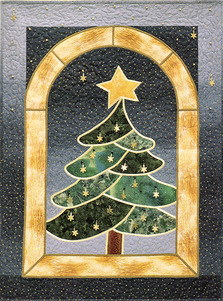 Stained Glass Christmas Tree
Tuesday, September 16 – Migration begins, this is a 4 part class and you are working with fairly large pieces. A great class for an advanced beginner, afternoon or evening classes.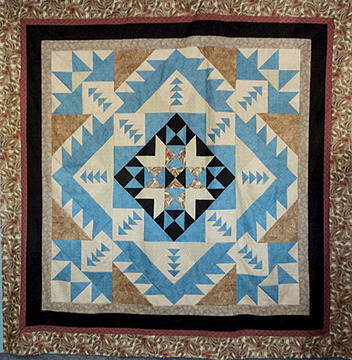 Migration
Happy Quilting,
Holly and Mary