Move Over and Slow Down Legislation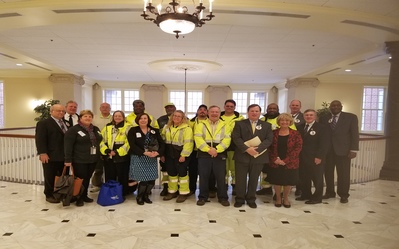 A large contingent from Laurel was on hand in Annapolis on February 15, 2018 as Mayor Craig A. Moe testified before the House Environment and Transportation Committee on HB 531.  That's the "Move Over and Slow Down " legislation aimed at protecting Sanitation Workers from motorists.
Council members Mike Leszcz and Fred Smalls were there to lend support, along with Police Chief Richard McLaughlin, Deputy City Administrator Bill Goddard, Parks and Rec Director Joanne Barr, Public Works Director Rob Ferree, City Staff,  and Co-workers of Laurel DPW's  Marcus Colbert who was tragically struck and killed on the job last year.  Ralph Brent, Marcus's father and a DPW employee also spoke in front the Senate committee as well.  Delegate Barbara Frush is standing with the Laurel contingent to the far right.  A big thank you to Laurel Annapolis Delegationg from the 21st for all of their support. 
Public Works Ready - Electronics Recycling & Paper Shredding!
It's that time of year again!  The City of Laurel are happy to bring you our annual April Spring Clean-Up Events!  During the month of April the Department of Public Works will be holding various events and specials to help our residents clean up their homes!
Electronics Recycling and Paper Shredding
Gather up your old, important papers and old electronics and come down to Public Works, 305-307 First Street, on 
Saturday, April 21, 2018
, from 8:00am to 12:00pm (noon).  Televisions, stereoes, computers, game systems and their accessories can be dropped off free of charge.  If it plays music, video, video games, or an accessory to something that does - it counts!  Things such as microwaves, blenders, toaster ovens and other electrical items that may have a digital display or circuitry are 
not 
considered electronics for this event; only entertainment/media electronics will be accepted. 
Chesapeake Paper Systems will be on site with their shredding truck to shred your documents safely.  You can drop your documents off or stand by and watch them get put into the shredder!
During this event we will be verifying that you are a City resident or City business so please bring a driver's license or mail addressed to your City business.  Not all addresses in "Laurel, Maryland" are in the City Limits so please verify you live within the
City Limits
if you plan to attend.  Montpelier, South Laurel, West Laurel, and Maryland City are not in the City limits.
Sign Up For Emergency Notifications 
Effective January 1, 2018, The city of Laurel will start using the new emergency alerting notification system called "EVERBRIDGE."  All citizens and businesses are hightly recommended to join this valuable alerting system to start receiving lifesaving alerts and information to assist in the event of a potential emergency or an immediate inciden.
In order to participate in the alert notification system, we will currently be working with the Prince George's County, which means residents and visitors must proceed with the sign up process through the "ALERT PRINCE GEORGE'S website.  However, all alerts will be from the City of Laurel during an emergency or community events.  We anticipate rolling out Laurel Alert sometime next year in 2018.
WW1 From Here To Over There
Laurel's WW1 Redeployed to Main Street
The
Laurel Historical Society's
(LHS) recently closed exhibit: "Laurel's WW1 From Here to Over There" has been "redeployed" and is getting a second life in the window of 342 Main Street, Laurel, former home of PG Office Supply.
Between now and November, 2018, the LHS plans to feature selections from the exhibit panels.  Part I, now on display, gives an overview of the war's impact on Laurel and focuses on the soldiers who fought from Laurel. It includes a list of all the soldiers from the Laurel area known to have served. Part II will feature soldiers who came to Laurel for training and Camp Laurel. Part III will likely look at the community, the end of the War and the devastating Meuse-Argonne Battle in the fall of 1918 during which several Laurel-area soldiers died.
A goal of the LHS has been to take its exhibits off-site and building owner Joe Tredway's willingness to let the organization use his space provided the opportunity to extend the WW1 exhibit's reach and fulfilled that wish. Laurel Board of Trade Director Tredway, and Laurel Board of Trade Chairman Jim Cross played a key role in bringing the project to fruition. Not only did they build a peg-board display set-up on which panels were affixed, but Joe Tredway painted it, rehung side curtains and made sure the display window was ready for the installation, which was completed by LHS members Marlene Frazier and Karen Lubieniecki
The United States entered World War I April 6, 1917 and the war ended November 11, 1918.  Most of the US, and Laurel soldiers' involvement, including heavy fighting, took place during 1918. During this ongoing anniversary year, "redeploying" the exhibit will remind people of our community's involvement in one of the great turning points of American history.  
The Laurel Historical Society was founded in 1975. Since 1996 it has operated the Laurel Museum, whose current exhibit "We the People: How Civic Engagement Shaped Laurel," runs through December 2018.
The Laurel Museum is open Wednesdays and Fridays 10-2, Sundays 1-4. Group tours by appointment.  Admission is free.
The Laurel Library and digitized
Laurel Leaders
and other items from the LHS collection are open to researchers by appointment Monday-Friday and online to members.
The Laurel Museum is located at 817 Main Street, Laurel, Md.
  For appointments or for additional visitor information contact 301-725-7975 or info@laurelhistoricalsociety.org or visit
www.laurelhistoricalsociety.org
Thanks to Karen Lubieniecki
 from providing me this information.
Laurel Museum - New Executive Director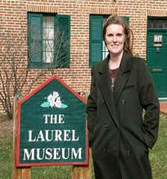 The Laurel Historical Society (LHS) is pleased to announce the selection of Ann Bennett as its new Executive Director beginning April 1, 2018. Bennett has more than 20 years' experience working in museums, education and archaeology. She brings to the LHS a broad set of skills and hands-on experience in many areas, including education, grants, volunteer management, exhibits, and collections management.
"We are so pleased to have someone of Ann's caliber lead the LHS. She will bring a multitude of interests and a skill set that matches our needs. When combined with her can-do attitude, I believe the LHS is set to write our next chapter in Laurel's history," stated LHS Board Chair Jhanna Levin."
Noted Bennett: "I am excited to join the Laurel Historical Society because it is such a great asset to our community.  I believe that small museums and historical societies are where the real treasures are, and there is somthing honest about collections and programs that connect so directly to the community in which they have always been.  I look forward to meeting many new people from Laurel and beyond, and I invite everyone to stop by our museum during open hours."
Ann Bennett has worked in cultural resource management for many years. She served as the curator of the Havre de Grace Maritime Museum, as coordinator of the Hays-Heighe House at Harford Community College, and worked at PastPerfect Museum Software. She is a graduate of the University of Pittsburgh, with an MA in historical archaeology from the College of William and Mary in Virginia. She is very active in local and regional historical and cultural organizations, and is the past-president of the Archaeological Society of the Northern Chesapeake. Mrs. Bennett is an also adjunct professor in anthropology and sociology at Cecil College. She has presented at the Small Museum Association, and at a number of professional meetings and is the author of "From Resident to Relevance: Making an Academic Museum at Harford Community College," in Academic Museums: Beyond Exhibitions and Education Ed Mark Gold (London; MuseumETC Ltd, 2012).  She is interested in kayaking, genealogy, traveling, and living history interpretation.  Mrs. Bennett and her husband Robert live in the Laurel area.  (Press Release from Laurel Historical Society, www.laurelhistoricalsociety.org )
Mayor & City Council, Committee Meetings and Updates
City Council Opposes

MAGLEV
The Laurel City Council passed Resolution No. 2018, A Resolution of the Mayor and City Council OPPOSING the High-Speed Superconducting Magnetic Levitation (SMAGLEV) System between Washington D.C. and Baltimore, Maryland. 
Thanks to all those residents that came out and spoke during the 4 different Public Hearings.
Stormwater Management In

Laurel Area
 Prince George's County Department of the Environment and the Stormwater Management Division has been working on the Bear Branch Stream Restoration project doing field assessments in the Wellington community.
The surveying of the Natural Resources of trees, habitat and wetlands will be started on Monday, March 5, 2018, so you will see surveyors on properties located on Antrim Court, Aylesford Lane, Edenmore Court, Killbarron Drive, Stratfield Lane, Tallyrand Trail, Waterloo Walk and Wern Way.
Prince George's County has sent out letters to those properties affected and homeowners or tenants will notice work being conducted in the wooded area to the rear of their property.
If anyone should have any questions or comments, please contact Joanna Smith with Prince George's County at 301-883-5991.
City's Health Officer Appointed
I am very pleased to announce the appointment of Dr. Uzochukwu Unegbu as the City of Laurel's Chief Health Officer.
Dr. Unegbu comes to the City with an impressive list of credentials as a family medicine doctor in Laurel and is affiliated with multiple hospitals in the area, including UM Laurel Regional Hospital and UM Prince George's Hospital Center.
He received his medical degree from Spartan Health Sciences University in Vieux Fort, St. Lucia in 2002, has been in practice for over 16 years and speaks both English and Spanish.
The Laurel community is lucky to have such an accomplished physician as the City of Laurel's Chief Health Officer and looks forward to a wonderful working relationship between Dr. Unegbu and City staff.
Mayor Moe's Interview with

PGCTVONLINE
Thank you to many of you who have offered support to my campaign for County Council, District 1. 
Many have asked how you can get a yard sign or make a donation, please follow the link below. 
The City of Laurel recentlydedicated the new City Canteen/Rehab unit to the membership of the Laurel Volunteer Fire Department Auxilliary.
T
he Auxilliary has been working on the canteen for several years and hleped design the new unit.
The new Canteen Unit has a stainless steel kitchen, with warming tables, freezer, cold box, storage area and much more. 
The unit also carries four persons. 
Several of the Auxilliary members were on hand to accept the honor.  Thanks to the Auxilliary for their support to the City and community.