Hello CSA Members,
  Today, Wednesday September 28st is a CSA pick up.  Your share will be available for pick up from 4-7pm at your chosen pick-up location. 
Just a reminder that next week, Wednesday October 5th will be the last evening farmers market.  Members who pick up at market, please remember to pick up your last share of the season out here at the farm on October 12th.
Anne

Butternut, Acorn or Spaghetti squash
White Russian Kale
Onions
Hericot Verts Green Beans
Carrots
Tomatoes
Mixed Peppers
Munsons Sweet Corn
Fruit share: Peaches, Plums, Apples
Egg Share: pick-up every week
Bread Share: this week!
Coffee Share: this week!
Wine & Cheese share: this week!
Babette's: this week!
Coming next week: tomatoes, greens, winter squash, garlic, radishes, potatoes and more.....
    "Good grief" spoke Charle Brown and at times the amount of tomatoes that are harvested every Monday and Thursday bring those words to mind. 
    "Abondanza" say the Italians for the abundance of the harvest and the time of year that is fall.
    "Siempre Manana" say the Mexicans for the ever present tomorrow that can take the work of today into the future. 
    As for us, we are lost for words. The vocabulary of the season is silence and the picture confounds the tongue once again.
Enjoy!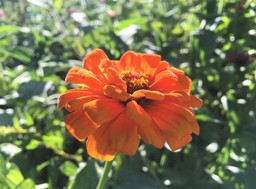 Smoky Braised Greens

4 strips bacon, sliced
3 cloves garlic, sliced
1 onion, sliced
Pinch red pepper flakes
Kosher salt and freshly ground black pepper
1# dark leafy greens, such as kale, mustard greens, Swiss chard and collard greens, stemmed and inner ribs removed, leaves roughly chopped
1/2 cup chicken stock
Directions
Heat a large pot over medium-high heat. Add the bacon and render until you have enough fat to saute the garlic and onions.
Add the garlic and onions and saute until soft, about 5 minutes. Add the pinch red pepper flakes and season with salt and pepper and cook for 1 minute more.
Add the greens in handfuls, adding more as the greens start to wilt, tossing with tongs until all the greens are wilted down.
Add the chicken stock and cover. Cook until the greens are tender, about 10 minutes.
Sesame Noodle Salad
For the dressing
2 limes, juiced
1/3 cup low sodium soy sauce
1/3 cup extra virgin olive oil
2 tablespoons brown sugar
4 tablespoons grated ginger
3 tablespoons toasted sesame oil
3 cloves garlic, peeled and minced
For the Salad
1/2 head Napa cabbage, thinly sliced
1/2 head Red cabbage, thinly sliced
1 red bell pepper, thinly sliced
1 yellow bell pepper, thinly sliced
1 large carrot, shredded
6 green onions, thinly cut on the bias
3 persian cucumbers, halved and thinly sliced
1 cup pea pods, halved
fresh basil
fresh cilantro
1 lb linguini, cooked according to package directions and cooled to room temp
Directions
Whisk together the dressing ingredients and set aside.
Combine the Napa cabbage, red cabbage, sliced bell peppers. carrot and green onion and toss together. Add in a handful of sliced basil and fresh cilantro along with the cooked pasta.
Pour the liquid mixture over the vegetables and pasta and toss to combine. Season with extra soy sauce if needed and serve immediately.
Coq Au Vin
6 slices bacon, chopped
8 chicken drumsticks *
salt and pepper to taste
1 cup cipollini onions cut in half, or 1 large onion, chopped **
1 lb mushrooms, cleaned and sliced
4 garlic cloves, chopped
1 cup red wine ***
2 cups chicken broth
2 bay leaves
3 sprigs of thyme
1 sprig of rosemary
3 sage leaves
8 oz green beans
1 stick butter
1½ tbsp all-purpose flour
1 tbsp fresh parsley, chopped
For Mashed Potatoes
3½ lb potatoes, peeled and cut into cubes
1 cup heavy cream
4 tbsp (1/2 stick) unsalted butter
salt and pepper to taste
Directions
In a large Dutch oven fry the chopped bacon until crispy. Remove the bacon from the pot but leave the fat there, if you have more than 1 or 2 tbsp of bacon fat, discard the rest.
Season the chicken drumsticks generously with salt and pepper and add to the pot. Cook the drumsticks on both sides over medium-high heat, until they start to brown, about 3 to 5 minutes per side. The chicken doesn't have to be cooked through as we will braise it later on and will continue to cook. Remove the chicken from the pan and set aside together with the bacon.
Add the cipollini onions and the mushrooms to the pan and cook for 3 to 5 minutes until the onions start to caramelize and the mushrooms start to brown. Stir in the garlic and cook for 30 seconds until the garlic starts to get aromatic.
Deglaze the pan by stirring in the red wine, scraping all the brown bits as you go along. Stir in the chicken broth, then add the bay leaves, thyme, rosemary and sage leaves. Add the bacon and chicken back to the pot. Bring to a boil, reduce the heat to a medium, cover the pot and cook for 20 minutes.
Preheat the oven to 450 F degrees.
Add the green beans to the pot. Whisk the melted butter with the flour and stir it into the pot. Taste for seasoning and adjust with salt and pepper as needed. Place the pot without the lid into the oven and cook for another 10 minutes until the sauce thickens. Remove the bay leaves, thyme, rosemary sprigs and sage.
Garnish with parsley.
For Mashed Potatoes
While the chicken is braising in the wine you can make the mashed potatoes. Boil the potatoes in water with a bit of salt until fork tender, should take about 15 minutes, but depends on size of potato cubes.
Drain the water from the potatoes and add them to a large bowl. Add the butter to the hot potatoes, and the butter should start to melt right away. Add the heavy cream, salt and pepper. Using a potato masher or electric beater, slowly mash the potatoes until smooth and creamy.
Serve the coq au vin over the mashed potatoes.
Late Summer Risotto
2 large tomatoes, diced
2 tablespoons olive oil
1/4 teaspoon salt
1/4 teaspoon pepper
1/2 teaspoon fresh thyme
1 tablespoon unsalted butter
1 1/2 cups arborio rice
3 garlic cloves, minced
1 cup dry white wine
4 to 5 cups low-sodium chicken stock, warmed
1/3 cup freshly grated parmesan cheese, plus more for topping
2 ears sweet corn, kernels cut from the cob
1 pint figs, sliced or quartered
a handful of fresh basil, chopped
3 tablespoons freshly snipped chives
Directions
Preheat the oven to 300 degrees F. Like a baking sheet with foil. Add the tomatoes and toss with 1 tablespoon of olive oil, salt, pepper and thyme. Roast for 45 to 60 minutes, until the tomatoes are deep in color and caramely and crumpled. Remove from the oven once finished.
While the tomatoes are roasting, heat a large pot or saucepan over medium heat and add the remaining olive oil with the butter. Add the rice and stirring often, toast the rice until it's somewhat translucent, about 5 minutes.
Stir in the garlic and cook for another minute. Stir in the white wine, constantly stirring or at least stirring every minute or so, until the rice absorbs the wine. Once the wine is absorbed, add in 1 1/2 cups of the stock, stirring until the rice absorbs the liquid like it did with the wine.
Repeat this 2 to 3 more times, until all stock has been added and the rice is al dente. You want it to appear "hydrated" - and want there to be some liquid left when serving. This process should take about 15 to 20 minutes. J
Just before the risotto is almost finished, stir in the parmesan cheese. Stir in the tomatoes, fresh corn and figs. Stir in most of the chives and basil. Taste and if desired, add a bit of salt and pepper (this will depend on the saltiness of your cheese and the taste of your tomatoes). Serve immediately with the remaining chives and basil. Top with freshly grated parmesan
We still have

5

spots available
in our 2016 Winter Share CSA!
Today is the last day to register!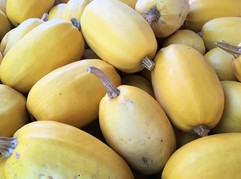 In case you've missed it here are the details:
Winter Share will begin on Wednesday, October 19, 2016 and continue for 8 weeks through December 7, 2016.
Pick-up will be Wednesdays from 3:00-6:30 at the Farm Store
The cost of the share is $200 ($25 per week)
Kim & Jake's gluten free bread share and the wine & cheese share are also available through Winter Share.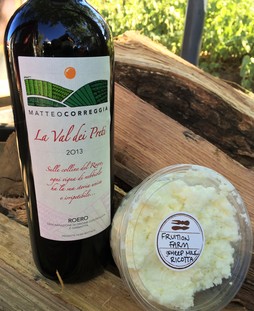 Wine: La Val dei Preti 2013
Cheese: Local from Fruition Farm, a sheep milk ricotta
     CSA members will be receiving shishito peppers in their share this week! We are very excited to share these peppers with all of you, as this is our first year growing them, and so far they have been a success!
     So what are shishito peppers? Read below for some fast and fun facts!
Are they spicy?
No, shishito peppers are a sweet pepper variety that are native to east Asia. However, it is said that there is a chance that every one in ten peppers are spicy. Environmental stressors including light and lack of water can cause the peppers to turn spicy. No worries though - we've been testing them frequently on the farm, and they're still sweet!
How do you know when they're ripe?
Shishito peppers are technically ripe when they turn red, however, they are typically harvested when they are green.
What is the best way to eat them?
Shishito peppers are very versitile, but are great when grilled, roasted, or eaten raw. Because they are thin-walled, they tend to blister more when grilling and roasting, thus more suseptible to a wonderful, smoky flavor.
Why are they called shishito peppers?
It is said that the tip of the peppers look like the head of a lion, and lion in Japanese is "shishi". Another name we've heard for these peppers, "Wrinkled Old Man" peppers - ha!
12th Annual Harvest Celebration & Pig Roast
Mark you calendars - the annual Harvest Celebration & Pig Roast is only a few weeks away! R.S.V.P. below through the regiatration link. Details are as follows:

When: Sunday, October 9 from 3pm-7pm
Where: Cure Organic Farm Store (corner of 75th Street and Valmont Road)
Why: To thank all of our CSA members, volunteers, family, and friends that help keep the farm going!
 We will supply some great food including our heritage pork, a wonderful veggie stew, salads, and Munson farm sweet corn.
We ask you to bring a side dish to share or dessert.
While this is a free event for our CSA members, we ask that you r.s.v.p. so we know how many people to cook for.
We look forward to celebrating with you!
Eastern Plains co-op has been raising beautiful heritage turkeys for us again this fall.  The turkey's are raised with non-gmo feed, no antibiotics and are free range. Dallas estimates that there will be a nice size range again this year from 10 to 18 pounds.  Cost will be $7.50/pound.
Turkeys will come frozen and will need to be picked up the week before Thanksgiving, on Wednesday, November 16th at the farm store.
Reserve your turkey here!

     Ladies and Gentlemen - the time is here! Stock up your pantries now with all the great vegetables and fruits of the summer season. There's nothing that beats the winter blues better than cracking open a jar of sweet peaches, or a perfect tomato sauce. Currently this is our selection of produce available for canning:
Red Field Tomatoes 20# case for $30 ($1.50/lb)
Heirloom Tomatoes 10# cases or more for $30 ($3/lb)
Heirloom Tomato Seconds 10# cases or more for $20 ($2/lb)
Free Stone Peaches 18# case for $45 ($2.50/lb)
Plums 20# case for $55 ($2.75/lb)
Early Apples 20# case for $40 ($2/lb)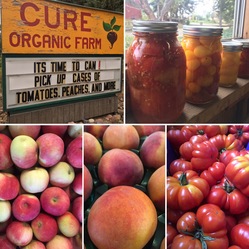 If you are interested in ordering cases of any of the items above, please email us at:
cureorganicfarm@yahoo.com
Please include the item and quantity desired in the subject line (for example 20# case Red Field Tomatoes - YUM!).
     As we are only 2 weeks left from the end of our 2016 CSA summer season, we wanted to remind everyone of some important dates and items to mark on their agenda:
Bread, Coffee, Wine & Cheese, Babettes Shares - One pick-up left!
Wednesday, October 5: Last Wednesday Night Farmer's Market! Members who pick up at the farmers market, please plan on picking up your last share of the season at the farm on Oct. 12th.
Sunday, October 9: Annual Harvest celebration and pig roast
Wednesday, October 12: Last CSA pick-up
Wednesday, October 19: First Winter Share pick-up
    *Another reminder for all Market pick-ups - the last CSA pick-up on Wednesday, October 12 will be at the Cure Organic Farm Store.
More details about the Annual Pig Roast are on their way!
We come from the earth,
we return to the earth,
and in between we farm.



Cure Organic Farm

7416 Valmont Rd.
Boulder, CO 80301
cureorganicfarm@yahoo.com
www.cureorganicfarm.com