WINTER HAPPENS… IN WINTER
FIRST EVER THRONES Q4 RELEASE…
…ADDS TO 3.3M LIFETIME GOT SALES
RETAILERS, FANS DEMAND XMAS TITLE
GALLERY OPENS FOR BUSINESS…
…WITH DAYS TO GET THE WORD OUT
POINT OF SALE ADDS EVENT STATUS…
…AS RETAILERS GET BIGGEST EXCLUSIVES
DIVORCE ON THE WAY FOR HBO…
…LEADING STRONG 2017 SLATE
---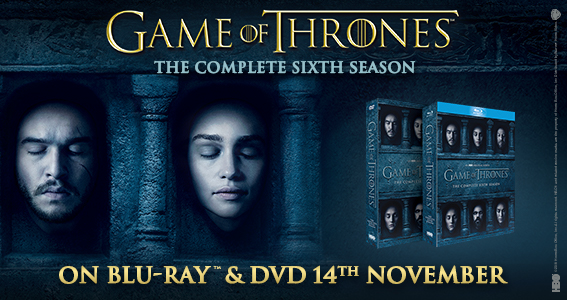 ---
If you can't read this newsletter or see the ads, please click here
Winter is coming. And, for the first time ever, winter will really mean winter. For the arrival of the sixth season of Game Of Thrones on DVD and Blu-ray on November 14 marks the first time the series has been released on physical formats in the final quarter of the year. And the programme that continues to defy the odds and break all conventional wisdom is set to do it again, as HBO readies itself for another huge release. To mark the event we've put together a special edition of The Raygun newsletter to celebrate… And there's two for the price of one this week – keep an eye out for a further Raygun newsletter (after you've had time to read this one, of course)…
It's been a busy year for HBO, as the home entertainment arm of the television giant had not one but two releases from the mighty Game Of Thrones in the same year for the first time ever. The series continues to confound and delight, both in terms of its content and commercially too. It's broken all the rules of TV franchises on home entertainment formats, there's no such phrases as series fatigue or drop-off in the Game Of Thrones universe. As the company's Colin Smith said when it was first officially confirmed that the series six release in November would join the spring's Series 5 on the shelves in the same calendar year: "It's been an incredibly busy and productive year for HBO, with 2 massive Game Of Thrones releases - Season 5 in March was our biggest release yet, so it's great to see that it's maintaining its momentum as the biggest TV franchise in the world, as we plan our Season 6 release for November."
As Ian Fullerton, VP of International Product Management, noted during the summer, when the series broke another record or two with its Emmy nominations, which gave another boost to its already healthy sales: "Game of Thrones really is the gift that keeps on giving." Its sales across the five seasons thus far are hugely impressive: it's sold a whopping 3.3 million units and counting across the different SKUs from the five series. And when you consider the higher price points, its worth in value terms is even more remarkable. As HBO's Colin Smith said: "A franchise as big as Game Of Thrones presents many different demands, and we are always trying to outdo ourselves with how we present the product to consumers and maintain our phenomenal sales momentum. From retail exclusives with many key partners, to premiums – this year we have a special Amazon exclusive including a bronze bust of the Night's King – to our limited edition steelbooks, we try and offer something for everyone. In addition we are constantly reviewing our catalogue and drafting strategy to ensure we are continuing to drive new customers. As hard as it is to believe that anyone hasn't seen the show yet, there are obviously still a lot of opportunities with a show this big to exploit online chatter and word of mouth. We have to keep driving the catalogue and we have just as many initiatives around the previous seasons this Q4 as we do for the Season 6 campaign. Season 1 remains a big seller for us and we continue to target all that low hanging fruit, particulary around the holidays."
---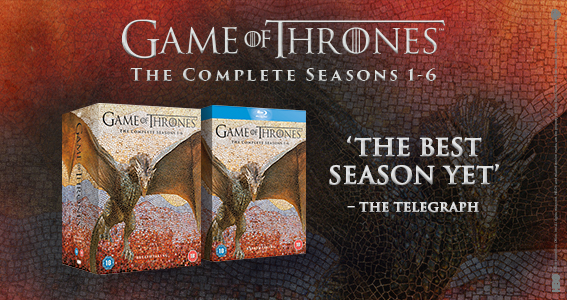 ---
The decision to move the latest release of the biggest TV franchise in the world into the Q4 season was a relatively easy one to make. HBO's Grace Alexander said: "For years now, fans and retailers alike have wanted us to release the newest season before Christmas. It makes sense to release it alongside and in line with all the blockbusters. It's the perfect Christmas gift." In value terms, it makes sense too, as it is certain to deliver further growth into the market. The Seasons 1-6 box set accompanying the standard Season 6 SKU adds further potential too, especially within the gifting sector.
As guests gathered at the pop-up gallery in east London on Wednesday evening, November 9, to mark the opening of the Game Of Thrones gallery, HBO was ready for what could prove to be its biggest ever Game Of Thrones release. Among the invitees were press, retailers, key influencers and, crucially, Isaac Hempstead-Wright, aka Bran Stark in GoT. He'd judged many of the competition winners whose Game Of Thrones inspired artwork featured in the exhibition alongside exhibits from working artists, jewellery and accessories designed by Michelle Clapton, who designs for Daenerys Targaryen in the series. It's the culmination of a competition that initially launched to tie in with the digital release of the series after its transmission. HBO might have run similar events in the past for previous series, but this is by far its most ambitious launch activity across the six series of the programme. "We had hundreds of entries, thousands of votes and we've been pushing it through our channels and those in the US too," said HBO's Grace Alexander. "The public voted for their favourite entries and we enlisted
Bran Stark to choose his
top 10, the artists were then informed and their incredible artwork is
included in the gallery. As well as the fan art, we've got 13 artists on board who are fans of the show and have all created pieces inspired by the series, using techniques ranging from graphic design, to sculpture to woodwork."
The exhibition and gallery will be open until Sunday November 13, giving fans plenty of opportunity to get along and see it. "When we've done this kind of activity before it's only been for a couple of days, this gives press enough time to write about it and add it to event listings and the fans will have time to go along and along and see it," said Grace Alexander. "We videoed the Gallery launch and we'll be pushing the content through all our channels on social media to ensure those that can't make it down get to experience the night."
---
---
And what about the key above the line marketing? Well, there's plenty of it due over the next week and beyond, giving the kind of status not just Game Of Thrones deserves, but also the kind of event-style support that will help it stand out above the rest of the Q4 clutter. "We've got TV, vod, outdoor in shopping malls and digital six sheets and escalator screens in the London underground, with the key message that the show is available to purchase in time for Christmas for the first time ever," said HBO's Grace Alexander. There's further activity online with ads and takeovers on sites such as the Daily Mail's Mail Online. And of course, there's a welter of press ads too, running in a selection of national newspapers and gift guides.
PR campaign will not only centre on the aforementioned Game Of Thrones gallery, there's plenty more too. It kicked off in earnest with a mammoth press trip for UK and International journalists. Attendees at the two-location event included The Sun, MTV, the Big Issue, Metro, Radio Times and Sunday Mirror. Their destinations? Firstly, the trip took in Belfast, where, after interviews with locations manager Naomi Liston and casting director Carla Stronge, the group visited some of the key locations used during filming of the series, and then on to Spain to visit Girona, the Game Of Thrones city. "The crew and production team have been great at giving us access to behind the scenes staff to take part in interviews, which gets us some brilliant coverage," said Grace Alexander.
Point of sale will be appearing in all stores, with one of the key elements being the photo opportunity standees, which mirrors the Hall of Faces packaging for Season 6, with consumers given the opportunity to put their own face in and get their picture taken by pals. There are also theatrical half pallets, the Night's King standees, while in-store staff will be wearing branded t-shirts and branded balloons will feature throughto to further emphasise this event-style release feel.
HBO has embarked on its biggest ever exclusives programme for the S6 Game Of Thrones release, working closely with retailers on bespoke SKUs for each one. Sainsbury's has an exclusive calendar, which, given the time of year, works a treat; Asda consumers will get a set of Lanister art cards, while HMV customers will get an exclusive photo book with their copies. Amazon has not one but two exclusive, with the traditional bonus disc for the sixth season SKU, while it has a seasons 1 to 6 box complete with a bronze bust as a premium offering.
---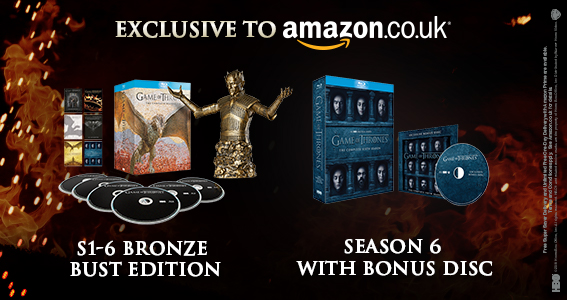 ---
Meanwhile, the clock is counting down… Next year will bring a seventh series of Game Of Thrones to first TV, then, digital and finally home entertainment, marking the penultimate outing for the series. Its eighth will, reportedly, be the final outing. But there's lots of other series and programmes due from HBO in the meantime. Divorce, starring Sarah Jessica Parker and Thomas Haden Church and penned by current comedy darling Sharon Horgan, is currently making waves: "We're really excited to have SJP back with HBO after 10 years!" said Grace Alexander; Insecure, from the creator of web sensation, Awkward Black Girl; Quarry, the next big criminal underworld story about returning Vietnam soldiers who get caught up in all kinds of illegal business; Big Little Lies, which boasts a cast including Nicole Kidman and Reese Witherspoon.
And, of course, there's Westworld, the HBO and Warner collaboration which is currently winning over television audiences in the UK and far beyond, earning rave reviews and becoming one of the season's most talked about new TV shows. The title is due early next year.
TRAILERS OF THE WEEK
Here's that Game Of Thrones S6 TV spot from HBO UK…
The full trailer for Westworld…
To subscribe to

The Raygun newsletter, please email
info@theraygun.co.uk
with subscribe in the subject matter
To unsubscribe, email
info@theraygun.co.uk
with unsubscribe in the subject
For editorial or advertising queries, contact
tim@theraygun.co.uk