Two great kits for environmental DNA purification
Exgene™ Soil DNA mini
Exgene™ Soil DNA mini provides a convenient method for the isolation of total DNA from soil samples. This kit utilizes powerful bead beating technology, an optimized buffer system and advanced silica binding protocol to purify nucleic acid suitable for many downstream applications. The kit is not limited to soil but can also handle plant tissues, bacteria, fungi spores and more. It is very effective in removing humic subtances from environmental samples making the resultant DNA suitable for any downstream application requiring high quality DNA.
Features and Benefits
Glassfibre membrane technology

Sample size : Up to 500 mg

Easy and fast purification of high-quality DNA

Preparation time : ~ 25 minutes

Efficient lysis step using PowerbeadTM tube

Effective removal of humic acid

Consistent yields

No organic extraction or alcohol precipitation

High purity DNA: suitable for the conventional and real-time PCR
Exgene™ Stool DNA mini
GeneAll Exgene™ Stool DNA mini kit utilizes a double-binding procedure using an optimized buffer system and advanced silica binding technology to purify nucleic acid from stool samples that is suitable for many applications. This kit uses different technology to the Exgene™ soil mini, but like the soil kit, it is also able to effectively remove impurities allowing isolation of high quality DNA from host and microbial cells.
Features and Benefits
Purification of high-quality DNA by the use of EzPassTM filter column

Sample size : Up to 200 mg

Spin column format

Consistent yields

No organic extraction or alcohol precipitation

Ready for use in PCR, restriction analysis, electrophoresis

and many other downstream applications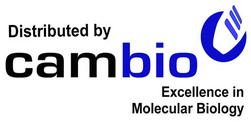 ---
1 The Irwin Centre, Scotland Road, Dry Drayton, Cambridge, CB23 8AR

tel: 01954 210200

fax: 01954 210300
@CambioLtd