The Pure Water Occasional for December 1, 2014
In this 1st of December Occasional you'll hear about the water treatment boom in China, sewage dumping in Lake St. Clair, production of arsenic-free water for West Bengal, and the decline of the Caspian Sea. Learn how drought affects the price of turkeys and why there are dead fish in Lake Willow. You can take Delft University's water treatment course, read about a machine that turns water into gasoline and another machine that purifies water under water. Thrill at the success of the UCLA Bruins water polo team and learn about the red water in the Ganga river. Irish protests over water metering, Italian protests over the burkini. Read about rising water at Mustang and Padre Islands, the century-old pollution problems at a DuPont munitions plant, and the origins and treatment of radon in residential well water. Finally, you'll meet Axeon's sexy new LT1-300 reverse osmosis unit, and, as always, there is much, much more.
The Pure Water Occasional is a project of Pure Water Products and the Pure Water Gazette.
To read this issue on the Pure Water Gazette's website, please go here. (Recommended! When you read online you get the added advantage of the Gazette's sidebar feed of the very latest world water news.)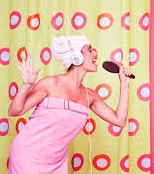 Pollution total dumped in lake hits 3.7 billion gallons
by Chad Selwesky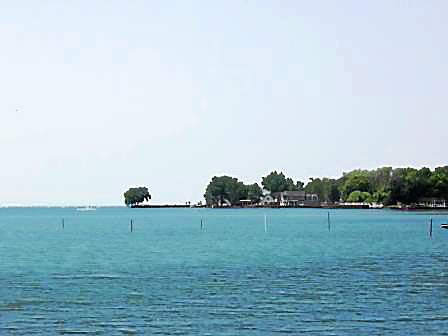 The rain showers of this week created sewage overflows that dumped 79 million gallons into Lake St. Clair, bringing the total pollution this year from sewer systems discharged into the lake to 3.7 billion gallons.
The GWK Drain in Oakland County released 72 million gallons, and the Chapaton sewage basin in St. Clair Shores spilled another 7 million gallons. Both facilities partially treat their discharges by adding chlorine and removing solid waste before releasing them into the waterways.
Brent Avery, operations manager at Chapaton, said the situation could have been worse, as the nearby Martin retention basin and the windy weather also presented concerns.
"We filled to the brim at Martin (basin), but did not discharge" Avery said. "We did not experience a power outage, but it was sure fluctuating."
The 2014 totals reflect the massive sewage dumping on Aug. 11-12 during the unprecedented flooding experienced across southern Oakland and Macomb counties.
During that time period, the GWK Drain, traditionally known as the Twelve Towns Drain, flushed 2.1 billion gallons of partially treated sewage and rainwater into Macomb County's Red Run Drain at Dequindre, south of 13 Mile Road. From there, the contaminants flow through residential neighborhoods to the Clinton River and then out to Lake St. Clair.
The Chapaton system, located at 9 Mile Road and Jefferson and operated by the Macomb County Public Works Commissioner's Office, spewed 166 million gallons when the floodwaters hit.
In addition, the amount of untreated raw sewage dumped into the waters by Macomb County communities during the flood was raised dramatically in the final numbers, from nearly 6 million gallons to 140 million gallons.
At one point earlier this fall, officials estimated that the county's pollution total would hit 4 billion gallons by the end of the year. Sewage system officials say that the overflows are diluted by rain water and present no danger to the public. At the same time, environmental activists say the E. coli bacteria in the discharges is the main cause of the hundreds of beach closings on Lake St. Clair over the past several years.
Water tainted with E. coli can cause skin rashes, nausea, vomiting or diarrhea and it can lead to exposure to viruses.
The total number of gallons dumped into the lake this year equals the volume of 5,300 Olympic-size swimming pools.
Source: Macomb Daily.
Pure Water Gazette Fair Use Statement
Bengal villages to get arsenic-free water at 50 paise
To provide arsenic-free drinking water in rural areas at cheap rates, a new water purification project was recently launched in West Bengal.
The 'Sulabh Drinking Water' project converts pond water into safe drinking water and can be sold at only 50 paise per litre.
"This is an innovative model from France-based organisation '1001 Fontaines', which uses a four-stage purification process to provide safe drinking water from ponds. In many places of West Bengal, people are forced to drink arsenic-contaminated water. This will solve the problem," Sulabh founder Dr Bindeshwar Pathak told PTI.
Pathak inaugurated the pilot project in three districts of North 24 Parganas, Murshidabad and Nadia.
The new water purification process has a capacity to produce 8,000 litres of potable water per day at a cost of 10 paise.
"It will be sold at 50 paise after including other costs like distribution, storing, etc. Even people in neighbouring villages can also safely use this water," Pathak said.
The installation cost of the machine comes to Rs 20 lakh, which was shared between the French organisation, Sulabh and the villagers.
"The villagers and local NGOs are going to maintain this. It is a self-sustainable project with active participation from the community," said the activist who had initiated the concept of 'Sulabh Sauchalaya' (public toilets) in the country.
Ground water in nine districts of West Bengal are estimated to have been severely affected by arsenic contamination.
According to WHO, drinking arsenic-rich water over a long period results in various health hazards, including skin problems, skin cancer, cancer of the bladder, kidney and lung, besides other diseases.
Source: Business Standard.
Water News for the week ending December 1, 2014
Pure Water Products continued it's "No Black Friday" policy in 2014, closing on the day after Thanksgiving. The policy was initiated after a shopping accident sustained by a customer during the 2012 shopping season. Read the details.
According to a business report from London, demand for consumer water treatment systems in China is projected to advance 17 percent per year to 26.2 billion yuan in 2017.
In spite of severe drought in America's main food producing areas, the average price of a Thankgsgiving meal went up only a few pennies over last year's cost. The reason: the lower cost of fuel. The real price impact for food is yet to come. Read Foul is Fair.
Something fishy in Willow Lake, where scores of fish are dying. Dozens of fish are turning up dead in a Queens lake – and no one is sure why. Carp have been seen floating on the shores of Willow Lake, a part of Flushing Meadows Corona Park that the city is turning into a wild preserve.
The Caspian Sea
Caspian Sea level falls. The level of the Caspian Sea continues to decrease reaching the mark of 28 meters below the global ocean level. Director of the Geography Institute at the Azerbaijani National Academy of Sciences Ramis Mammadov noted that today's level of the Caspian Sea approximately corresponds to the level of the sea in the 1970s. He went on to say that the main reason for lowering level is the climate change.
In new drainage projects, long-buried urban streams see the light again. In recent years many cities have been undoing the past century's drainage projects, uncovering or "daylighting" buried streams, using innovative techniques that mimic nature to help restore open waterways, prevent pollution and create habitats for animals.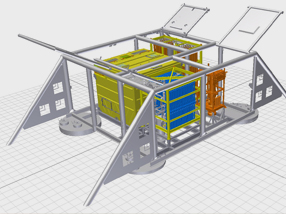 Norway-based Seabox has launched a new subsea water treatment joint industry project
Under the project, Seabox will complete a design of a subsea water intake and treatment (SWIT) technology and membranes plant capable of producing quality water from surrounding water on the seabed.
Seabox CEO Helge Lunde said: "Costs of offshore field developments have soared significantly in recent years. This joint industry project (JIP) is designed to develop a more cost effective alternative to today's heavy and expensive topside water treatment plants.
"Our next step will be detailed engineering for a SWIT system that is part of a full scale field development. Oil companies want more cost-effective subsea technologies, so we know that there is a requirement in the market for our SWIT technology." More details.
In Great Britain, the closing of a dialysis clinic over water treatment issues has lead to large street protests.
Introduction to Drinking Water Treatment video from Delft University of Technology. Discusses superior municipal drinking water treatment in Europe.
Ganga Water Turns Red
ALLAHABAD: With barely a month left for the commencement of month-long Magh Mela on Sangam banks, the quality and quantity of water in the Ganga has once again become a major cause for concern for the devotees and administration alike.
The authorities received complaints that the colour of the Ganga water has turned red on Wednesday morning after which the UPPCB collected some samples of the water for examining the level of pollution. Although the Ganga water changing colour is not new for the boatmen or devotees as it turned black in December 2010.
The authorities are concerned by the amount of effluents discharged by tanneries of Unnao which are disposed in the Loni river and get mixed in the Ganga downstream. "The effluents of tanneries do add up to the pollution level which disturbs the BOD (Biological Oxygen Demand) level. But, surly it is not responsible for the change of colour. This is because of the discharge by agro-based paper industry, sugar mills and distilleries in the river Ram Ganga," said a high official of UPPCB. Read the rest in the Times of India.
Scientists: Climate change means sicker world for sea life. It's not clear if a virus wiping out millions of sea stars is being influenced by climate change. But scientists say rising temperatures likely will make ocean disease outbreaks more problematic in the future.
Map shows future of Mustang and Padre islands as sea levels rise. As sea levels rise, shorelines erode and development near wetlands continues, Mustang and Padre islands wetlands will move during the next 60 years, according to a recenft analysis by a Harte Research Institute for Gulf of Mexico Studies team.
The Fluoridation Debate Goes On, and On, and On: Activists seek to remove fluoride from drinking water systems. A public health program to fight tooth decay that dates to the end of World War II is increasingly controversial, as opponents of adding fluoride to the public drinking water step up efforts to end the practice in several Massachusetts communities.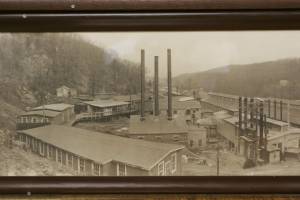 DuPont Plant in 1943
DuPont Pressed to Clean Up Munitions Plant Mess
The federal government is seeking significant damages from DuPont for decades of pollution that has contaminated soil and water on the company's sprawling 600-acre property where the facility played a key role in making ammunition for both world wars, and in adjacent neighborhoods in Pompton Lakes.
The U.S. Fish and Wildlife Service and DuPont have reached a cooperative agreement as part of the process to determine the extent of damage to fish, wildlife and other natural resources from the pollution generated by the munitions facility, which DuPont operated from 1902 to 1994. Read the rest.
A water main break in Ashland, MA left many of its 16,500 residents with undrinkable water.
Thousands Took to the Streets to Protest Irish Water Registration.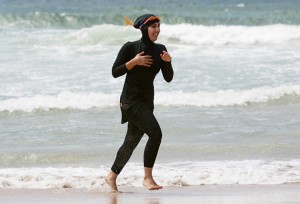 Burkini
A swimming pool in northern Italy has supported an initiative by the local Islamic center and announced courses, specially designed for Muslim women. The effort, planned as a way of social integration, is not welcomed by Italian right-wingers.
The project, launched in Sesto San Giovanni in the suburbs of Milan, is in its second year. The organizers of the swimming course for Muslim women say it's designed not only as a sporting activity, but also as a way to socialize.
No full swimming suit (a burkini) is needed, but the women are required to wear a wetsuit with sleeves and knee-length shorts, as well as a swimming cap. Use of female instructors is another strict rule. Read the full story.
German-made miracle machine turns water into gasoline
Pure Water Gazette introductory note: This miracle seems to us to fit the category of better-left-undones. I've always felt that if the never-ending quest to "cure" the common cold should succeed, it would be the death of the human race. The "cold" is obviously a necessary cleansing exercise performed by the body. Curing the cold would be like curing urination or defecation. If we should learn to turn water into gasoline the final outcome isn't hard to forsee: the last humans would be seen beep-beep-beeping around a waterless desert in their big cars looking for the last drops of water to turn into gasoline. We're already trading water for gasoline with our oil production methods; we probably don't need to speed up our self-destruction by adopting a more direct approach.--Hardly Waite.
There is as yet no method to mimic Jesus Christ and turn water into wine, but German chemical engineers have proved they can perform miracles of alchemy. They are now finalizing the assembly of a rig that changes water into gasoline.
The German company says it has developed an engineering installation capable of synthesizing petroleum-based fuels from water and carbon dioxide. The 'power-to-liquid' rig converts gases extracted from water into liquid hydrocarbon fuels.
"I would call it a miracle because it completely changes the way we are producing fuels for cars, planes and also the chemical industry," Nils Aldag, Chief Financial Officer and co-founder of Sunfire GmbH told RT's Ruptly video agency.
The Dresden-based company expects the technology to have a big impact on the future fuel market.
The electrically-powered installation uses a process known as Fischer-Tropsch Synthesis, first developed by German chemists Franz Fischer and Hans Tropsch in 1925. Full story.
Sports
UCLA Womens Water Polo Team finished second in Collegiate Cup
Ten of the top teams in women's collegiate water polo, including 2014 NCAA finalists UCLA and Stanford, competed over the weekend of Nov. 8-9 at the William Woollett Aquatic Center in Irvine, CA in the first-ever USA Water Polo Collegiate Cup. The 10 college teams were joined in the competition by the USA Women's National Team split into two squads for a 12-team tournament.
Olympic gold medalists Kami Craig, Courtney Mathewson, and Melissa Seidemann competed for the split USA squads while other National Team athletes that were part of Team USA's gold medal at the 2014 FINA World Cup competed for their collegiate teams including UCLA's Rachel Fattal, Sami Hill and Alys Williams, and Maggie Steffens and Kiley Neushul of Stanford. Additional athletes for the two National Team squads include World Cup gold medalists KK Clark and Kaleigh Gilchrist along with athletes from USA Youth and Cadet National Teams.
Radon In Water: How it gets there and how to get rid of it
Radon is one of the more perplexing and misunderstood issues in home water treatment. The material below is excerpted from several sources, especially from an excellent Penn State University Extension services publication.
Radon is a colorless, tasteless, odorless, radioactive gas. It is formed from the decay of radium in soil, rock and water and can be found worldwide.
The radon in the air in your home generally comes from two sources: the soil or the water supply. It escapes from the earth's crust through cracks and crevices in bedrock, and either seeps through foundation cracks or through poorly sealed areas into basements and homes, or it dissolves in the groundwater. Radon can be trapped in buildings where it can increase to dangerous levels. Radon entering your home's air supply through the soil is typically a much larger risk than the amount of radon In general, radon is of much greater danger when it enters through the soil than when it enters via the water supply.
Radon can be inhaled from the air or ingested from water. Inhalation of radon increases the chances of lung cancer and this risk is much larger than the risk of stomach cancer from swallowing water with a high radon concentration. Generally, ingested waterborne radon is not a major cause for concern. The extent of the effects and the risk estimates involved are difficult to determine. According to the EPA's 2003 Assessment of Risks from Radon in Homes), radon is estimated to cause about 21,000 lung cancer deaths per year. The National Research Council's report, Risk Assessment of Radon in Drinking Water, estimates that radon in drinking water causes about 160 cancer deaths per year due to inhalation and 20 stomach cancer deaths per year due to ingestion.
Radon in water usually originates in water wells that are drilled into bedrock containing radon gas. Radon usually does not occur in significant concentrations in surface waters.
Dissolved radon in groundwater will escape into indoor air during showering, laundering, and dishwashing. Estimates are that indoor air concentrations increase by approximately 1 pCi/L for every 10,000 pCi/L in water. For example, a water well containing 2,000 pCi/L of radon would be expected to contribute 0.2 pCi/L to the indoor air radon concentration. Based on the potential for cancer, the EPA suggests that indoor air should not exceed 4 picocuries per liter (pCi/L).
EPA and various states have recommended drinking water standards for radon in water ranging from 300 to 10,000 pCi/L but no standard currently exists. One study of radon in over 900 Pennsylvania water wells found that 78% exceeded 300 pCi/L, 52% exceeded 1,000 pCi/L and 10% exceeded 5,000 pCi/L.
Since most exposure to radon is from air, testing of indoor air is the simplest method to determine the overall risk of radon in your home. Test kits for indoor air radon are inexpensive and readily available at most home supply stores.
Testing for radon in water is also inexpensive but requires special sampling and laboratory analysis techniques that measure its presence before it escapes from the sample. Test kits are available from various private testing labs
The presence of waterborne radon indicates that radon is probably also entering the house through the soil into the basement which is generally the predominant source. Therefore, treating the water without reducing other sources of incoming airborne radon probably will not eliminate the radon threat. Therefore, you should also test the air in your home for radon.
Treating Radon in Water
The main objective of water treatment is removing radon from water before the radon can become airborne. Most water treatment, therefore, focuses on "point of entry" rather than "point of use."
Granular Activated Carbon (GAC)
One method for removing radon from water is with a granular activated carbon (GAC) unit. Although these systems come in a variety of models, types and sizes, they all follow the same principle for removal . The standard radon GAC filter is a tank-style unit that can have either a backwashing control or a simple non-backwashing head. Non-backwashing GAC units must be protected from sediment with a prefilter. Radon filter sizing depends on the amount of radon present, service flow rates, amount of water treated, the size of the treatment bed and other factors, so each application must be considered separately and radon testing for effectiveness of the filter should be carried out regularly.
Typical setup for a GAC filter treating radon.
Various estimates suggest that GAC should only be used on water supplies with a maximum radon concentration of less than 30,000 pCi/L. If you do decide to purchase a unit, select a filter size that matches your water use and conditions. According to EPA, a three-cubic-foot unit can handle as much as 250 gallons of water per day and effectively reduce radon levels. Typical water use in the home ranges from 50 to 100 gallons per person per day.
A major drawback to the use of GAC filters for radon removal is the eventual buildup of radioactivity within the filter. For this reason, the GAC unit should be placed outside the home or in an isolated part of the basement to minimize exposure. The carbon may also need to be replaced annually to reduce the hazard of accumulated radioactivity. Spent GAC filters used for radon removal may need special disposal. Disposal of spent carbon should be in compliance with local waste disposal regulations.
GAC treatment units are frequently also installed to remove chlorine, pesticides, petroleum products, and various odors in water. In these cases, the GAC filter may unknowingly be accumulating radioactivity as it removes radon from the water. Radon should always be tested for and considered as a potential hazard with the use of GAC filters.
Aeration
EPA has listed aeration as the best available technology for removing radon from water. Home aeration units physically agitate the water to allow the dissolved radon gas to be collected and vented to the outside. With new technological advancements in home aeration, these units can have radon removal efficiencies of up to 99.9%. Standard aeration treatment units typically cost $3,000 to $5,000 including installation. Be aware that aeration specifically for radon reduction is not the same as aeration for iron or hydrogen sulfide reduction. While "closed tank" systems designed for iron and sulfide reduction might help with radon, they are not designed to provide the large ventilation capacity needed to assure release of radon to the atmosphere.
When considering installation of aeration units, other water quality issues must be taken into account, such as levels of iron, manganese and other contaminants. Water with high levels of these types of contaminants may need to be pre-treated in order to prevent clogging the aeration unit. Disinfection equipment may also be recommended since some aeration units can allow bacterial contamination into the water system.
Typical Spray Aeration System Designed for Radon Reduction in a Private Home
There are several styles of aeration treatment units but all work on the same principle of aerating or agitating the water to allow the radon gas to escape so it can be captured and vented. Each type of unit has advantages and disadvantages. One of the more common styles is a spray aeration unit shown above. In this case, water containing radon is sprayed into a tank using a nozzle. The increased surface area of the sprayed water droplets causes the radon to come out of the water as a gas while the air blower carries the radon gas to a vent outside the home. About 50% of the radon will be removed in the initial spraying so the water must be sprayed several times to increase removal efficiencies. To keep a supply of treated water, a 100-gallon or larger holding tank must be used.
Another common aeration unit is the packed column where water moves through a thin film of inert packing material in a column. The air blower forces radon contaminated air back through the column to an outdoor vent. If the column is high enough, removal efficiencies can reach 95%.
Another type of aeration system uses a shallow tray to contact air and water. Water is sprayed into the tray, and then flows over the tray as air is sprayed up through tiny holes in the tray bottom. The system removes more than 99.9% of the radon and vents it outside the home. Go here for illustrations of other aeration systems.
See also: the EPA publication Consumers Guide to Radon Reduction.
Main Source: Penn State University.
Pure Water Gazette Fair Use Statement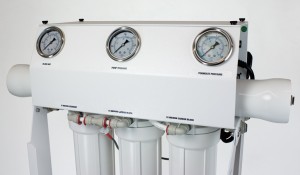 Coming soon to Purewaterproducts.com. Axeon's classy new L1-300 reverse osmosis unit. Click picture for a larger view.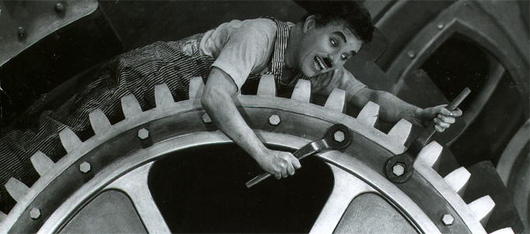 Please visit our RO Parts Page for tanks and accessories. We also have dedicated parts pages for countertop water filters, undersink filters, and aeration equipment. We stock parts for everything we sell.
Thank you for reading. Please come back next week.
Places to Visit on Our Websites in the meantime.
Garden Hose Filters. Don't be the last on your block to own one.
Model 77: "The World's Greatest $77 Water Filter"
"Sprite Shower Filters: You'll Sing Better!"
An Alphabetical Index to Water Treatment Products
Our famous whole house Chloramine Catcher
Pure Water Occasional Archive: Sept. 2009-April 2013.
Pure Water Occasional Archive: April 2013 to present.
Write to the Gazette or the Occasional: pwp@purewaterproducts.com
Please Visit
The Pure Water Gazette – now now with an up-to-the-minute feed of the latest water news.