=============
Need Help Knowing What Issues to Tap on?
"Heal Your Body A-Z" by Louise Hay lists almost every physical condition known to science and the emotional issues that may be causing them. My website Products page has more info on this book and others to help YOU heal your life with the power of EFT and Louise Hay's teachings.
*
Treat yourself or your loved ones to an awakened new life in 2009 - you DESERVE IT!*
*
Want to jump start your 2009 weight loss program by flushing out the fears that keep the fat where it's at? Try a private session with Colleen. Her surrogate muscle testing will identify your hidden blocks to success! Click HERE for Private Session information.
* * *
Have you used EFT on yourself, pets or family but have not received the results you wanted?
Contact Colleen for a free consultation or session today!
Only $75 USD for an hour of surrogate muscle testing, tapping, laughing, fear blasting and SWEET RELIEF!
* * *
DISCLAIMER: EFT is gentle acupressure and has produced remarkable results in relieving emotional and physical distress.
USE EFT AT YOUR OWN RISK ON YOURSELF AND OTHERS, INCLUDING ANIMALS.
If you apply this newsletter's techniques to yourself or others, you are agreeing to take full responsibility for any side effects and/or outcomes.
* * *
Thank you for subscribing to my newsletter!
* * *
May you be blessed with perfect health, wealth, joy, peace and love in 2009 and always!
--Colleen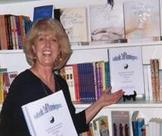 Please forward this newsletter to family and friends who could use the news!
Thank you to all my Worldwide Subscribers for allowing me to share my EFT Success Secrets!
*
We're eleven days into the new year. How have you been using your EFT to release your fear blocks to Relax and grow RICH (Relationships, Income, Career, Health) in 2009? *
*
Recently I discovered a fabulous new way to use EFT. If you, my intelligent and truth-seeking subscribers, are like me, you love treating yourself to new programs that improve your wealth, health, relationships, joy and success. Some of us can't get enough of this food for our mind and spirit!
*
When the student is ready, the teacher will appear.
People ask me how I got the courage to leave a fulltime corporate job and become an EFT practitioner, how I became debt free, fear free and full of joy every day. Teachers like Louise Hay, Anthony Robbins, Wayne Dyer, Deepak Chopra, Doreen Virtue and Joe Vitale appeared in my life at just the right time via books, audios and DVDs.
*
I still read, watch and listen to their materials (some bought over 20 years ago) when I need a boost in spirit or a refresher. Their information is timeless and invaluable. Each time I listen or read their work, I find tips that are PERFECT for my current life situations.
*
The Missing Secret to Attracting Wealth, Health, Happiness and Love
I learned powerful manifestation and action techniques from Joe Vitale's CDs and books like "The Key", "Attractor Factor" and his teachings in Rhonda Byrne's bestseller, "The Secret". Joe's "Zero Limits" taught me how to use Ho'oponopono, which I shared with all of YOU in my October 2008 newsletter.
*
Joe is a huge believer in using EFT as a clearing tool, and his materials are used by people around the world, including me, to achieve success. Am excited to be partnering with Joe Vitale to introduce his dynamic new Awakening Course, which includes unbelievable bonuses and a money-back guarantee! You'll learn tons of life success techniques, including...
*
New perspectives on money and your subconscious mind plus steps to

get out of the victim mentality

.
*
The

missing secret

to making the Law of Attraction work

every time

.
*
Five steps for

attracting anything or anyone

into your life.
*
Methods to

turn your fears into catalysts

for SUCCESS!
*
Best of all, you can magnify and ENHANCE YOUR SUCCESS with the Awakening Course by tapping on the Reminder Phrase acu-points as you listen to this LIFE-CHANGING MATERIAL!
*
Joe guarantees COMPLETE mind, body and spiritual transformation with his Awakening Course. He's including his Awakened Millionaire and Awakened Relationships presentations, too.
*
For a limited time, the entire package is LESS than the cost of a 1 on 1 EFT session with me. You have NOTHING to lose and EVERYTHING to gain! Joe Vitale's teachings changed MY LIFE and gave me the POWER to be a co-creator with the Universe.
*
Isn't it time that you gave yourself that same gift of Awakening? Tap your acu-points as you listen to these audios and manifest the life of your dreams!
*
*
If someone forwarded this newsletter to you, I hope you enjoyed it! Click here to get your own subscription and a free two-volume e-book on how to release panic, stress and fear via EFT. You can easily unsubscribe at any time.