Erik Bryan Slavin (Chair)
Natasha Blank

Greg Miller

Greg Miller, Executive Director
Mel Alvarez, Project Manager
Shireen Dickson, Education
Nikki Creary, Production

DJ McDonald, Curatorial

Chauncey Dainridge, Social
Hal Lamster, Web

Natalya Grigoriev, Finance
Brian Austin, Creative

(Power Team & Grand Marshals)
Savion Glover
Jawolle Willa Jo Zollar
Jacqulyn Buglisi
Baba Chuck Davis
Louie Vega
Ashley Tuttle
Elisa Monte
Bill Shannon
Trevor Hochman
Peter Zehren
Samir Bitar
Mel Alvarez
Jonathan Peters
Charles Reinhart
"Billy Elliot" (Joseph Harrington)
Kat Waldish
Amy Marshall
Jellybean Benitez
Elizabeth Zimmer
Ellenore Scott
Don Campbell "Campbellock"
Morocco (Carolina Varga Dinicu)
Luis Salgado
Luigi
Kool Herc
Danny Tenaglia
Djoniba Mouflet
Jeanne Fleming

Teddie Kern

Fred Shequine

Snehal Waghuld

Deborah Butler

Daniel Kahn

Suzie Sims-Fletcher

Disco Mike Park

Bobby Speakerwire

Jenny Hong Tan

Phil Ribolow

Chauncey Dandridge

Mariana Bekerman-Taglienti
Teddy Yohay
Natalya Grigoriev (Chair)
David Bruno

Victoria Behr (Chair)

Tatiana Smith

James Wurster

David Williams

Jaime Jaget

NYC Dept of Cultural Affairs
NYC Parks & Recreation
NYC & Co Foundation
Pink Tutu Ballet

Gratitude*NYC

Art from the Heart

Interested to sponsor 2014?
It takes Two to Tango and we invite you to join us!
Happy Holidays from all of our Dance Parade New York's organizers, dancers and teaching artists in schools & community programs.
Be The Momentum

, our 2014 theme, is a call to action:  We invite you this holiday season to make a donation and help create memories that can last a lifetime!  As a 501(c)3 non-profit organization, we rely on generous donors to make our programs possible.  Our passionate staff is excited to bring you Dance Parade, DanceFest and our Community Engagement Programs described below.

Look out for our Indiegogo Campaign for exciting perks in January and click here to pitch in with a 100% tax-deductible donation--Any amount will help!
Come join us for a dance, volunteer or donate today.
Thanks so very much,
Board of Directors, Dance Parade New York
1) The 8th Annual Dance Parade
 

 

 

For the past seven years, Dance Parade New York has become the world's largest event to celebrate the diversity of dance.  We are well into production for our 8th Annual Dance Parade and are gathering over 10,000 dancers to celebrate more than 75 styles of dance and culture.

 

Get Ready!  On May 18th 2014, Dance Parade will boogie down Broadway in the heart of Manhattan, sashay through Union Square and leap across Saint Marks Place.  YOU can enable never seen before dance and choreography that highlight the human experience -- everything from Ballet to Breakdance, Two-step to Dub-Step and African to Zydeco--all in dazzling outfits, with live bands, djs and decorated floats. 

 

Dance Parade is for EVERYONE!
2) DanceFest after the Parade!
The parade culminates in Tompkins Square Park where DanceFest kicks off unforgettable performances on four stages--with dance lessons, roaming performers, experience dance booths and an epic dance party--all FREE to the public.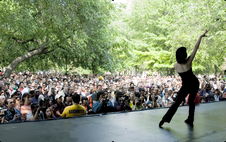 With your support our charitable programs will bring dance to underserved schools, recreation and senior centers throughout New York City's five boroughs. 

In the past few months, we've already brought the joy of movement and rhythm to New Yorkers.  In September, we kicked off our season by throwing a House music party featuring Louie Vega and a host of other djs, presenting dance at New York's largest holiday event -- Winter's Eve at Lincoln Square and are offering weekly classes to Seniors in Manhattan.

 

In 2014, our Community Engagement programs will allow students to enjoy Family Fitness Winter workshops, six week Cultural Residencies and -- new this year -- "Ageless Action," a program specifically designed to keep seniors moving!




If your school, community or senior center is interested in one of our popular education programs, click here for our Community Engagement brochure.


 

 

 
In keeping with tradition since 2008, all of our education programs, whether they are for students in schools, community or senior centers, end their programs with participation in the 8th Annual Dance Parade and DanceFest!