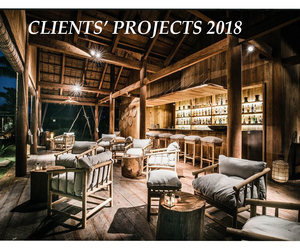 Inspired by traditional Indonesian architecture our clients and their architects study modern comfortable and sustainable designs, thus respecting Lombok natural beauty. As Nagaindo portfolio of land has matured, some assets are now ready to sustain their dream plans.
Kuta Skyline development above Ashtari Estate has completed servicing Stage 1 and the first 3 ambitious villas will break ground in 2018. That includes 3 different architects and builders but all linked by an elaborate management agreement. Villas open themselves to the view of the south coast and has been designed to adapt to the lighty sloped and elongated site. Clients benefit from Nagaindo umbrella while having access to a list of reliable players.
Twin Peaks beachfront in Selong Belanak bay have sold its last beachfront plot in front of Serangan surf break while a 3-star eco lodge is being built by another client. They plan to set 20 beautiful bungalows on stilts, a nice restaurant and more over 6,800 sqm of land. They have also signed up to manage a few more villas being developed in the same time within Twin Peaks.
As for Gili Nusa Estate we are upgrading its access and plugging high voltage in 2018 as another eco lodge (on 4,000 sqm of land) is due to start construction in Q2 2018. The design concept is unique and will revolve around 80% wood making. Stay tuned!
Thanks to a close involvement in current projects, deep familiarity with locations and practices and a well established network of key players, Nagaindo offer its clients the highest chance of success though a valuable and safe coverage while giving them access to the best resources.
For more information visit our website or contact us at contact@naga-indo.com.