Laroo bookings & management in cooperation with Cultmix Foundation proudly presents the new live and recorded music of musician / bandleader / composer Saskia Laroo
First Dutch tour dates:
Nov 1, 2019 Amsterdam
Nov 2, 2019 Soest
Nov 3, 2019 Laren
Nov 6, 2019 Groningen
Nov 8, 2019 Rotterdam
date in your country 
Her music sounds like a musical journey with electronic and acoustic jazz-pop-world-EDM influences as if those styles have always belonged together. She performs worldwide with her bands on large and small festivals, in concert halls, clubs and more.
An interactive groove experience! Audiences all ages and cultures welcome.
Saskia loves to make miles on trumpet to connect with her audience and fans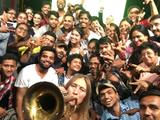 2019: Burundi (Dutch Kings Day), the Netherlands, Thailand (Krabi naga Fest), the US
2018: the Netherlands, the US, Vietnam (Dutch Kings Day, 45 year relations Holland-Vietnam
2017: Serbia (Dutch Kings Day), South Korea, the Netherlands, the US
2016: Belgium, China Tour, Croatia Tour, France, India Tour, Indonesia tour, the Netherlands, the US.
2015: Bangla Desh, Italy, India, Lithuenia (Klaipeda Jazz Festival), Poland, the Netherlands (Aalsmeer Jazz Weekend, Amersfoort & Apeldoorn Jazzfestivals), Russia, the US (a.o. Cape Cod, MA; Carlyle, PA)
2014: Germany, the Netherlands, Poland (Jelenia Gora Jazzfest), the US (a.o. Atlanta, GA; Winston Salem, NC; Sacramento, GA)
2013: DR Congo (Jazzkif Fest), Thailand (a.o. Bangkok Festivals), the Netherlands (a.o. festivals Amersfoort, Zandvoort), the US, Zimbabwe (a.o. HIFA)
2012: Mexico & Guatemala (a.o. Eurojazz), Oman (Sohar Music Festival), US (a.o. Distinctively Dutch Tour), the Netherlands (a.o. Festivals Breda, Leeuwarden, Oisterwijk)
2011: Belgium (a.o. Gouvy Jazz), Brazil (Rio das Ostras Jazz e Blues Fest), Canada (Sunfest), Croatia, Finland (Imatra Big Band Fest), India, the Netherlands, the US.
2010: Belgium, Bulgaria (Balcik Fest), Chile (8 concerts a.o. Bicentenario, International jazzfest Puerto Montt), Georgia, Germany (Women in Jazz Festival, Halle), Hong Kong (Music Beyond Borders), India, Italy, Moldavia, the Netherlands (jazzfests Amersfoort, Apeldoorn, Heiloo etc), Poland, Russia, Serbia (Nisville Jazzfest), Thailand (Koh Samui JF, Jazzup Bangkok).
Saskia Laroo new album release
CD, LP (vinyl) and digital
Trumpets Around the World
Now's the time that Amsterdam's own Saskia Laroo unleashes her latest album highlighting her jubilee (40 years on stage, 25 years of Laroo Records and Saskia Laroo Band)--and it's right on time! Saskia plays all her instruments on this album: trumpet, bass, sax and singing, with funky dance, hip hop, world grooves, and jazzy flavors melded together--all Saskia Laroo compositions and collaborations with vocalists and instrumentalists like keyboardist/vocalist Warren Byrd, trombonist Joseph 'Mr Defunkt' Bowie, rappers from the Netherlands, US & Burundi and more! Be ready to groove from hip hop to bossa to reggae, from blues to funk with a smooth salsa-- with her and all that jazzy trumpet.
Saskia's album release tour kicks off November 1, 2019 in the

Concertgebouw, Amsterdam, the Netherlands.

US release will follow November 29 at the Buttonwood Tree

, Middletown, CT, US.



 
November 1 and 29 become big parties for Amsterdam trumpet player Saskia Laroo in Het Concertgebouw and The Buttonwood Tree . Not only does she present her new album "Trumpets Around The World" with her band, she also celebrates three anniversaries. Laroo turns 40 "stage years"-old, has run Laroo Records for 25 years and the Saskia Laroo Band has existed for 25 years.
The "Lady Miles Davis of Europe" – dubbed so by the press and public in America --is one of the few women on trumpet in the international stage four decades at top level and leader of her own band for so long. She is known for her improvisational purity, music to which she's given her own twist, flavored with influences from all over the world. It is music with the mystical elusiveness of jazz improvisation, packed in modern grooves, beats, vocals and rap. Seats will be set aside on those dates because interaction with the audience is an important element of Laroo's energetic live performances.
Movie with first album sounds
See
here
the history of the making of the album
The "Dutch Lady of Jazz" plays with her bands all over the world on large and small festivals, in concert halls, clubs and more; this year so far in Thailand, Burundi and the United States. Her music, in kind, sounds like a musical journey with not just pure jazz, but also influences from hip-hop, dance and world music - as if those styles have always belonged together. Two rappers from Burundi can be heard on her new album. Laroo played with jazz greats such as Rosa King, Hans Dulfer, Candy Dulfer, Wynton Marsalis, Toots Thielemans, Roy Hargrove, Teddy Edwards, Maceo Parker and Marcus Miller. She has also shared the stage with the South African Hugh Masekela, the group Sierra Maestra of Cuba and the Dutch-Surinamese band Fra Fra Sound. She's done dance cross-overs with 100% Isis, Ken Ishi and Ronald Molendijk. Laroo has released seven CDs and DVDs on her own label and has won several prizes, including the Indian peace prize "Karmaveer Puraskaar" in 2010.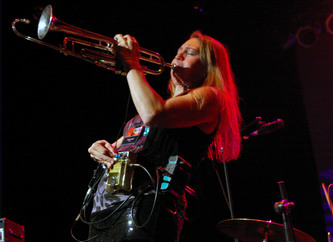 Saskia Laroo on the celebration of her milestones: "I always prefer to look back on my last concert; performing is always a whole new experience. But if I have to mention a few highlights, then I think of the concert during the prestigious Montreux Jazz Festival in the Miles Davis Hall in 2007, the incredible energy of the audience of 25,000 Brazilians during the Rio Das Ostras festival in 2012, or the concert on a stage in the water on the Thai coast for five thousand people earlier this year. Or the 2013 Harare International Festival of the Arts (HIFA) in Zimbabwe, for which we have especially composed the song "Africa Dancin"; and of which we released a live DVD. Although the rhythm of that one song was not recognized by the Zimbabwean audience, it eventually became a special dance party. It was also very special to play in South Korea in 2017 at the KFCheonggyecheon Music Festival in Seoul with a cultural performance from every country--an honor to be asked as a Dutch representative. "
         Saskia's albums on Laroo Records