The Dominican Republic Jazz Festival Educational Foundation (FEDUJAZZ) will celebrate International Jazz Day with a community event, and live music with local musicians and student performers at the FEDUJAZZ headquarters in Cabarete on April 30th, 2016, from 4-7pm. The celebration of International Jazz Day is endorsed by the United Nations Educational, Scientific and Cultural Organization (UNESCO), which hosts simultaneous events around the world, promoting peace, dialogue among cultures, diversity, and respect for human rights and human dignity.
FEDUJAZZ is a non-profit foundation established in 2012, whose main objective is to bring about social change through music education, benefiting youth of the Dominican Republic. The International Jazz Day event is also a co-celebration of the one year anniversary of the FEDUJAZZ music school opening in Cabarete, in February, 2015.
The FEDUJAZZ music program provides children ages 7-18 with free music programs that enhance their overall education and learning, and increases their opportunities in life. Currently there are over one hundred and fifty local students participating in the program. The event is free, donations to FEDUJAZZ accepted. For more information, please call FEDUJAZZ at (809) 571-9350.
---
April Events at the Beach Club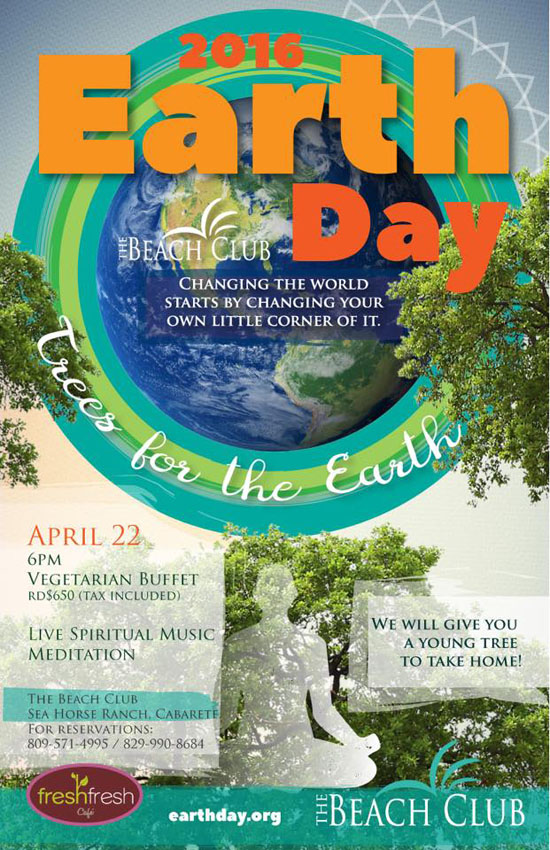 Earth Day is an international celebration that aims to inspire awareness and appreciation for earth's environment. On the first Earth Day in 1970, 22 million Americans celebrated clean air, land, and water.
Earth Day is celebrated worldwide on April 22nd, with our local event being held at 6pm, at the seaside pool area of The Beach Club at Sea Horse Ranch. We will have live music, meditation, a celebration of Mother Earth and a delicious vegetarian buffet.
All participants will be given a sapling to bring home and plant, since this year's theme is Trees for the Earth. The vegetables served will be from Villa Organica, the organic garden at Sea Horse Ranch. Please RSVP to the event at (809) 571-4995.
---
Nature Trails – Cabarete Caves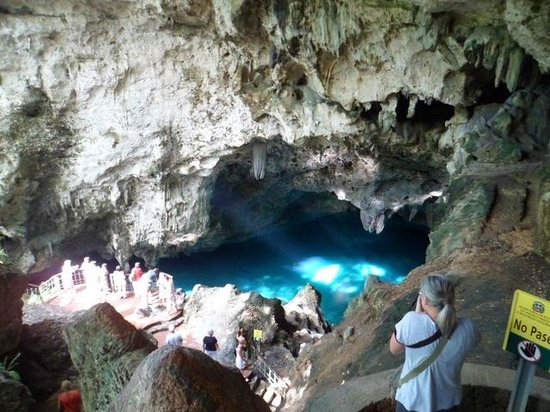 El Choco National Park, located in Cabarete, is a major point of interest for visitors and one of the most important nature reserve parks of the Dominican Republic. The caves (about 200 of them) in El Choco are 5 million years old, and are the delight of visitors that hike through the Park Forest and tour the dark and narrow cave corridors, accompanied by a tour guide and flashlight.
The Cabarete Caves are hidden within the greenery of lush vegetation near a lagoon, off the beaten path from the main road through town. This exceptional site was once home to Aborigines who first inhabited the island (known as the Taino Indians). Bordered by the Septentrional mountain range and the Cabarete lagoon, El Choco National park in total encompasses 77 sq. km. (about 48 miles).
The underground, interlinking caves have rivers flowing below ground, with deep natural swimming pools. Visitors are permitted to swim during their guided cave tour, and deep scuba diving is permitted to those with the expertise. A local, professional diving guide is recommended to explore beneath the caves.
Cabarete Caves in El Choco Park can be reached via the Callejon de la loma (a local neighborhood off the main road in town). Several tour operators offer excursions to El Choco, including horseback riding tours that end in the Monkey Jungle zip line park - which is another fun attraction for tourists and adrenaline lovers. Our concierge at Sea Horse Ranch will be happy to arrange a trip for you.
---
Featured Property – Villa Esperanza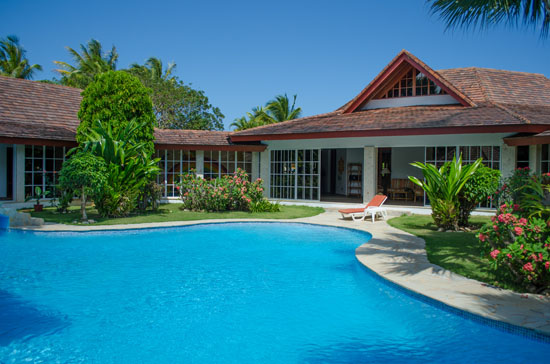 Villa Esperanza is a classic four bedroom, 6 bath tropical island villa, located in the Las Olas section of Sea Horse Ranch. Providing a total vacation experience, Villa Esperanza offers ideal livability, with all of the comforts of home. This updated, complete villa is well-appointed with modern amenities, and elemental luxury.
The main foyer and entrance opens to an immense living room, with vaulted wood ceilings, connecting to the kitchen and dining room with a 10 person dining table on one side, and to a media room and office on the other. Kitchen appliances and equipment are a dream for culinary artists, and provide the ideal space for cooking and entertaining. The kitchen doors can close completely for an ultra-luxurious air conditioned kitchen!
Two master bedrooms and two guest bedrooms are separated on either end of the home, with king size beds in the master suites, one guest room with a queen, and another with two full size beds. All bedrooms have en suite bathrooms. The pool is accessible right outside the rooms.
A lovely enclosed terrace unites indoor and outdoor spaces, connecting the living area and the two master suites to the patio and swimming pool area.
A fanciful gazebo and bar adorn the poolside setting. The tropical gardens are lush with mature vegetation including five mango trees and many flowers, and a garage provides a covered space for storage and automobile.
The sales price is $895,000. Please contact us for more details on this exceptional home.