Greatings and Blessings to all,
We hope this edition finds you and yours on the pigs back, as happy as a lark and fit as a fiddle.
Well, another month has flown by and with it went our warm weather! Right on cue, the climate in our Ohio Valley has become a lot more like Autumn with much cooler temperatures. And thanks to Joaquin, the hurricane off the east coast, we've also received a lot of rain. If you're in the path of this storm, we understand there's going to be serious flooding, so we'll be saying lots of prayers that our readers in the affected areas will be safe.
Since last we wrote, we are sad to report that a friend of the family - who was especially close to our son Scott -lost his battle with cancer. Kevin Donahue was far too young and it was way too soon for him to pass. A very talented musician and artist, he will be dearly missed by his friends who are now passing the hat to pay for a full Requiem Mass which is what he wanted but his family didn't arrange. Our son has put together a Facebook page in Kevin's memory. If you would like to take a look, here is the link:
https://www.facebook.com/The-Legendary-Kevin-Donahue-173382469667328/timeline/
On a lighter note, it's so hard to believe that this weekend, we will be celebrating our 52nd wedding anniversary, which has inspired the joke in this month's edition. We used to go all out and spend a couple of days in a swanky hotel but as old farts on a limited budget, we now confine our splurges to a nice dinner with Herself's favorite champagne, Freixenet - which is actually very inexpensive, TG!
Also this weekend - on Sunday, October 4th, it's the feast of St Francis when many churches invite people to bring their pets in to be blessed. This is a popular tradition all over the world and worth attending even if you don't own a pet - or go to church! Just seeing the owners and their animals is worth a visit.
Meanwhile, Russ and his sister Renee are in the midst of the final edits on the revised edition of The Book. Fingers crossed we'll be able to say it's published by the next newsletter. As for the Blessings book, we will be starting in earnest this coming month in hopes of having it ready for Christmas. Wish us luck!
Onwards:
Is this your first issue? Many thanks for joining us and we hope you enjoy our musings and meanderings. If you do, please feel free to share them with your family and friends.
Search Function Still Not Working
We're still trying possible solutions. No joy, so far. Fingers crossed it will be fixed by the next edition!
Enough of the blitherin' - on with the update!
IN THIS ISSUE:
FROM THE MAILBOX
LINKS
QUOTE
BIT OF THE WIT
JOKE
DID YOU KNOW
RIDDLE
THE WEEK THAT IS & THE WEEK THAT WILL BE
LEAVE THEM LAUGHING
SPONSOR: Please visit our friends at the Celtic Attic
Would you like to get 5.00 off your order at the Celtic Attic? Place an order between now and October 15 15 and use code 5 off on orders of $25.00 or more; to get 10% off any size order use code tenp. We will send you a link to a survey when your order is completed so you can give us your thoughts on our new shopping cart and our web site in general
http://www.celticattic.com or http://www.acelticcalling.com/ ;
Also, we are giving away a Celtic Autumn Basket. You only need to enter once and you are automatically entered in this contest as well as our normal monthly contest for 2 Irish Pendants.
http://www.celticattic.com/contact_us/free_giveaway
For phone Orders, please call: (360) 531-1107 10am to 5pm PST Week Days
FROM THE MAILBOX
"Marriage is the triumph of imagination over intelligence. Second marriage is the triumph of hope over experience."
Richard Bentley visited our site and noticed that we had incorrectly attributed the entire quote above to Oscar Wilde. The second line should actually be attributed to Samuel Johnson who either said it or wrote it 100 years earlier! This brings to mind an anecdote by James Whistler. He was with Oscar when the latter praised a clever turn of phrase by saying "I wish I had said that." Mr Whistler responded, "You will, Oscar, you will".
Thanks to Mr Bentley, we have corrected the sources of the quotes and we urge any of our readers who spot any mistakes to please contact us so we can correct them. Go raibh math agate!
LINKS
Autumn in Ireland
A slideshow accompanied by a particularly pretty instrumental version of Danny Boy
https://www.youtube.com/watch?v=OnGn6mDVJAo
Ireland's Tidiest Town, 2015 - Letterkenny
Letterkenny in Co Donegal has earned the title of the tidiest town in the Republic of Ireland for 2015. So we looked for a link that might explain its selection. We think this one does the trick:
https://www.youtube.com/watch?v=fqwLUx7FQHk
An Irish Blessing
Sung in Gaelic by Aoife Ní Fhearraigh and spoken in English by Roma Downey. For whatever reason, this made herself all teary-eyed!
https://www.youtube.com/watch?v=RV7fPo3Z718
Dublin and Mystical Side-Trips
If Herself can't actually be in Dublin where her mother was born, an armchair tour will have to do. Sigh.
https://www.youtube.com/watch?v=heH309H9Krs
Thinking about our upcoming 52nd wedding anniversary (how can that be?!) Herself decided to take a look at a contemporary wedding in Ireland. Want to see more - there are loads of them!
https://www.youtube.com/watch?v=vQAiDHonslA
On-Going: Facebook Page
Have you visited it yet? Every day, we make an effort to publish something that's related to Ireland and the Irish. But not always. Yesterday, Journal Ireland ran a hoax story about a meteor hitting Ireland. It inspired a quiz: Would You Survive The Apocalypse? Herself failed. How would you do? Click on this link and see for yourself:
http://www.thejournal.ie/sky-apocalypse-quiz-2335803-Sep2015/
SPONSOR: Please visit our good friends, Lollysmith
Find the perfect gift for every occasion at Lollysmith! Anne Jacobs from California says: "LollySmith is my favorite place to shop online. Every order has come in a timely manner. I love the selection and the quality is excellent. I will continue to shop at LollySmith and recommend this store to my friends." See what Anne is talking about here: http://www.lollysmith.com/
QUOTE
Marriage: When two people are under the influence of the most violent, most insane, most delusive, and most transient of passions, they are required to swear that they will remain in that excited, abnormal, and exhausting condition continuously until death do them part.
George Bernard Shaw
A BIT OF THE WIT
A Kerry man and his wife walk past a famous gourmet restaurant. "Did you smell that food?" the wife asked. "Incredible!" The Kerryman thought, What the heck, being a nice guy, I'll treat her." So they walked past it again.
A FAVOURITE JOKE
Mike wakes up at home with a huge hangover. He forces himself to open his eyes, and the first thing he sees are a couple of aspirins and a glass of water on the bedside table. He sits up in bed and sees his clothing in front of him, all clean and ironed. He looks around the room and sees that it is in perfect order, spotless. He takes the aspirins and sees a note on the table which says "Breakfast is on the stove, dear. I left early to go shopping. Love you!" He goes to the kitchen and sure enough, there's a hot breakfast waiting for him, and also the morning newspaper. His son is sitting at the table, eating. Really curious by now, Mike asks, "Son, what happened last night?" His son says, "Well, Mam said you came home after 3 a.m, you stumbled in the door, threw up in the hallway, and passed out half-way up the stairs. Confused, Mike asks, "So, why is everything in order and so clean, and breakfast is on the table waiting for me?" His son replies,
"Oh, that! Mam dragged you to the bedroom, and when she tried to take your trousers off, you yelled "Leave me alone woman, I'm a married man"
DID YOU KNOW
1. "Would you like to be buried with my people is an old Irish wedding proposal?"
2. If a bride's mother in law breaks a piece of wedding cake on the bride's head, they will be friends for life?
3. A bride and groom should never wash their hands in the same sink at the same time - it was courting disaster if they did
Source: The Traditional Irish Wedding by...Herself!
The books still available on Amazon. Please click
http://www.amazon.com/Traditional-Irish-Wedding-Bridget-Haggerty/dp/0937702218/?_encoding=UTF8&camp=1789&creative=9325&linkCode=ur2&qid=1317490208&sr=8-1&tag=irishcultucus-20&linkId=QEJRY3WCPS6KDMAM
SPONSOR: Please visit our good friends at the Irish Lottery
In operation since 1988, it's one of the oldest online sites in the world. With subscribers in 89 countries it is also among the most reliable. Jackpots are never lower than US $1,500,000 and are frequently worth in excess of US$5,000,000 Here's the best part - you don't have to live in Ireland to play and all winnings are Tax Free! Play from the comfort of home here:
http://www.irishlotto.net/AD300/
RIDDLE
First off, the answer to our last
Head Banger:
Q.
A man gave one son 10 cents and another son was given 15 cents. What time is it?
A. A quarter to two
Once again, what we thought might be a difficult poser was no match for our Riddle People. We received a slew of correct solutions, but first in was Annie Flanagan. Well done Annie, and many thanks to all of you who took the time to solve the puzzle.
And now for our next Brain Bruiser:
Q. What does this message say?
G T Y O R J O T E O U I A B G T
Please send your answers to Bridget:
bhaggerty@irishcultureandcustoms.com
It would be helpful if you put Riddle in the subject line. Thanks!
THE WEEK THAT IS
1. Article: Making a Match in Lisdoonvarna
http://www.irishcultureandcustoms.com/AMisc/Lisdoonvarna.html
2. Article: St. Kieran of Clonmacnoise
http://www.irishcultureandcustoms.com/ASaints/Kieran.html
3. Article:John McCormack - An Irish legend, then and now
http://www.irishcultureandcustoms.com/AMusic/JMcCormack.html
4. Poetry Corner: Thomas Michael Kettle
http://www.irishcultureandcustoms.com/Poetry/Kettle.html
5. Article: Guinness - For Strength!
http://www.irishcultureandcustoms.com/2Kitch/aGuinness.html
6. Article: Celebrating St. Michael's Day in Old Ireland
http://www.irishcultureandcustoms.com/ACalend/Michaelmas.html
7. The Irish Kitchen: A Taste of Ireland - The Potato
http://www.irishcultureandcustoms.com/2Kitch/aPotato.html
8. Basic Irish: Irish Oysters
http://www.irishcultureandcustoms.com/2Kitch/rOysters.html
9. Kids' Ireland: The Selfish Giant
http://www.irishcultureandcustoms.com/1Kids/SelfishGiant.html
10. Music Review: Ronan Browne - Truly an artist for all time
http://www.irishcultureandcustoms.com/AMusic/Ramoutar/RonanBrowne.html
THE WEEK THAT WILL BE
1. Article: How the Irish invented Hallowe'en
http://www.irishcultureandcustoms.com/ACalend/InventHalloween.html
2. Article: An Irish Halloween - Part 1
http://www.irishcultureandcustoms.com/ACalend/Halloween1.html
3. Article: Protect your property and yourself - make a Parshell!
http://www.irishcultureandcustoms.com/ACalend/Parshell.html
4. Article: Creepy Irish Castles and Houses
http://www.irishcultureandcustoms.com/ACalend/CreepyCastles.html
5. Article: Creepy Irish Creatures
http://www.irishcultureandcustoms.com/ACalend/CreepyCreatures.html
6. Article: The Dullahan - Ireland's Headless Horseman
http://www.irishcultureandcustoms.com/ACalend/Dullahan.html
7. The Irish Kitchen: Barm Brack
http://www.irishcultureandcustoms.com/2Kitch/rBreads.html#BarmBrack
8. Basic Irish: Halloween and Samhain
http://www.irishcultureandcustoms.com/3Focloir/Halloween.html#Gael48
9. Kids' Ireland: The Soul Traps
http://www.irishcultureandcustoms.com/1Kids/SoulTraps.html
10. Music Review: New one coming!
11. News: We keep two weeks worth of news here:
http://www.irishcultureandcustoms.com/01News/Home.html
12. Irish Shops: A collection of our favorite places to shop for Irish products:
http://www.irishcultureandcustoms.com/Shop/1Shop2.html
So there you have it until we write again If you're celebrating a birthday, anniversary or other special event between now and then, we hope it's an occasion filled with love, joy and laughter.
Did you tie the knot in October? Here is your special verse:
If in October you do marry,
Love will come, but riches tarry.
We can attest to that!
Before we take our leave with our customary Irish blessing and, before we forget it altogether, Pinch, Punch, First Day of the month, White Rabbit!
Blessing
Bless the house
and bless the hearth,
bless the work
and bless all here.
May your faith be strong
May your heart be true
and the divil n'er
And, as they say in Ireland, mind yourself
Slan agus Beannacht,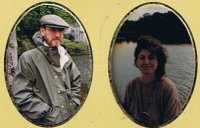 Bridget & Russ
Get down on your knees and thank God you're still on your feet.
Téigh ar do ghlúine is bí buíoch le Dia go bhfuil tú fós ar do chosa.
LEAVE 'EM LAUGHING
Kids views on love & marriage
If falling in love is anything like learning how to spell, I don't want to do it. It takes too long." -- Glenn, age 8
"Love is like an avalanche where you have to run for your life." -- John, age 9
"I think you're supposed to get shot with an arrow or something, but the rest of it isn't supposed to be so painful." -- Manuel, age 8
"No one is sure why it happens, but I heard it has something to do with how you smell. That's why perfume and deodorant are so popular." -- Mae, age 9
"Love is the most important thing in the world, but baseball is pretty good too." -- Greg, age 8
"One of the people has freckles, and so he finds somebody else who has freckles too." -- Andrew, age 6
"I'm not rushing into being in love. I'm finding fourth grade hard enough." -- Regina, age 10
"A man and a woman promise to go through sickness and illness and diseases together." -- Marlon, age 10
"Love will find you, even if you are trying to hide from it. I been trying to hide from it since I was five, but the girls keep finding me." -- Dave, age 8
"Marriage is when you get to keep your girl and don't have to give her back to her parents"
Eric, age 6
"When somebody's been dating for a while, the boy might propose to the girl. He says to her, 'I'll take you for a whole life, or at least until we have kids and get divorced, but you got to do one particular thing for me.' Then she says yes, but she's wondering what the thing is and whether it's naughty or not. She can't wait to find out."
Anita, age 9
"It's better for girls to be single but not for boys. Boys need somebody to clean up after them"
Anita, age 9
"Once I'm done with kindergarten, I'm going to find me a wife"
Bert, age 5
How can a stranger tell if two people are married?
"You might have to guess, based on whether they seem to be yelling at the same kids."
Derrick, age 8
When is it okay to kiss someone?
"When they're rich."
Pam age 7
"The rule goes like this: If you kiss someone, you should marry them and have kids with them. It's the right thing to do."
Howard, age 8
"You should never kiss a girl unless you have enough money to buy her a ring and her own VCR, 'cause she'll want to have videos of the wedding."
Allan, age 10
How do you decide whom to marry?
"You got to find somebody who likes the same stuff. Like, if you like sports, she should like it that you like sports, and she should keep the chips and dip coming."
Alan, age 10
"No person really decides before they grow up who they're going to marry. God decides it all way before, and you get to find out later who you're stuck with."
Kirsten, age 10
"My mother says to look for a man who is kind… That's what I'll do… I'll find somebody who's kinda tall and handsome."
Carolyn, age 8
Titles of Love Ballads You Can Sing To Your Loved One:
"'I Love Hamburgers, I Like You!'" -- Eddie, age 6
"'You Are My Darling Even Though You Also Know My Sister.'" -- Larry, age 8
"'I Am In Love With You Most of the Time, But Don't Bother Me When I'm With My Friends.'" -- Bob, age 9
"'Honey, I Got Your Curly Hair and Your Nintendo On My Mind.'" -- Sharon, age 9
"'Hey, Baby, I Don't Like Girls, But I'm Willing To Forget You Are One!'" -- Will, age 7