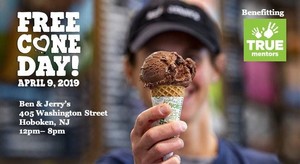 Dear friends and neighbors:
Who doesn't love ice cream?!?! Especially when its free and its on a Tuesday (like an amazing mid week surprise)!
Come
down today to Ben & Jerry's at 405 Washington St. between 12 noon and 8pm for a free scoop! There will be live music and face painting for the kids (from 4-9). And depending when you go, you may have your ice cream served by some familiar faces (Hint: I will be scooping from 4-6 and I also heard that Fire Chief Crimmins will be there between 2-3!).
And while you are there, you can donate spare change, any other amounts, or buy a "skip the line" ticket with all amounts going to the amazing local organization
True Mentors
. You have heard me go on about them before, but their mentorship program improves the lives of Hoboken children every day. One child at a time.
I wish it was sunnier. I wish it was warmer. But free ice cream can be the bright spot in a weather on any day. Including today so hope to see you there!

As always please forward this to anyone you think may be interested in free ice cream!
Feel free to reach out via email, text or phone (201-208-1674) about this or anything else important to you.
Best wishes,

Hoboken City Council, 2nd Ward
Engage
.
Inform
.
Advocate
.