Nicky Charles Newsletter – November 2017

Just a quick update about two releases!
1. Untried Heart is being released tomorrow, November 13th!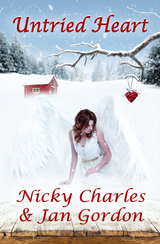 What happens when perfection is too perfect?
Eugenie, a young and untried guardian angel, loves her life in Heaven, yet something seems to be missing. When she is assigned to her first interactive case she wonders if it will provide the excitement she craves.
Her client, Benjamin Davis, is certainly interesting enough. Is he the key to her happiness? Possibly, but when a relic from her previous life surfaces it causes all kinds of complications.
With the guidance of her superior, the Archangel Michael, and additional help from Zeke, an up and coming GA, Eugenie sets out on an adventure that could change her life in ways she never expected.
Untried Heart is the second installment in the Hearts & Halos series by Nicky Charles and Jan Gordon.
A cry of surprise escaped her and she closed her eyes, expecting to hit the ground but instead was encased in strong, warm arms. Looking up, she found her face extremely close to Ben's, her breasts pressed to his chest. She could feel the thumping of his heart, the light brush of his breath against her skin. Inhaling, she was struck by his scent, a fascinating mixture of man and fresh sawdust. Her mouth suddenly seeming dry, she licked her lips and slowly moved her gaze over his mouth up to his eyes. They were staring intently at her and she felt his grip tighten before he set her down with a decided thump.
---
2. Kane: I am Alpha will be available Dec 26th
If you didn't purchase this novella as part of the trilogy this summer, now is your chance!
After surviving the leadership challenge, being Alpha should be easy, right? But Kane's illusions are soon shattered as the demands on him escalate. His half-brother seems to have gone rogue, an old flame is becoming clingy, the pack's water supply has been contaminated by an oil spill and now…the Council of Elders are proposing a political mating! What's an Alpha to do?
A treat for die-hard fans, Kane: I Am Alpha presents Kane's viewpoint on the original Law of the Lycan's novel, The Mating.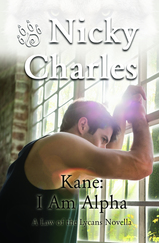 Pre-order links:
"We've been taking pictures."
Marla's announcement drew the wolf's attention. He watched as she sat down.
She flicked her long, blond hair over her shoulder managing to lounge elegantly despite the fact she was perched on a log. "I'm going to help Ryne arrange another exhibit. Now that I've been promoted at Bastian's I'll have more say on the scheduling of art shows."
"You'd make a great picture, Kane." Ryne raised his camera.
"That's a wonderful idea." Marla clapped her hands. "Kane, you're so handsome, everyone will be fawning over a picture of you."
"I thought I was the handsome one?" Ryne quirked a brow at her and she laughed.
"You're a sexy, dashing devil and you know it, Ryne Taylor."
Ryne bent and gave her a thorough kiss. "And don't you forget it." He turned towards his brother and began to focus the camera. "Give me a smile, Kane."
A growl from the intended subject had Ryne pausing. "Now don't go all wolfie on me, Kane. I know you don't want any humans to see pictures of Lycans. This would just be for family."
He hesitated and Ryne pressed his point.
"It could be a Christmas present for Helen. You know she dotes on you."
He cocked his head and then sighed, giving his permission.
"Great." Ryne quickly began snapping pictures from various angles.
Finally tired, the wolf yawned and shifted to human form. "That's enough, Ryne. I'm supposed to be working not acting like some pin-up boy."
Marla grinned. "And a fine pin-up boy you'd be."
---
That's it for now! Until next time, happy reading!

---