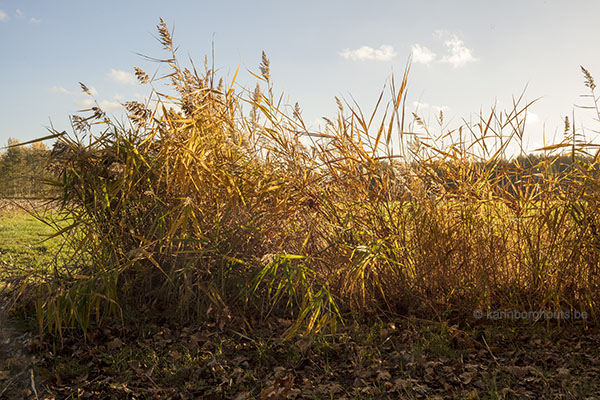 Nuenen, NL © Karin Borghouts, 2018 

 

Solo exhibition


After Karin Borghouts took photographs of the Van Gogh reproduction in her parents' burned-out home, she became aware of her youthful memories of this painting and the influence it had had on her visual memory. Slowly a ball started rolling, and the photographer has since followed in Vincent van Gogh's footsteps several times over the past few years. Zundert, de Borinage, Nuenen, Parijs, Arles, Saint-Rémy-de-Provence, Auvers sur Oise… she looked and photographed things today that the painter had looked at, drawn and painted around 130 years ago. Karin has also made reconstructions of Van Gogh's still lifes and photographed them.
The photographs from the North Brabant period are now on display for the first time, along with the major exhibition 'Van Gogh's Inner Circle' that is being held this autumn at Het Noordbrabants Museum in 's Hertogenbosch in the Netherlands.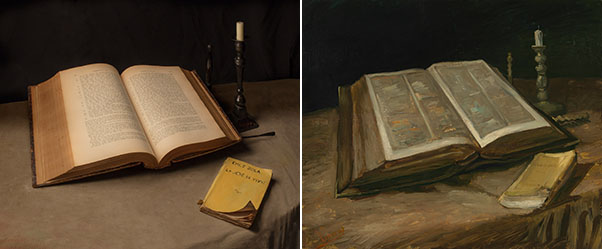 Left: Still life after Van Gogh, photo

 

© Karin Borghouts, 2018
Right: Vincent van Gogh, Nuenen, 1885 (© Van Gogh Museum Amsterdam - Vincent van Gogh Stichting) on view in the exhibition 'Van Goghs Inner circle'
Van Gogh's inner circle, Vincent van Gogh and others

Vincent was here, photographs Karin Borghouts
21 September 2019 - 12 January 2020
Verwersstraat 41
's-Hertogenbosch The Netherlands

Tickets 'Van Goghs innner circle' online.
_________________________________________________________________________________
Vincent van Gogh (1853 - 1890) moved from place to place from quite early on in his life, never staying in one spot for very long. In the Borinage he decided to devote himself to art, and made some 900 paintings and 1,100 works on paper during his career. He also left 902 letters for posterity. The photographer Karin Borghouts followed in Vincent's footsteps, from his Dutch birthplace in Zundert to Auvers-sur-Oise in France where he took his own life. No less than thirteen locations, including Nuenen, Drenthe, Paris, Arles and Saint-Rémy-de-Provence are portrayed in magnificent images. She has also reconstructed 25 of his still lifes and photographed them. Come and enjoy the wondrous places and themes that were Vincent's, and view them afresh through Karin Borghouts' lens.
208 pages
130 photographs Karin Borghouts
Texts by Xavier Canonne, director Musée de la Photographie Charleroi and
Ron Dirven, conservator Vincent van Goghhuis, Zundert
Dutch, French and English
Offset, hardcover, bound

ISBN 9789080990333
39 euro


Edition by Gallery Ronny Van de Velde
Special edition (50 ex) with an archival pigment print 22 x 28 cm on PhotoRag Baryta.

Choice of 10 prints, only 5 ex. per print
_________________________________________________________________________________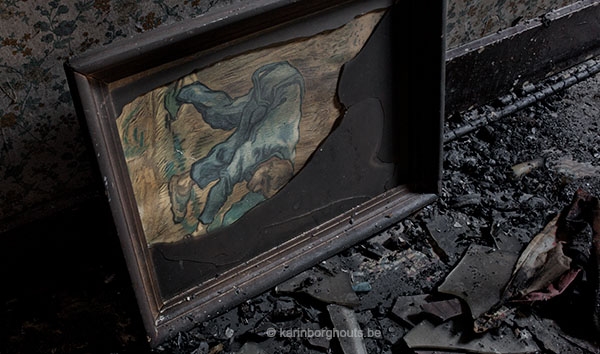 Series 'The house', © Karin Borghouts, 2012

The intriguing series of photos 'The House' that Karin Borghouts made in her parents' burned-out home is now exhibited in Switzerland as part of the BI11 - Biennale dell'Immagine with the theme CRASH.
Via Gruetli 1
CH-6830 Chiasso
Zwitserland

_________________________________________________________________________________
Solo exhibition

Interludium
shows photographs of the setting for disappeared exhibitions or exhibitions that have not yet opened in museums. It also includes pictures of halls after the show had ended or before it had started. The photographs show spaces, but the theme is time and interludes. They evoke questions about looking, about what we see and what we don't normally see.
You will see photographs from before the major commission from the Royal Museum of Fine Arts in Antwerp and Museum De Lakenhal in Leiden, several of which were featured in the photo exhibition 'Beyond the Document' at Bozar Brussels.
Exhibitionview 'Interludium' - CCHA

Interludium - Karin Borghouts


Until 24 November 2019




ZICHT
is a monthly newsletter of Belgian artist photographer Karin Borghouts.
She is working on her own projects and on commissioned assignments by museums, art
and heritage institutions, architects, publishers and city councils.
Karin Borghouts, Bareelstraat 32, 2920 Kalmthout, Belgium

We respect your privacy and do not share or sell our mailinglist. We do not track you or record information about you.
We do enjoy keeping you informed of our exhibitions and our artist's news via email; however, if you do not want to receive these emails anymore, you can unsubscribe below at the bottom of the page.  
Subscribe to ZICHT on the homepage, scroll down



2019 Copyright Karin Borghouts/SOFAM