Welcome to CMCA(UK)
A lot has certainly happened since the publication of our first newsletter back in December, including the introduction of our innovative new ATOM service.
Please bear with us if you have received this email in error, you can unsubscribe at the bottom of the page but if you would like to find out more about us feel free to read on...
CMCA(UK) Principal Sponsor of COG Conference & Exhibition 2013!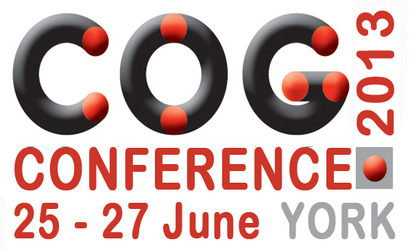 CMCA(UK) are pleased to announce that we are the principal sponsor of The 2013 Component Obsolescence Group (COG) International Conference and Exhibition. The exhibition will run from 25th-27th June 2013 at The Royal York Hotel in York and will feature a number of conference workshops and networking opportunities.
Entitled "Mitigating Obsolescence in a Dynamic Global Environment" the 2013 COG International conference objective will be to address and understand the effects of through life maintenance of equipment in a dynamically changing international environment.
Practitioners from all aspects of the supply chain and across all sectors are strongly encouraged to participate including Obsolescence Practitioners, Design Engineers, Procurement Personnel and Suppliers. Please come and visit our stand if you plan to attend, you won't miss us we are number 11, we will also be unveiling the full details of our new Assured Total Obsolescence Management (ATOM) service.
Introducing Assured Total Obsolescence Management (ATOM) Service

CMCA(UK) is pleased to announce details of its latest innovative Obsolescence Management service.
CMCA(UK) ATOM (Assured Total Obsolescence Management) has been specifically designed to address the ever-changing needs of engineering and production organisations affected by obsolescence issues. Regardless of whether you are a large multi-national corporation or a small engineering company, ATOM is a fully tailorable service that will cover all aspects of managing obsolescence from strategic advice through to tactical solutions.
Further details of CMCA(UK) ATOM will be unveiled at the Component Obsolescence Croup (COG) International Conference in June 2013. Meanwhile, please feel free to contact Darren Topley if you would like to express an early interest in learning more about the service.
Procurement Services Success!
The Procurement Services Department have had a flying start to the year, having secured a major contract from the Maritime Equipment Transformation IPT (MoD), a contract for non-destructive test equipment, and various other orders from valuable customers. All of which have helped us achieve a very healthy return and we're pleased to report, an increase on last year's order intake!
We're sure you will all agree that this is exceptional and we'd like to publically thank the members of the Procurement Services Team whose hard work over the last 12 months has had a direct result in securing this phenomenal order intake. It just doesn't happen without due effort and dedication.
Thank you June, Clare, Emma, Ron and Nial, keep up the good work and lets see what we can achieve by the end of the year.
CMCA(UK) sponsors Canada sports tour

With our exports to, and dealings with Canada ever increasing we felt it ripe to get involved with John Kyrle High School's fourth International Sports Tour to Canada. CMCA(UK) have taken great delight in sponsoring the school's tour t-shirts, netball dresses and rugby kit.
Thank you!
May we take this opportunity to thank you for your time and for reading our newsletter, Please don't hesitate to contact us regarding any of our services or to see how we can help you contact our Business Development Manager Antony Elliott on +44 (0)1905 458 307 or email
Antony.Elliott@cmcauk.co.uk
.
This is the first van in the CMCA(UK) fleet and the reason we have invested in a suitable vehicle for the movement of ESD sensitive products is to further assist the risk mitigation controls required by our customers. The van has been designed to accommodate specific ESD packaging which secures the product and eliminates movement during transit.

Last week CMCA(UK) attended the Hereford & Worcester Chamber of Commerce Business Expo and we're proud to report that we won a prize! Pictured is Stacey Redman of SME LLP presenting Rob Crawford, CMCA(UK) MD with his prize for coming top of the leaderboard in the SME scalextric challenge, which will be donated to a charity raffle.

We like to do our bit for Charity and this year it's very much about supporting our staff in physical challenges to raise funds for charity. Jamie, one of our Codification Specialists is hard at work preparing for the CLIC Sargent Paris to London Centenary Cycle and would very much appreciate your help in reaching his target. CLIC Sargent is a charity for children and young people with cancer and is very close to CMCA(UK)'s heart as they helped one of our team cope when his young daughter was diagnosed with leukaemia.

It is a very worthy charity and if you'd like to make a donation you can easily donate online here or by texting JAMI87 and the amount you wish to donate to 70070.

For those of you who may have dealt with James our Stores Manager or Sam our Lead Buyer, you may know that they've been expecting their first child. We are pleased to announce that just 3 days after going on maternity leave Sam and James welcomed a healthy baby son into the world. Congratulations to the McCann family.