Future EFT Workshops
(with detailed handouts to guide you after the class)
at Lightworkers Gifts for Phoenix-area folks
*
<><><><>
**
SPECIAL 3 Hour EVENT
EFT for Allergy Relief
Saturday April 18
5:30- 8:30 PM - $30
<><><><>
EFT for Physical & Emotional Healing
Friday April 3
7-9 PM - $25
<><><><>
EFT for
Clutter-Busting
Sunday April 5
12-2 PM - $25
<><><><>
Animal EFT
Sunday April 19
12- 2 PM - $25
<><><><>
EFT for Successful
Relationships
Sunday April 26
12-2 PM - $25
<><><><>
to reserve your seat 48 hours in advance!
=============
**
Contact Colleen for a free consultation or to book a session for an hour of surrogate muscle testing, tapping, laughing, fear blasting and SWEET RELIEF!
* * *
* * *
DISCLAIMER: EFT is gentle acupressure and has produced remarkable results in relieving emotional and physical distress.
USE EFT AT YOUR OWN RISK ON YOURSELF AND OTHERS, INCLUDING ANIMALS.
If you apply this newsletter's techniques to yourself or others, you are agreeing to take full responsibility for any side effects and/or outcomes.
* * *
Thank you for subscribing to my newsletter!
* * *
May you be blessed with perfect health, wealth, joy, peace and love! --Colleen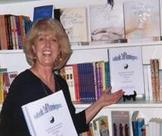 Please forward this newsletter to family and friends who could use the news!

Need help identifying the Core Issues to tap on?

"Heal Your Body A-Z" by Louise Hay lists almost every physical condition known to science and the emotional issues that may be causing them.

*

My website Products page has more info on this book and others to help YOU heal your life with the power of EFT and Louise Hay's teachings.

*

Want to jump start your 2009 weight loss program by flushing out the fears that keep the fat where it's at? Try a private session with Colleen. Her surrogate muscle testing will identify your hidden blocks to success!

Click

HERE

for Private Session information

.

Have you used EFT on yourself, pets or family but have not received the results you wanted?
Mega thanks to YOU, my Worldwide Subscribers for inviting me and my EFT Secrets into your inbox!
*
If you missed my EFT tele-seminar on Abundance you can still Jump-start
your OWN Economic Stimulus Plan!
Go to this URL to download the FREE audio
** * * * * *
<><><><><><><><><><><><><><><><><><>
**
Living in the Phoenix area and suffering from allergies to airborne substances, food, chemicals, and/or emotionally-connected reactions to energy toxins? Perhaps a pet or loved one has allergies and you'd like to surrogate tap for them but don't know how?
*
Please join us at Lightworkers Gifts in Glendale, AZ on April 18th at 5:30 PM. You'll learn quick, easy EFT methods to clear your allergies to tap into vibrant health and energy. Call 623-334-3393 today and reserve your place as seating is limited.
*
If you don't think you're allergic to anything, read on!
*
<><><><><><><><><><><><><><><><><><>
Allergic to our own body fluids?
While preparing for my "EFT for Allergy Relief" Special Event, I discovered an amazing but somewhat horrifying fact: most of us are allergic to our own body's fluids and feces.
* *
Skeptical of this information, I muscle-tested myself and found I was allergic to ALL my fluids. You, your loved ones and pets are probably allergic to your bodies' fluids too. The good news is that these allergies are easily cleared.
*
Our environment has been exposed to over 100,000 new chemicals since 1945. Some of these chemicals have entered our bodies via our nose, mouth, eyes or skin and are floating in our bodily fluids. Our bodies have been bombarded by so many energy toxins that they may not be able to identify harmful versus harmless substances. Our bodies create an immune system reaction to protect themselves, but after an overload of toxins from food, air, cleaning fluids, fabric, chemicals and other items, the body is overwhelmed and identifies almost everything as harmful. Even its own fluids.
* *
Here's how I cleared my allergy to my own body's fluids and feces. It should work for you, too.
*
!!!!USE THIS INFORMATION AT YOUR OWN RISK!!!!!
NOTE: I consider allergies and sensitivities to be different. Allergies are physical reactions we can see such as sneezing, runny nose or skin rashes. Sensitivities weaken the body but may not have any obvious physical symptoms. I tapped on both and my muscle-testing confirmed I'd cleared them.
*
No Set-up Statement ("Even though I...") was needed for me. I just tapped on the face and torso points like this:
*
(Top of head) These allergies and sensitivities to my body's fluids and feces.
*
(Inner eyebrow) These allergies and sensitivities to my body's fluids and feces.
*
(Side of eye) These allergies and sensitivities to my body's fluids and feces.
*
(Under eye) These allergies and sensitivities to my body's fluids and feces.
*
(Under nose) These allergies and sensitivities to my body's fluids and feces.
*
(Under lower lip-above chin bone) These allergies and sensitivities to my body's fluids and feces.
*
(Collarbones) These allergies and sensitivities to my body's fluids and feces.
*
(Under Arm) These allergies and sensitivities to my body's fluids and feces.
*
To surrogate tap for a loved one or pet, you can say this as you tap on yourself at each of the above points:
*
allergies and sensitivities to their own body's fluids and feces.
*
You may be amazed at how much

lighter and energized

you feel after the above simple tapping!
*
Recently I helped a European client to release

years

of food and substance allergies and sensitivities
. He now eats and drinks anything he wants with little or no reaction. He'd gone to numerous sources for help but found little relief. My surrogate muscle-testing pointed to the emotional core issues and we tapped them all away. Email me for more information, to request a free consultation (new clients) or to schedule a session:
Colleen@EmoRescue.com
*
<><><><><><><><><><><><><><><><><><>
Please support independent small business! Go to
www.LightworkersGifts.comfor a huge selection of books, CDs, intuitive readers and other services you can access without living in Phoenix, AZ!
*
Wish you could have inspirational DVDs mailed to your home that the whole family can enjoy at a low price? Spiritual Cinema delivers movies that enlighten, inspire, teach and motivate their viewers and offers a FREE trial for new members!
*
Are you ready to open a holistic healing practice
but not sure where to begin or the best way to do it? Check out this
fabulous package
of incredible information for new and experienced business owners, from successful practitioners like yours truly!
Yes, I own it. Yes, I recommend it--I learned many fresh, fascinating holistic business tips!
**
If someone forwarded this newsletter to you, I hope you enjoyed it!
Click
here
to get your own subscription and a free two-volume e-book on how to release panic, stress and fear via EFT. You can easily unsubscribe at any time.
*
Happy Spring! Happy Easter!
Keep on tapping!
Colleen