We are so grateful that you came to hear Lawrence Howard tell the story of Roald Amundsen and Robert Falcon Scott and their race to the South Pole.
Thank you for listening, for being present, for creating something vital.
We hope to see you again.
Because of you, 500+ people experienced Lawrence telling Polar Opposites! Here's a photo of our enthusiastic listeners at Crooked River Ranch.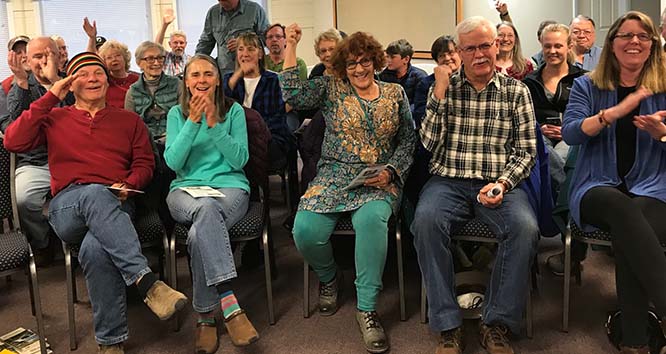 Special thanks to Maryilynne Keyser for producing the show at Crooked River! We were also grateful to return to The Cascades Theatrical Company in Bend. Thanks to our friends Jamie, Michael, Laura Lee, Jodi, Greg, Bev, Ken, Steve, and Dana for helping us get the word out. We were thrilled with the terrific Q&A piece by David Jasper in The Bulletin. Before traveling east, Polar Opposites was hosted by Mark Johnson of the Dallas Library, Laila Simon of Nordia House, and Astri Grieg Fry of Norse Hall. We launched the program at The Old Church Concert Hall in January and it was met with rave reviews by Bob Hicks of Arts Watch, Krista Garver of Broadway World, and Dennis Sparks of All Things Performing Arts.
If you or someone you know would like to order a double-CD of this story or others in the Armchair Adventurer series, please visit our website pdxstorytheater.org and click on SHOP in the upper right corner. We ship anywhere in the continental United States at no additional charge.
If you're interested in getting more involved or have questions about our work, please give us a call or send us an email. We love hearing from you. And until we see you again...
May The Narrative Be With You!®