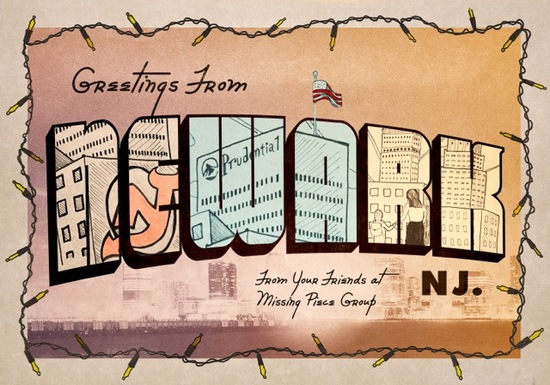 Happy Holidays from Missing Piece Group!

Feels weird/wrong/blind to say it's been a good year, because, well… do i have to even say? Besides the orange elephant in the room, losing a long list of musical heroes is just plain sobering. 

At the same time, I feel grateful for SO MUCH this year. I'm grateful to a staff here at Missing Piece that never, ever lets me down. I'm grateful to have the opportunity to work with artists who inspire me daily with their hard work, their commitment, and their creativity. I'm grateful that 3+ decades in, I continue to be able to provide for my family doing something I never imagined I could make a career of.

And, it's always been my dream to have a record label. We've put out some great records over the years, but now via a deal with Caroline we're deep in it, and will release two albums early next year that I'm in love with:
- Charleston, SC
SUSTO
's
& I'm Fine Today
is out January 13th. If there's one song that's helped pick me up out of a post election funk, it's SUSTO's "
Waves
." They're on tour with the Lumineers early next year; see this band and remember why guitars still exist.
- The Guardian, writing about British vocalist
ALA.NI
said "It's almost a let-down to learn that she's not a spectre but a functioning human". Well she is human, but I understand where they're coming from. This
performance
on Jools Holland of first single "Cherry Blossom" is pretty damn otherworldly. We'll release her album this Spring; for those of you that are in NYC, ALA.NI will perform her first NY shows at the Highline Ballroom (1/5) and Hi-Fi (1/6). 

And, last but not least… my boys Colony House will release their 2nd LP via Descendant/RCA on 1/13. Colony House give me hope that rock music can have heart, power, emotion AND can appeal to a huge swath of humans. We manage these guys, so this is not at all altruistic, but I believe the world will be a better place when this band are HUGE. And they will be. First example, watch the video for "You & I," where the bros Chapman beat the shit out of each other.  
So much more to rave on about, but to close…ultimately I'm a pessimistic optimist who worries about things way too much, but believes they will work out if I work hard enough. So to start the year out right, the family and I will be in DC on 1/21 at the Million Woman March, and I plan to be more politically active than I ever have been in my life. Let's all promise ourselves that next year will be far, far better than this one, despite everything. It's the only way. 
- Mike
Colony House - Only The Lonely (RCA / Descendant)
 

Missing Piece management client Colony House are set to release their new album

Only The Lonely

on January 13, 2017. The follow up to their critically acclaimed debut,

Only The Lonely

has been praised by 

Noisey

,

Consequence of Sound

,

Billboard

,

Paste

and more.

 





SUSTO - & I'm Fine Today (Missing Piece Records)
Acoustic Christmas (Amazon Music Original)
 

Acoustic Christmas features twenty nine original and classic holiday recordings from a wide range of artists like Train, Zella Day, Us the Duo, Sara Watkins, as well as Billy Bragg and Joe Henry. The Amazon Music original is available exclusively for streaming on Amazon Music Unlimited and Prime Music.

 





Luke Bell - Luke Bell (Bill Hill Records / Thirty Tigers)
 

Luke Bell's long awaited label debut

 





Ben Watt - Fever Dream (Unmade Road)
| | | |
| --- | --- | --- |
| |   | Fever Dream is the follow-up to Ben Watt's critically-acclaimed 2014 release Hendra, his first solo album in more than 30 years. The album renews key partnerships with Hendra's vaunted guitarist-sideman Bernard Butler and engineer Bruno Ellingham, and sprinkles guest vocal cameos from Boston's dream-folk singer-songwriter Marissa Nadler and Hiss Golden Messenger's M.C. Taylor. The album was premiered in full by Pitchfork, and was covered by Stereogum, The Guardian, and more. |
Butch Walker - Stay Gold (Dangerbird)
| | | |
| --- | --- | --- |
| |   | The 8th studio release from the Grammy nominated guitar slinger, troublemaker, raconteur, producer, and Georgia boy, Stay Gold debuted at #2 on Billboard's Heatseekers Chart as well as #10 on the Rock Chart, #40 on Top Current Albums, and #143 on the Billboard Top 200. It's received broad critical acclaim, including praise from Rolling Stone, Wall Street Journal, The FADER, Consequence of Sound, Paste, American Songwriter, AV Club, and Esquire among many others. |
Great American Canyon Band - Only You Remain (Six Degrees)
| | | | | |
| --- | --- | --- | --- | --- |
| |   | This Baltimore four-piece is centered around the married couple of Paul and Kris Masson. Their first video for "Crash" premiered at NPR Music, who praised the band's "floating kind of folk-pop, drifting on gentle harmonies, lots of open space, simple seductive chords and celestial guitar fills." The band premiered their video for "Only You Remain" at AV Club. The video, filmed in Iceland for four days over the summer solstice, matches the beauty of the song with dramatic natural landscape. | | |
The Handsome Family - Unseen (Virtual Label)
 

Husband and wife duo The Handsome Family released their first album since their song "Far From Any Road" was picked up as the True Detective Season 1 theme song which launched the couple into sudden and unexpected worldwide fame. The album was acclaimed by The Wall Street Journal, Fresh Air, Sound Opinions, and more. 

 





Arc Iris - Moon Saloon (Bella Union)
 
Arc Iris' sophomore album Moon Saloon was produced by the group and mixed by electronic producer David Wrench of FKA Twigs and Caribou fame. The album was embraced by

NPR Music

,

Stereogum

, and

SPIN

who said "The Providence-based trio writes astronomical music, with vast diversity in instrumentation, lyrical themes, and melodies... with the mythologizing pen of Joanna Newsom and the brass sections of Florence and the Machine, Arc Iris widens a story to a moral epic."




Joan As Police Woman & Benjamin Lazar Davis
Let It Be You (
Reveal Records/BFD
)
| | | | | |
| --- | --- | --- | --- | --- |
| |   | Industry veteran Joan As Police Woman (Joan Wasser) released her new collaboration album with multi-instrumentalist Benjamin Lazar Davis (Cuddle Magic). They were featured in Brooklyn Vegan, Interview Magazine, Huffington Post and OZY called it "one of our favorite records of 2016". The duo also released a pair of partner videos featuring Fred Armisen for the songs "Broke Me In Two" and "Overloaded" | | |
Robert Glasper Experiment - ArtScience (Blue Note)
 

T

his year, GRAMMY-winning group, Robert Glasper Experiment, released

ArtScience

, a vibrant album which weaves together jazz, funk, soul, rock, hip-hop, blues, disco, electronic, and pop. The album shines a light on each of the members with Robert Glasper, Casey Benjamin, Derrick Hodge & Mark Colenburg sharing in production, songwriting & vocal duties for the first time

 





Truitt - Truitt (Plaid and Pearl)
 

T

ruitt, the Nashville-based brother-sister pop duo released their debut self-titled EP this summer. The duo has been embraced by

Just Jared Jr

,

Twist Magazine

, and 

Ear Milk

, who called them the "kind of new age pop band that makes you hopeful for the future of the genre." They have also been featured on Spotify curated playlists including

Indie Pop!

and

Underground Hits

.





Macy Gray - Stripped (Chesky Records)
 

Macy Gray made her Chesky Records debut this summer with her jazz-infused album, Stripped, an intimate offering recorded live on high resolution audio in a decommissioned Brooklyn church. The album, which features new original songs, intriguing covers, and stunning new arrangements of her classic hits was embraced by Billboard, Elle, Vogue, Vulture, Mic, Huffington Post and many more

.





Brother Moses - Legends (Missing Piece Records)
 

This year Missing Piece Records signed Fayetteville, Arkansas-based Indie rock band, Brother Moses. They released their sophomore EP, Legends on August 26. The album and accompanying music videos were embraced by USA Today, American Songwriter, The Wild Honey Pie and more. Uproxx even traveled to Fayetteville to spend a weekend with the band

.





Dawg Yawp - Dawg Yawp (Old Flame Records)
| | | | | |
| --- | --- | --- | --- | --- |
| |   | Cincinnati-based psychedelic folk-rock duo, Dawg Yawp, released their debut self-titled album via Old Flame Records this fall. The full album was premiered by PopMatters who called it "irresistible" stating they "weave together psychedelic rock, folk, electronica and American roots music in a wholly unique sound..." The duo was also embraced by Consequence of Sound, NPR's All Songs Considered and were included in included in NPR Music's Heavy Rotation feature that highlights "10 songs that public radio can't stop playing." | | |
 

T

his year, the Austin-based psychedelic-metal band released released Welcome Home, their fourth studio album and most acclaimed album of their career. Megafauna reaches back toward the proto-metal haze of Black Sabbath and Sir Lord Baltimore while ushering it skyward with sharp melodies and the space-rock production work of Curtis Roush and The Bright Light Social Hour

.

 





Plants and Animals - Waltzed in from the Rumbling (Secret City)
 

Montreal indie rockers Plants and Animals released their fourth studio album

Waltzed in from the Rumbling

this year via Secret City.

Stereogum

called the album "beautifully and thoughtfully constructed" and a "simple joy to listen to." The album was also embraced by

Pitchfork

,

Brooklyn Vegan

,

Consequence of Sound

and more

.





Some MPG Staff playlists of our favorite music this year:
Make sure to check out our new website HERE
Missing Piece Group