State breast density notification laws increase breast ultrasound utilization
State breast density notification laws are meant to educate women about the increased risk of breast cancer associated with dense breast tissue. A study commissioned by the Harvey L. Neiman Health Policy Institute determined that follow-up breast ultrasound exams increased by approximately 1% in states with this legislation, at a cost of approximately $95 million for every 1% increase.


Clinical effectiveness of MRA for suspected pulmonary embolism
Pulmonary embolism is associated with significant morbidity and mortality. CTA of the chest is the current gold standard for the diagnosis of PE. Pulmonary contrast MRA is an alternative exam without ionizing radiation. Physicians at the University of Wisconsin in Madison analyzed the clinical effectiveness of CTA and MRA based on outcomes of patients diagnosed with PE.


CAD helps improve 2D synthetic mammography performance
Digital breast tomosynthesis is increasingly being used with 2D FFDM to improve detection of breast cancer. Synthetic 2D mammograms created from DBT data are being investigated as a diagnostically viable replacement for 2D FFDM. Radiologists from Nottingham Breast Institute in the U.K. reported in Clinical Radiology that CAD significantly improved performance of the synthetic 2D mammogram.


New version of CT/MRI LI-RADS released by ACR A new version of CT/MRI LI-RADS® (v2018) has been released by the Liver Imaging Reporting and Data System Steering Committee of the American College of Radiology (ACR). This new version is now integrated into the American Association for the Study of Liver Diseases (AASLD) 2018 hepatocellular carcinoma clinical practice guideline. The ACR stated that integration is a major achievement in the LI-RADS mission to unify hepatocellular carcinoma diagnostic imaging criteria.


Focused ultrasound safely opens BBB in Alzheimer's patients
Magnetic resonance-guided focused ultrasound (MRgFUS) can be used to safely open the blood-brain barrier (BBB) in patients with Alzheimer's disease, Canadian researchers from Sunnybrook Health Sciences Centre of the University of Toronto announced at the AAIC in July. Findings of were presented at AAIC and published online in Nature Communications.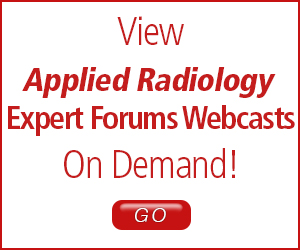 Using real-time US-guided radiologically placed chest drains for complicated pneumonia in children
Complicated pneumonia in children has increased in developed countries since immunization with PCV7 has become routine. Parapneumonic effusion and empyema are generally treated with antibiotics, but chest drainage may be required for complex effusions. Physicians at the Children's Hospital for Wales in Cardiff, UK have been using real-time ultrasound-guided small bone pigtail catheter chest drainage with installation of urokinase since 2001.


FDA approves ACR DBT quality control test procedures
The FDA has approved the American College of Radiology's (ACR) digital breast tomosynthesis (DBT) quality control test procedures, enabling the procedures to be incorporated into the 2016 ACR Digital Mammography Quality Control Manual.


This email has been sent to opt-in recipients by
Anderson Publishing, Ltd., publishers of Applied Radiology,
180 Glenside Avenue, Scotch Plains NJ 07076.
To unsubscribe click here.
View our Privacy Statement here.