Greetings and Blessings to all,
We hope this edition finds you and yours in fine fettle and fit as a fiddle. As for ourselves, the last few weeks have been filled with lots of fun and frivolity as a result of family get togethers! Herself was thrilled to have her brother Terry come over from England for a week. It was the first time in fifteen years, so he had a lot of catching up to do, as in meeting our daughters in law and several grandchildren. Then, our daughter and her family who live in Framingham, Massachusetts, came for a few days as part of a trip to tour a university in North Carolina. It's so hard to believe our granddaughter Caitlyn is already look at colleges!
Onwards: Many of you are aware that Herself has been dealing with some serious health issues for quite some time. The good news is that what we first thought might be a life threatening diagnosis turns out to be an infection made worse because Herself's immune system is so weak. At any rate, the patient is much improved and wishes to thank everyone for all the prayers and messages of support. On our end, we're hoping we can show our appreciation by sending out the newsletter more frequently!
Is this your first issue? Many thanks for joining us and we hope you enjoy our musings and meanderings. If you do, please feel free to share them with your family and friends.
Enough of the blithering', on with the update!
IN THIS ISSUE:
FROM THE MAILBAG
LINKS
QUOTE
BIT OF THE WIT
DID YOU KNOW
JOKE
RIDDLE
THE WEEK THAT IS
LEAVE THEM LAUGHING
SPONSOR: Please visit our friends at the Celtic Attic
Would you like to get 5.00 off your order at the Celtic Attic? Place an order between now and July 15 15 and use code 5off on orders of $25.00 or more; to get 10% off any size order use code tenp. We will send you a link to a survey when your order is completed so you can give us your thoughts on our new shopping cart and our website in general
http://www.celticattic.com or http://www.acelticcalling.com/ ;
Also, we are giving away a Celtic Summer Basket.You only need to enter once and you are automatically entered in this contest as well as our normal monthly contest for 2 Irish Pendants.
http://www.celticattic.com/contact_us/free_giveaway
For phone Orders, please call: (360) 531-1107 10am to 5pm PST Week Days
FROM THE MAILBAG
When we send out a newsletter at the beginning of month, somewhere in it we usually say Pinch Punch First Day of the Month White Rabbit. In our last edition, we wondered how this phrase/tradition originated. We heard from Geraldine who sent us an interesting article on the topic. It doesn't explain it totally, but it is a fun read. Thanks Geraldine!
Here is the link:
http://www.thetelegraphandargus.co.uk/news/11243979.Do_you_ever_say____white_rabbits____or____pinch__punch__first_day_of_the_month____/
LINKS
Mrs Brown's Boys
She's our favorite Irish mammy and if you like her as much as we do, you will want to find out how you can buy a 12-disc box set that's playable in the USA & Canada.
http://www.mrsbrownsboysonline.com
I
rish Culture and Customs Facebook page
Each day, we try to post something of interest about Ireland and the Irish. Have you visited yet? We hope youwill visit us often!
https://www.facebook.com/pages/Irish-Culture-and-Customs/327211532200?fref=ts&ref=br_tf
Discover Ireland - the long version
Herself never gets tired of watching this tourism video which covers just about every aspect of Ireland you can imagine:
https://www.youtube.com/watch?v=XvaIO9Gb7Jg
How to drive in Ireland - for Americans
Some funny moments in this video!
https://www.youtube.com/watch?v=Hu3Gkig4n-8
The stunning beauty and music of Aran
https://www.youtube.com/watch?v=0CMtBIMIS0Q
SPONSOR: Please visit our good friends, Lollysmith
Find the perfect gift for every occasion at Lollysmith! Anne Jacobs from California says: "LollySmith is my favorite place to shop online. Every order has come in a timely manner. I love the selection and the quality is excellent. I will continue to shop at LollySmith and recommend this store to my friends." See what Anne is talking about here: http://www.lollysmith.com/
QUOTE
"Even if the ball was wrapped in bacon, Lassie couldn't find it."
Heard from an Irish caddie, after a particularly bad shot.
A BIT OF THE WIT
"You know it's summer in Ireland when the rain gets warmer."
Hal Roach
A FAVORITE JOKE
An Irish lady goes to the bar on a cruise ship and orders a Jameson with two drops of water. As the bartender gives her the drink she says, "I'm on this cruise to celebrate my 80th birthday and it's today." The bartender says, "Well, since it's your birthday, I'll buy you a drink. In fact, this one is on me." "Well, thank you kindly, sir" says she. As the woman finishes her drink, the woman to her right says, "I would like to buy you a drink, too." The old woman says, "Thank you. Bartender, I'll have a Jameson with two drops of water." "Coming up," says the bartender. As she finishes that drink, the man to her left says, "I would like to buy you one, too." The old woman says, "Thank you. Bartender, I'll have another Jameson with two drops of water." "Coming right up," the bartender says. As he gives her the drink, he says, "Ma'am, I'm dying of curiosity. Why the Jameson with only two drops of water?" The old woman replies, "Ah, lad, when you're my age, you've learned how to hold the hard stuff. Holding your water, however, is another matter entirely."
1. Charles Carroll III is the only Catholic to sign the American Declaration of Independence? Carroll was born in Maryland, whose laws at the time prohibited Catholics from voting, holding office, worshipping openly, or educating their children as Catholics. Despite this rampant anti-Catholic prejudice, Carroll took an active part in the Revolution, using his business acumen to help the colonies arm themselves against Britain. He served as a U.S. Senator in the first Congress, and when he died was reputedly the richest man in America.
2. All told, nine Irish-Americans signed the Declaration of Independence
3. John Dunlap from Co Tyrone was the official US government printer in 1776. He guaranteed his name in history by printing the Declaration of Independence.
SPONSOR: Please visit our good friends at the Irish Lottery
In operation since 1988, it's one of the oldest online sites in the world. With subscribers in 89 countries it is also among the most reliable. Jackpots are never lower than US $1,500,000 and are frequently worth in excess of US$5,000,000 Here's the best part - you don't have to live in Ireland to play and all winnings are Tax Free! Play from the comfort of home here:
http://www.irishlotto.net/AD300/
RIDDLE
First off, the answer to our last brain bruiser:
Q. From what number can you take half and leave nothing?
A. 8
As always, our Riddle people didn't let us down- we had a slew of entries. But, first in was Frank Halloran. Congratulations!
An honorable mention goes to Bill Smith who sent us the following:
Zero. Some say that zero is not a number, but if it isn't, then how can I use it in equations, math problems and bank balances? Good answer Bill, even of it wasn't the one we were looking for.
And now for our next Cranium Cruncher. This one we found on Breaking News Ireland in their Discover section. It was part of a tricky questions quiz:
Q. Which letter comes next in the following sequence? \S, N, E, P, O, H, C…?
Please send your answers to Bridget:
bhaggerty@irishcultureandcustoms.com
It would be helpful if you put Riddle in the subject line. Thanks!
If you'd like to take the quiz, here's the link:
http://www.breakingnews.ie/discover/quiz-can-you-answer-these-trick-questions-684121.html
THE WEEK THAT IS
1. Article: St. Oliver Plunkett
http://www.irishcultureandcustoms.com/ASaints/Plunkett.html
2. Article: When the Irish dominated International tennis
http://www.irishcultureandcustoms.com/ASports/TennisPlaying.html
3. Article: From Our Front Porch -July 4th story
http://www.irishcultureandcustoms.com/AMisc/FromFrontPorch.html
4. Article: A Dandy of an Irish Yankee
http://www.irishcultureandcustoms.com/AMusic/GMCohan.html
5. Article: What the Twelfth means to me
http://www.irishcultureandcustoms.com/ACalend/12thJuly.html
6. Watching the Rain on St Swithin's Day
http://www.irishcultureandcustoms.com/ACalend/StSwithins.html
7. Irish Kitchen: Ballymaloe Salad with Shanagarry Cream Dressing
http://www.irishcultureandcustoms.com/2Kitch/rVegSalad.html#BallaymaloeSalad
8. Basic Irish: Summertime
http://www.irishcultureandcustoms.com/3Focloir/Summertime.html
9. Kids Ireland: The Remarkable Rocket
http://www.irishcultureandcustoms.com/1Kids/Rocket.html
10. Music Review The Wolfe Tones: A Celtic Symphony of Unity, Still "Singing Out for Ireland"
http://www.irishcultureandcustoms.com/AMusic/Ramoutar/Wolfetones.html
11. Headlines: We keep two weeks worth of headlines here:
http://www.irishcultureandcustoms.com/01News/Home.html
12. Irish Shops: A collection of our favorite places to shop for Irish products:
http://www.irishcultureandcustoms.com/Shop/1Shop2.html
So there you have it until we write again If you're celebrating a birthday, anniversary or other special event between now and then, we hope it's an occasion filled with love, joy and laughter.
Did you tithe knot in June or July? Here are your special verses:
Marry when June roses blow
Over land and sea you'll go.
They who in July do wed
Must always labor for their bread.
In the old days, July could be a very difficult month because the harvest wasn't yet ripe and food stores often ran low or ran out altogether. Hungry July was often the term used to describe this period in the Irish calendar and greater effort was required to put a meal on the table. While we're not certain if these circumstances are how the July wedding verse came about, it does make a certain amount of sense. In any event, whatever month you're married in, unless you were born with a silver spoon in your mouth, you have to labor for our bread!
Before we take our leave with our customary Irish blessing, we would like to wish all of our readers in the United States a safe and Happy July 4th weekend. Oh, and before we forget it altogether, Pinch, Punch, First Day of the month, White Rabbit!
May you be blessed with warmth in your home, love in your heart, peace in your soul and joy in your life
.
And, as they say in Ireland, mind yourself
Slan agus Beannacht,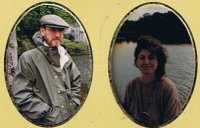 Bridget & Russ
Get down on your knees and thank God you're still on your feet.
Téigh ar do ghlúine is bí buíoch le Dia go bhfuil tú fós ar do chosa.
DID SOMEONE FORWARD THIS ISSUE TO YOU?
Subscribe for FREE!
Send an email to: bhaggerty@irishcultureandcustoms.com
OR click on this link:
http://www.irishcultureandcustoms.com/Newsletter.html
LEAVE 'EM LAUGHING
It was England v. Ireland at Wembley Stadium. And it was at that very match when the two Clancy brothers approached the turnstile."How much is it?" asked Michael. "Twenty pounds." said the ticket-seller. "Well, I've only got one eye and so I'm only paying ten!"And, wonder of wonders, the man let him in. "And I'm only paying ten pounds." said Owen."Hang on," said the ticket seller, 'you've got two eyes!" "Yes," said Owen, "but I've only come to see Ireland."