Bravo has recalled some of its turkey and chicken frozen raw foods. The reason is (you guessed it) possible salmonella.
Shelter Feed Links
Visit these sites to donate food to shelter cats. Please notice that when you get to the kibblekat page, there are 3 links at the top so you can choose which one (or all) of them to click - dogs, cats, or
litter. So all you really need to do is visit one page and all 3 donation buttons are there!
On the lookout for natural remedies? Here is a safe and natural way to get rid of ants:

Thanks to Maggie for sending this in.
Paul in Thailand reports that window spray kills them, too, but doesn't last long. WD40, however, appears to do the best job of all as they don't even try to come back!
Thanks, Paul!
Be sure to visit my site at
TheProblemCat.com
to see the latest video. This week it's about a cat that loves to be vacuumed!

Thanks to Maggie for sending this in.
If you would like to see another video, check this out:
A pet groomer in Russia transforms dogs and cats into
exotic creatures with striking colors and odd hair cuts!
Just so you know, the audio is in Russian.
How to Deal With the Decision to Euthanize a Pet
Author's warning: This story is sad. If you don't want to feel sad, don't read it.
However, the writer explains and describes some very important points to consider.
Is your pet ill? Is your pet dangerous? How do you decide when it's time? What is "quality of life?"
If you are ready, here is the link:
For this issue, we spotlight Alley Cat Allies for sponsoring National Feral Cat Day. The cats in your community need you to be their voice to help ensure their safety in difficult times. They didn't choose to live as strays, but we can all work to help them survive, as well as cut down on the production of even more of them. If you need an idea for an event, please visit -
http://nationalferalcatday.org/for-event-hosts/how-to/
and then register here to obtain an event kit: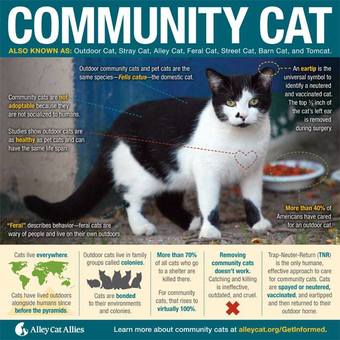 The Secret Lives of Cats
In the last issue of KittyTimes, I shared a link to a television show called The Secret Life of Cats. A lot of you emailed me to say you don't get that TV channel and wouldn't be able to see the show. For everyone who missed it or can't get it, here is another option:
Incredible Photos Document Secret Lives of Street Cats
http://www.care2.com/causes/incredible-photos-document-secret-lives-of-street-cats.html
It's an article about a couple who documented the lives of stray cats in photographs. Their goal is to enlighten people about these misunderstood cats with a view to improving their lives. I think you'll find it interesting.
According to the photographers: "While catch and kill advocates cling to outdated thinking and hyped up stories, scientific evidence has proven that feral cats live healthy lives outdoors and don't spread disease to people. Opponents to TNR also blame feral cats for wildlife decline, but humans are by far the biggest threat to species loss."
Read more:
http://www.care2.com/causes/incredible-photos-document-secret-lives-of-street-cats.html
Loss of Two Special Vets
In September the world lost two very special veterinarians, one to liver disease and one to suicide. Both of these women earned great respect for the work they did caring for animals and for helping people learn to care for their pets correctly and humanely.
Dr. Lorie Huston, 54, a Rhode Island vet, was the president of the Cat Writers Assoc. A very kind and knowledgeable person, she helped many people, including me on occasion, by answering questions about cat care. We were "pals" on Twitter. She died from a lifelong struggle with liver disease.
Dr. Sophia Yin, 48, was well known, and revered, for her work with training dogs humanely, gently, and force-free. I emailed her once and received timely and very helpful advice.
While both of these doctors are terribly missed, two important points arise from their stories.
1.
Dr Lorie Huston
:
http://bit.ly/1nXQVHh
She had 6 cats, who now must be rehomed somehow. Surely, friends and relatives will help in that effort. This brings up a point that people seldom ponder, especially if they are young. If a pet owner thinks of it at all, it's most often a belief that their family will care for their cat or dog when they are gone. All I can say is, don't count on it. Here is some thoughtful advice:
http://perpetuallyspeaking.blogspot.com/2014/10/are-your-pets-covered_4.html
2.
Dr. Sophia Yin
obituary:
http://sacb.ee/ZpyX5A
Suicide awareness:
http://vetgirlontherun.com/suicide-awareness-dr-sophia-yin/
http://jessicadolce.com/depression-suicide-animal-care-professions/
Compassion fatigue:
www.compassionfatigue.org
http://www.compassionfatigue.org/pages/belladog.pdf
  (download a free booklet)
We may never know what her deepest issues were, but hopefully, it opens our eyes to the problems that arise for caretakers.