HOW CAPE GATE IS INVOLVED WITH ISRAEL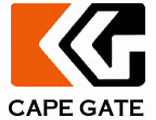 Cape Gate is a South African steel manufacturing company with a track-record of labour exploitation and worker mistreatment.
Cape Gate is also involved in Israeli human rights abuses and violations of international law.
In 2009 StopTheWall, a Palestinian-based human rights organization, issued a report (

click here to read

) outlining Cape Gate's illegal involvement (through its Israeli subsidiary "Yehuda Welded Mesh") in Israeli military checkpoints, Israel's illegal Separation/Apartheid Wall and Israel's illegal settlements. StopTheWall details how Cape Gate has been involved, specifically, in:
- Building the Israeli fence and wall surrounding the Palestinian Gaza Strip;

- Supplying fences for Israel's Separation/Apartheid Wall being constructed in the Israeli Occupied Palestinian West Bank (in 2004, the International Court of Justice ruled that Israel's Separation/Apartheid Wall was in violation of international law);
- Supplying fences for the fencing of Israel's separate roads (built on Israeli occupied Palestinian land in the West Bank), including the Cross Shomron road (road no. 5), which leads to the illegal Israeli settlement of Ariel, and the Israel Tunnels Road, which connects the illegal Israeli settlement of Gush Etzion and Jerusalem;
- Supplying fences used in the illegal Israeli settlements of Barkan, Ariel and Karnei Shomron in the Israeli occupied Palestinian West Bank.
On Wednesday, to coincide with the South African protest, a letter will be delivered in Palestine by StopTheWall to the South African Consulate in Ramallah.

CAPE GATE

EXECUTIVE ALSO HEAD OF PRO- ISRAELI LOBBY GROUP

In 2011, the Mail&Guardian Newspaper, carried an article that included information on how the current chairman of Cape Gate, Nathan Friedman, is also the chairperson of the pro-Israeli lobby group, the SA-Israel Forum (an organization, that it was revealed, carries out boycott-busting trips to Israel in an attempt to break the increasing international isolation of the Israeli regime).
Click here
to read the M&G article and
click here
for the DailyMaverick article.
OWNER OF CAPE GATE ALSO PRESIDENT OF WORLD ZIONIST ORGANIZATION.

In 2012, in a book titled "The Case for Sanctions Against Israel" (and featuring chapters by Slavoj Zizek, Naomi Klein, John Berger and others) Dalit Baum and Merav Amir (two Israeli human right activists) reveal how the late founder and owner of Cape Gate, Mendel Kaplan, was also the former president of the pro-Israeli World Zionist organization. This book is available in South Africa at Exclusive Books (click here), Kalahari.net (click here), and also as an e-book on Amazon.com (click here). To read the relevant chapter in the book, covering Cape Gate's involvement with Israel, click here.
TAKE ACTION:

APPROACH HARDWARE STORES, BUILDING FIRMS ETC. TO BOYCOTT CAPE GATE

Join us in appealing to local hardware stores, construction companies and other entities not to purchase from Cape Gate until Cape Gate ends its support for Israel and meets the demands of workers. Cape Gate with its offices in Europe, the UK, US, Argentina, Sri Lanka, Mauritius and elsewhere around the world supplies shops, stores and companies both in and out of South Africa  with wire and steel products including gates, fences, nails etc. Approach your local hardware store and find out if they are purchasing from Cape Gate and if they are, make them aware of how Cape Gate treats workers and is also involved in illegal activities with the Israeli regime (remember to communicate with us any of your successes!). If you are a business or other entity that is considering cancelling your relations with Cape Gate we would be happy to answer any queries that you may have. Also, please let us know if you are a business or store that has already terminated your relations with Cape Gate.
JOIN BDS SOUTH AFRICA'S EMAIL MAILING LIST
To join BDS South Africa's email mailing list (& receive these newsletters) send a blank email message to alerts@bdssouthafrica.com
PROTEST AGAINST S.AFRICAN COMPANY "CAPE GATE" THAT IS EXPLOITING WORKERS AND SUPPLYING MATERIAL FOR ISRAEL'S "APARTHEID WALL"
Join us on Wednesday in a protest against the South African steel manufacturing company, Cape Gate, that is complicit in exploiting South African workers as well illegally supplying material for the construction of Israel's Separation ("Apartheid") Wall and illegal settlements. Workers, environmentalists, activists and community members will be demanding that Cape Gate:
1. Respect international law and end relations with Israel (Cape Gate through its Israeli subsidiary "Yehuda Welded Mesh", supplies material to, and profits from, the construction of Israel's notorious, "Apartheid Wall"). Cape Gate also supplies material to and for the construction of Israel's illegal settlements;

2. Immediately discharges to ex-employees the "pension surplus funds" owed to workers for the last 18 years now (and already approved by the Financial Services Board), including full compensation for the unclaimed funds by families of the deceased workers;
3. Award to the ex-employees their company shares that were promised by Cape Gate (but never awarded) over 18 years ago;

4. Afford workers and ex-employees the due process of medical checks that should have been carried out by Cape Gate, and that these workers be awarded Occupational Health Compensation due to them in the cases of damage to health (due to employment by Cape Gate);
5. Report to the Vaal Environmental Justice Alliance (VEJA) and to surrounding communities Cape Gate's carbon emission levels; Cape Gate has, till today, refused to issue a report to VEJA and the Vanderbijlpark community regarding Cape Gate's carbon emissions and pollution levels (the request for such information and report was informed by continuous chest pains and lung respiratory related infections experienced by members of communities surrounding Cape Gate);
DETAILS FOR WEDNESDAY 04 DECEMBER PROTEST
DATE: Wednesday, 04 December 2013
PROTEST MARCH STARTS: 9AM, Boipatong (Corner Thaka Banna & Lekoa)
MARCH CULMINATES WITH SPEECHES: 12h30 at Cape Gate Head Office
(3 Nobel Boulevard, Boipatong/Vanderbijlkpark, Gauteng)
CONTACT DETAILS FOR MORE INFO: 0842119988/ 0842918510 / 0838787894
TRANSPORT AVAILABLE FROM: Sebokeng, Evaton, Roshnee, Sasolburg
(Info for transport: 0785563392)
PRIMARY ORGANIZERS: Vaal Community Assembly, Vaal Environmental Justice Alliance (VEJA), Boycott, Divestment & Sanctions against Israel in South Africa (BDS South Africa), Palestine Solidarity Alliance (PSA), African National Congress Youth League (ANC YL), Young Communist League (YCL), South African Students Congress (SASCO), South African Youth Alliance (SAYC) and others...
FACTS AND INFORMATION ON ISRAEL'S ILLEGAL SEPARATION/APARTHEID WALL