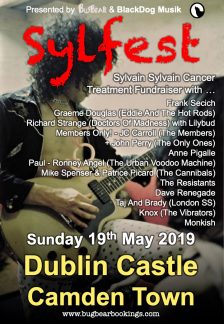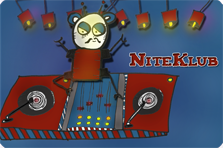 Tales Of New York City In London Town...
The Water Rats
Friday 24th May
Totally Blondie Get Cheap Tickets Here
The beautifully serene image of one Ms Deborah Harry above comes form the noirish and moody 1980 movie 'Union City', the film location for one of the finest Blondie songs in 'Union City Blue'. That song is also located in the playlist for our latest 'Saturday Sync' show out of Soho Radio. Click on the pic to hear lots of fabulous music from that sweet spot where the moving image meets a banging tune. We indulge in a little Stanley Kubrick oriented synchronization celebration and feature special guest blonde force of nature, the authorial and authoritative Nettie Baker, daughter of the infamous Cream/Blind Faith drummer, the ever so slightly scary, Ginger. Nettie picks her 'Screenage Kicks' and keeps us abreast of her wonderful memoirs ahead of our RocknRoll Book Club evening with the author at The Union Club in Greek St, Soho Wednesday 29th May. Get cheaper tickets here. But back to Debbie H and the brilliant Blondie… Totally Blondie are most assuredly the best Blondie tribute around. One of the most iconic bands of the 1970s and '80s, Debbie Harry's posters adorned most teenagers' walls. With Totally Blondie's remarkably on point lookalike and soundalike singer, and this amazingly well honed band, you can expect all the classic hits like Hanging On The Telephone, Sunday Girl, One Way Or Another, Atomic, along with some of the finest album tracks. And when we say lookalike and soundalike we really really mean lookalike and soundalike. It's uncanny. And whilst the band may not precisely be dopplegangers for Chris Stein and his merry men they can utterly cut it as Blondie, sometimes giving it just a little more oomph and pizzazz than the real thing, dare we say. Relive that classic moment in time. It's Totally Authentic. Totally Superb. Totally Blondie!
The Dublin Castle
Sunday 19th May
Sylfest Alldayer
Sylvain Sylvain Cancer Treatment Fundraiser
Get Your Cheap Tickets Here
Click on the classic New York Dolls image to hear Bugbear's current 'Tales Of The Dublin Castle' show by Boogaloo Radio. Anne Pigalle and Mandy Austin join Tony Bugbear and Julie Hamill to discuss this Sunday's 'Sylfest' all dayer. We are also joined by the Membrane, punk media magus and straight edge sex symbol (He's Louder Than Phwoar from what the ladies tell us!) the fabulous John Robb. You know you're gonna get good chat with John on board your radio show and indeed we do, not just from him but from excellent new talent Queen Of Uncool, introducing her multi genre cool crusade here on air and in The Dublin Castle Friday 17th May…Eeek! Tonite!! Do come along… But back to Sylvain Sylvain, songwriter and original longtime member of the New York Dolls. Syl played some shows in the UK last Summer and Bug Bear were overjoyed to be involved in what turned out to be a quite remarkable series of real cool happenings.
..........................................................................................