Contents
---
---
SIRFB Fireshed
Christmas in July Dinner
14th July from 7pm


It's that time of the year again - the start of the Scotland Island Fire Shed Dinners was kicked off in style with our Spit Roast Feast. This dinner was huge success with over 100 attendees with 83 booking online.

The next Fire Shed Dinner will be 'Christmas in July' on 14th July hosted by Nathalie Muir who will recreate the Christmas feast that she and Julian hosted at the Fire Shed on Christmas day, including a visit by that very special person. Parents are encouraged to bring a small inexpensive gift for their young children.

To make the organising and catering more predictable for our hosts we are only going to accept advanced bookings for this event with a cut-off date of Sunday 8th July.

Please help by registering here Fireshed Dinner - Christmas in July

(you can still pay at the door with cash or EFTPOS if that's easier, but please register in advance by 8th July)

. If you have problems booking online you can always send us an email with your booking details to secretary@sirfb.org.au

All funds raised help provide fire, medical and other emergency services to the Scotland Island community.






---
Scotland Island Annual Rego Day
Inspections Saturday 14 from (am to 1PM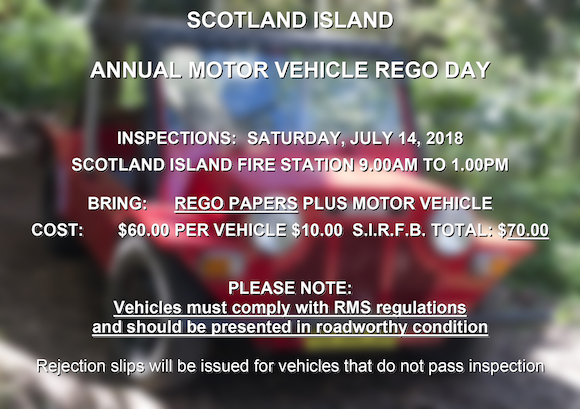 ---
SIRA

NEWS
Scotland Island Energy Reliability Project 
Ausgrid Community Newsletter June 2018

Project update
As you may have read in our previous newsletter, Ausgrid is moving forward with separate energy reliability solutions for Scotland Island and West Pittwater. Prior investigations concluded that two different approaches are required due to the layout and design of the existing network and unique challenges in each location. 

Ausgrid's proposed solution for Scotland Island is to utilise Horizontal Directional Drilling (HDD) to create an underground bore from Church Point to Carols Wharf, Scotland Island, which will house a new electricity cable.  Both the new and existing cable will provide service simultaneously in order to reduce the likelihood of future failures. The new cable will lie in a conduit (pipe) below the ocean bed rather than sitting on the ocean floor as the current cable does, which reduces the risk of damage by marine craft or seabed erosion.

As part of the design for the HDD bore, Ausgrid is factoring in future energy requirements for the Island, and are continuing discussions with the NBN and other organisations with the intention of including communication fibre in the conduit.

Upcoming Ground Investigations
From late June, Ausgrid and its contractor GHD, will be conducting ground investigations along the proposed HDD bore path to gain a better understanding of ground conditions to inform detailed design.



Geophysical testing

- Geophysical testing will be undertaken to assist in determining the underground rock profile from 25– 29 June. Equipment used includes scanning devices and vibration monitors that will be laid across the waterway from Church Point to Carols Wharf, as well as in the park and beach area adjacent to the southern end of the Church Point carpark. The areas will be clearly marked and we anticipate there will be no impact to access.



Boreholes

– At this stage Ausgrid intends to drill five boreholes along the route. One will be in the grassed area at the southern end of the Church Point carpark, three within the waterway and one in the vicinity of Carols Wharf on Scotland Island. Pending the outcome of the initial geophysical testing and equipment access restrictions, the Scotland Island borehole will either be drilled in the shallow water on the western side of Carols Wharf or in Harold Reserve.



Relocation of boats

- We are working together with Scotland Island Residents Association (SIRA) and Northern Beaches Council to request residents assist in clearing the front area of Harold Reserve of all private boats and boards stored in that location. In addition to this, we require the temporary relocation of the small boats tied up on the western side of Carols Wharf while we complete the borehole on 9 and 10 July. Signs will be in place indicating the required clearance areas. Please contact us on the details below regarding relocation of boats and kayaks if required.



Church Point carpark

- As part of the borehole testing on the 16 and 17 July, GHD, is required to occupy the row of eight parking spaces at the southern end of the Church Point carpark. Signs will be in place to remind residents and visitors to not park in this area while the work is happening.



Waterways

– Whilst working in the waterway, the boring equipment will be situated on a barge approximately 27m x 6.5m. It will be clearly marked and will be using lights and buoys in the evenings for increased visibility. We expect to be in each location for up to three days and ask commuters to be aware of the barge and make required changes to their normal routes.



Key dates

– Expected dates are listed below for the proposed ground investigations. We will notify residents and SIRA if there are any changes.


| | |
| --- | --- |
| Date | Activity |
| 26 - 30 June | Geophysical testing at Church Point and across the waterway |
| 9 - 10 July | Borehole at Harold Reserve, Scotland Island |
| 11 - 16 July | Boreholes across waterway |
| 16 - 17 July | Borehole at southern end of Church Point carpark |

The full report can be downloaded HERE



---
Explore Your Wild Wholeness
Nature Based Program for Women
Monday 13 August - 10 September

---
The Co-Op Club Presents
July 2018 Bookings
Church Point Cafe -  Artists play between 3:30 - 6:30pm

Sunday 1st July: From the Soul Crucible to the Co-Op! THE WEIRD ASSEMBLY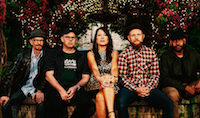 A super funky Soul, Groove, Blues, Reggae, Jazz band… lead by David Weir. Influenced by the great Soul Funk and Blues artists of Motown, Stax, New Orleans and everyone with a bad-ass groove Featuring the music of… James Brown, Jackie Orszacsky, Otis Redding, Sly and the Family Stone, Al Green, Joe Quartermain & the Free Souls, Albert King, The Meters, Bill Withers, Joe Cocker, Ray Charles, Donny Hathaway, King Curtis, The Headhunters, Little Feat.

Don't miss a great afternoon!  Grab a table!


Sun July 8th  - Shane Pacey Trio


The Shane Pacey Trio return to "The CO-OP" - An afternoon of great music, food & friends - If our last afternoon at The Co-op, is any indication, please book a table soon. This will be a wonderful day. Mix the great food and Bev's available here, with the quality entertainment provided by this well loved Sydney Trio - and you've got an afternoon to remember.
 
Call 9999 2793 - to book your seats (no added charge - to enjoying some of the best seafood and pizzas around)


See BIO below for more info.

"The Guitar and Voice of The Bondi Cigars bringing it back home"

In a time when Blues is in great danger of being swallowed by the all-encompassing term "roots music,' the very concept of a Blues band seems to be almost a quaint idea.





"THE SHANE PACEY TRIO… are that rare (and becoming rarer!) thing…

"


A dedicated Blues band, rather than a solo star with supporting musicians…






Sun 15TH July: The FUKERS




Look out Folks!! The Big Men of Little Music are coming back to the Co-Op!! That's right, quirky crowd favorites The FUKERS will be back with their crazy bunch of Ukuleles to warm up your winter blues. Bring your friends, bring the kids, bring Grandma & Grandpa but most importantly bring your dancing shoes for yet another afternoon of great tunes and madness. Their last few shows here have packed the joint, so make sure to book a table early, you wouldn't want to miss out on the fun!!




Sun July 22nd : REBECCA JOHNSON BAND




Rebecca is renowned for her unique bass playing technique and has been compared to Mark King (Level 42) and Flea (The Red Hot Chilli Peppers).  Over the years she has played and toured with numerous artists including  Richard Clapton, Margaret Urlich, Ian Moss, Ganggajang, Vanessa Amorosi Jenny Morris and many many more.

The band includes Con Settineri (drums), and James Vertley (Guitar) and they play music for all tastes, from 'easy listening laid back classics' to having the dance floor pumping with songs from 70's funk to today`s contemporary hits as well as some rock & roll, reggae and latin rhythms. Songs include- Stevie Wonder, James Brown, Jon Cleary, The Meters, Chaka Khan, John Mayer , Jessie J, Bob Marley, Macy Gray, Prince, Joss Stone + Aussie classics, current hits and many more.

She knows how to put on a great show so don't miss out!  If you feel like one of the best Sunday afternoons you have had in a while then get along to this one, oh & bring your dancing shoes… I think we will have to clear some tables!!


Sunday 29th July: LACHY HAMILTON ORGAN BAND


Having recently graduated from the James Morrison Academy of Music, Lachy has already regularly toured Australia and America with the likes of Patti Austin, Sarah McKenzie, Bob Montgomery, Jeff Clayton and The Melbourne Symphony Orchestra.  In 2016, Lachlan recorded on James Morrison's Aria-nominated album "James Morrison with his Academy Orchestra". On July 29th, Lachlan presents his "LKH Organ Band" alongside Nick Polovineo - Trombone, Andrew Scott - Organ, and Alex Hirlian - Drums.



The Waterfront Café's Co-Op Club presents the finest live music North side of the bridge from 3.30pm every Sunday. Come and immerse yourself in some wonderful music by the waters edge with great friends, your favorite beverage, some wonderful music and a huge range of delicious menu specials. 

1860 Pittwater Rd Church Point – bookings 99796633

www.facebook.com/thecoopclubchurchpointwww.waterfrontstore.com.au

---
Islanders Please Help
Islanders, please help. We have to move our boat off the end of Eastern Wharf because Maritime has just designated our spot as no-tie-up zone.

Ivan uses the boat for work 6 days a week - he's a yacht broker, so not having a place to tie up is a complete disaster for us.

If anyone is willing to rent us a spot on their jetty, we would be so grateful.

Please contact Sabrina on 0413 885 733



---
For Sale 
Large portable aviary for birds, rodents or reptiles. 1.7m tall, 1m wide, 0.7m deep.

Just $150.


All proceeds to the Kindy Fundraiser AND I'll even deliver it free to any house on the island.



Includes


Call 0417 991 499 or boydatt@bigpond.com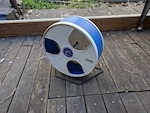 ---
Another Moving Sale 
Round Timber dining table... seats 6
Freedom Furniture sofa bed
Coffee tables
Jenome sewing machine
Smocking pleater
Garden tools ....rake,spade,log splitter,mattock,broom
Kartcher
Picture frames
CALL JAN ON 9986 0172



---
Savage Tinny for Sale
4.3m Savage tinny in good condition.
Canopy and storm cover.
Fish Finder/Sounder (with depth alarm), 27 MHz Marine Radio,
Storage Locker (with 2 seats on top).
2 stroke 40 HP Mercury engine that starts 1st turn of the key.

(Trailer not included)

$5200

call Tim on 0408 608628  Lovett Bay



---
Wanting to Rent on Scotland Island
A small family wishing to rent of Scotland Island for 12 to 24 months.

Please contact  Lindsay Barnes
lindsaybarnesmidwife@gmail.com



---
Kayaks Wanted
I'm on Florence Trc, near Eastern Wharf and am looking to purchase a couple of kayaks .... kids and/or adults sized. 
 
Please contact
Jan (Murray)
0408 689 733



---
Free Door
I was gifted this but it doesn't fit my needs.

So happy to pass it on also free of course.

It's the front door and support architecture from Ferrymans cottage a Hicks and Payne build , so a quality piece.


Free for pick up from 36 Robertson Rd.
Jonathan







---
Free
Filing cabinet in good condition with files FREE

Call mike 0409 121 1121



---
King Size Bed
Anybody need a king bed and/or bedhead?


 
Bed has sprung base, no stains and has some life left in it. 
Bedhead was custom made by high end upholsterer fro, pristine condition.
Pickup from Lovett Bay July1.

Free -  donation to RFB appreciated

Robyn Baxendale
robynbax@gmail.com



---
---
The Local Guide
Community Information
Scotland Island Web Site

 www.scotlandisland.org.au
click to go to the Calendar

Scotland Island Residents Facebook Page

click to go to Page

Scotland Island Community Vehicle -

0404 103 700
Number, Usage & Charges

Scotland Island Rural Fire Brigade

- 9999 4404
http://www.sirfb.org.au

West Pittwater Rural Fire Brigade

- 9997-3795
www.westpittwater.rfsa.org.au
Offshore Photo Gallery
offshore gallery
Scotland Island Residents Association (SIRA) Membership details - click here for details
West Pittwater Community Association (WPCA)

- www.westpittwater.com.au
Scotland Island Emergency Non-potable Water
Agreement for Sale of Non-potable Water
SIRA Membership Application
Emergency Non-potable Water Guidelines
General Information, Map & Contacts
http://www.scotlandisland.org.au/community/emergency-water/
Scotland Island & Offshore Children's Services (SIOCS)


Long Day Care at The Island Kindy in Catherine Park
Days of operation: Monday, Tuesday, Wednesday & Thursday
Times: 8.00am - 6.00pm
Before & After School Care
8.00am until walked to school ferry - collected from school ferry until 6.00pm
Vacation Care, Casual Care and Playgroup on Fridays
Hire the Kindy for Birthday Parties
Please call

02 9979 7856

or email SIOCSdirector@gmail.com
Facebook: https://www.facebook.com/theislandkindy
Website: http://scotlandislandkindy.business.site/
Scotland Island Community Hall Bookings

:  Barbara Labram M: 0473008339  or hall@sira.org.au
Pittwater Online News

-  http://www.pittwateronlinenews.com
Tick Fact Sheet
TUG Waitlist   (Tennis User Group) - Application Form
---
Transport
---
Real Estate
---
Services, Clubs & Accommodation
Scotland Island Traders

- On-line shopping from your computer through www.g2u.com.au -delivered to your door Scotland Island by Scotland Island Traders -  Graeme Richmond - Mobile: 0419 460 331
email scotlandislandtraders@gmail.com
Justice of the Peace

- Bob Mitchell (Mackerel Beach) - 0419 745 628
Justice o

f the Peace

- Tony Hendel - 0419 242723
Justice of the Peace

- Andy Derijk - Elvina Bay 0418 613 890
 

Justice of the Peace  - 

Lexie Le Blang 0418399674 or 99992574
Justice of the Peace  - 

Graham Stenner - 0407216405
J

ustice of the Peace  - 

Carolyn Milani - 0409914699
Pittwater Community Arts Inc.

 - Enquiries Lorrie Morgan 9997 8079  lorriemay@bigpond.com
Peninsula Music Club

- enquiries Janice Tuynman - 99991937 - jt@swift dsl.com.au
Woody Point Yacht Club

-  http://www.wpyc.com.au   commodore@wpyc.com.au
Royal Prince Alfred Yacht Club

-

02 9997 1022

  http://www.rpayc.com.au/  
Royal Motor Yacht Club

- http://www.royalmotor.com.au/ 02 9997 5511
Scotland Island Lodge

- Bed & Breakfast - 02 9979 3301 or  http://www.scotlandislandlodge.com.au 
Pittwater Youth Hostel

 - (02) 9999 5748 (8-11 am and 5-8 pm)
http://www.yha.com.au/hostels/nsw/sydney-surrounds/pittwater/ 
Handy Service

- "No job too small"  - Call Alan 0447 775 541
Electrician Wayne

on Scotland Island 0418 229 277 - offshore community sparky - www.sparky.com.au
David Walsh

-

Graphic Design

-

Custom Made Sculpture

- 0404 239 212 - ital2@optusnet.com.au
Dog Wash & Grooming

- Call Jenni: 0450 444 100 or Email: jena50@hotmail.com
Free Pump Outs for Boats

- Council with RMS installed a pump out at Careel Bay wharf
Solicitor - Rachel Carter - Carter O'Neill Legal - 0406 239 946
Blue Toro Mobile Mechanics Northern Beaches - Ben (owner operator) on 0420 851 706

Vehicle servicing and repairs by coming to you...
Building Design and Drafting Services

  - Samuela Madej – Murphy ph. 0450331573 email: samuelamadej@gmail.com
---
Island Classes (Fitness, Dance, Art etc)
Pilates, Meditation and Group Fitness

with Patrice -  0406 483 036 patrice.corrie@gmail.com
Art Classes

- drawing and painting in oils, acrylics and mixed media- Marion 0431 457 431
Dru Yoga

- Tuesday 9.00 to 10.30 Tuesday morning - Phone Katya on 0414 187 916
---
Groups
Green Group For Catherine Park

- Run by SIOCS - Emmie Collins on 0405 330 781
Parents & Kids Groups Playgroup

- Run by SIOCS - email Emma trysemz@tpg.com.au
Catherine Park Bush Care Group

, 2nd Sunday @ 9.30am, Sharon Kinnison @ 9997 6017
Island Thinking Group

-

Roy Baker, 9999 6891, roybaker99@yahoo.com
---
Government Organisations
---
Airlines, Buses and Railways
---
Weather
Pittwater Weather
Scotland Island Tides, Moon phases, Sun rise & set
Local Weather Forecast
Radar weather for Sydney (128k circle)

---
Emergency Contact Numbers   
ALL EMERGENCIES (Police - Fire - Ambulance)
000
Police Assistance Line & Information
13 1444 or 9281 0000
Broken Bay Water Police
9910 7899 or 0412 162 093
Marine Rescue Broken Bay - Weekend
(02) 9999 3554 - (02) 8411 1121
Marine Rescue Broken Bay - VHF Radio channel
VHF Radio Channel: VHF 16
27MHz Radio Channel: 86 or 88
Scotland Island Rural Fire Service 
9999 4404
Elvina Bay Rural Fire Service
9997 3795
Lovett Bay Rural Fire Service
9979 1612
Mackerl Beach Rural Fire Service
9974 1162
Rural Fire Service Headquarters Terrey Hills
9450 3000
NSW Fire Service General Information 9265 2999
9265 2999
Rural Fire Service General information
9450 3000
State Emergency Service, Warringah/Pittwater SES
13 25 00 9486 3399
National Parks & Wildlife Service: 000, general information
9457 9322
Dept of Community Services: general information
9977 6011
Sydney Water
132 090
Energy Australia
131 388, (ah) 131 909

---
---
A complete set of past electronic newsletters since May 2000 can be found and read at https://ymlp.com/archive_gesgjgm.php  or by clicking here or by visiting the Mona Vale Library.

The Island website is at www.scotlandisland.org.au




---
To Contribute
If you would like to contribute to this newsletter it's easy!. Send an e-mail to the editor (editor@scotlandisland.org.au) or by clicking here. Type your contribution (100 words or so would be fine) and assuming it is of general interest to the community, does not include matter of a political nature and is not offensive, it will appear next month.
Subscription Information
To get on and off this newsletter,

click here

or got to:

http://www.scotlandisland.org.au/signup .


To change your address, click the 'modify' link at the bottom of this newsletter or send an email to the

editor@scotlandisland.org.au


---
Follow the PON
---
The Online Local Contacts Guide
Click HERE to load
---
T

he

Editor

and the publisher disclaim responsibility for any injury to persons or property resulting from any ideas, articles or products referred to in this publication. Further, t
he views expressed in this newsletter are not necessarily the views of the Scotland Island Residents Association (SIRA), or the Western Pittwater Community Association (WPCA)
---