In the shadow of the RNC...
War resisters convene to stop war. Sarah Lazare, Courage to Resist's new Project Coordinator, reports from the Vets for Peace and Iraq Veterans Against the War conventions.
Iraq veterans march against war
Sixty Iraq-era vets march in uniform to RNC convention site. McCain campaign refuses to speak with the very veterans that he claims to speak for.
Robin Long sentenced to 15 months
The first (and so far only) Iraq War resister to be deported from Canada, Robin will be imprisoned at the Miramar Naval Brig in San Diego until June 2009. Free Robin now!
Airman Thurman wins CO discharge
With the help of Courage to Resist, Airman Michael Thurman honorably discharged as a conscience objector. Listen to Michael explain his transformation.
Also: Tomorrow, September 13th is a pan-Canadian Day of Action to support U.S. Iraq war resisters and to demand that the Harper government immediately stop the deportations. War Resisters Support Campaign (Canada) for more info.
---
In shadow of the RNC, war resisters convene to stop war
Courage to Resist. August 29, 2008
This past weekend, as Republicans prepared for their national convention in St. Paul, Minnesota, a more somber gathering was taking place, a few miles away. At a Ramada hotel in Minneapolis, Veterans for Peace along with Iraq Veterans Against the War held a convention calling for an end to the U.S.-led war and occupation of Iraq. These are the soldiers who are called on to fight the war that their government chose to start. While the Republicans continue to celebrate the so-called "War on Terror" and the success of the "surge" in Iraq, the veterans have a different story to tell about carnage, destruction, and physical and mental wounds that have yet to heal.
Read more, including an interview with Harvey Tharp...
---
Iraq veterans march against war at the RNC
Courage to Resist. September 9, 2008
Throughout the Republican National Convention last week in St. Paul, John McCain was repeatedly hailed as a war hero. Yet, as his supporters waxed poetic about his service in Vietnam and his time as prisoner of war, McCain turned his back on the very veterans that have served on the frontlines of the ongoing war on Iraq.
On the first day of the RNC, 60 members of Iraq Veterans Against the War (IVAW) marched to the Xcel Energy Center convention site to deliver a briefing to the McCain campaign explaining why they are opposed to the war. Wearing their uniforms and standing in formation, the former service people were turned away by McCain's staff, and Wes Davey, Former Master Sergeant and march leader, was forced off the premises after attempting to deliver the letter in person.
---
Iraq War resister Robin Long sentenced to 15 months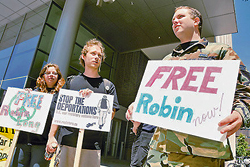 September 12, 2008 update: Robin Long transferred to Miramar Naval Brig, San Diego, California for remainder of imprisonment. Please send letters to Robin c/o Courage to Resist (he must add you to his "approved mail list" prior to receiving correspondence directly from you). Robin will likely be released June 2009.
Courage to Resist. August 22, 2008
Robin Long, an Iraq War resister deported from Canada into U.S. military custody last month, was sentenced today to 15 months of confinement and dishonorable discharge, receiving credit for 40 days of time served. He will spend 2-3 weeks in a county jail outside of Fort Carson, Colorado before being transferred to a Army stockade.
Long's supporters, who flooded the Fort Carson, Colorado courtroom where the court martial was held and held a vigil in his honor, expressed dismay at the harsh verdict. "It sets a very chilling precedent that someone who is brought back gets the book thrown at them," said Ann Wright, a retired U.S. Army Colonel who publicly resigned in opposition to the invasion of Iraq and served as a witness at Long's trial. "I hope the Canadian government recognizes that."
Read more and listen to Robin from jail...
---
Airman Michael Thurman wins CO discharge
During basic training, Air Force recruit Michael Thurman began to have misgivings about the war in Iraq -- and all war. By the time he was assigned to his first duty station, he realized that he could not continue working for the war machine. He applied for conscientious objector status, and after working with Courage to Resist, he was discharged from the Air Force eight months later.