SHOP HOURS
Monday: CLOSED
Tuesday: 12 - 6
Wednesday: 12 - 6
Thursday: 12 - 7
Friday: 12 - 6
Saturday: 10 - 6
Sunday: 12 - 4

 

 

 

 

 

 

 

 

In March, we will be knitting 

Crosshatch Shawl by Benjamin Matthews. We will be knitting-a-long on Thursdays March 9, 16, 23 & 30 from 12-1:30pm.  Robyn's shawl, pictured above, was knit with Zoiee and Silk Garden Sock.  Here's the Facebook Event where you can chat with your fellow knitters about the KAL.




 

 

Mark your calendars for our March Madness SALE, March 25 & 26.  This sale typically has the biggest discounts of the year on select yarn and books.  It's Madness!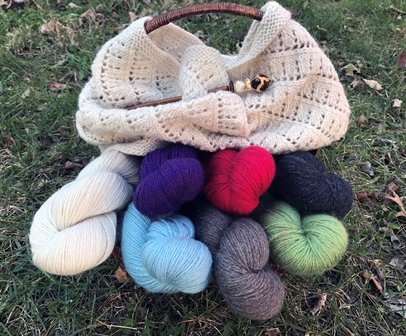 We've received a fresh infusion of one of our luxury yarns, Harmony by Reywa.  Harmony is a sportweight blend of 50% Tibetan yak down and 50% wool.  There's 328 yards per 100g skein.  It's super soft and a delight to knit with.  We have a few free patterns available in the shop with the purchase of this yarn, including:
Volute
(cowl),
Vineyard Cowl
 and
Vineyard
(shawl).  It would also be great in these patterns:
Lace Fingerless Gloves
,
French Cancan
, and
Pleasant Trip
(cowl).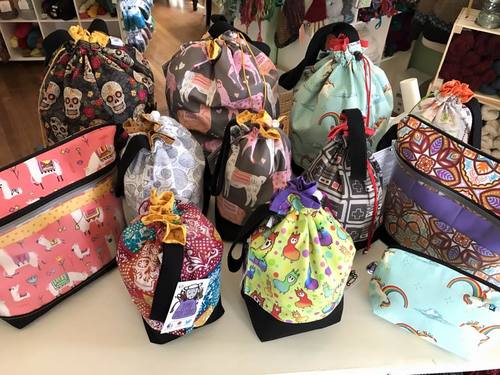 We've got some new project bags from Slipped Stitch Studios.  We love her bags for the fun fabrics and the thoughtful details that knitters will appreciate such as roomy interior pockets and yarn guides on the larger bags.  We're also happy to have a couple of her Go Crafty Travel Cases.  These bags have clear zippered exterior pockets perfect for circular needles and larger notions, the zipper keeps them contained, but the clear plastic allows you to see what's inside.  Inside the large interior zippered section are more pockets, great for straight needles, double points or smaller notions.  Plus, each one comes with a detatchable shoulder strap so you can easily take your Go Crafty Travel case with you everywhere!
More new bags, this time from Binkwaffle!  If you're not familiar, these sturdy bags are great because whey you undo the strap, it's easy to see everything inside, plus they are made from sturdy canvas fabric and 100% reversible.  The hardest part is deciding which side you like best!
Featured Upcoming Classes
 

 

Spinning Art Yarn

Corespinning and Add-Ins ($20)

 

Corespinning is a great way to show off the colors and textures of a batt. In this class you will learn to spin fiber around a yarn core. You will learn proper technique as well as a few tricks for creating a balanced yarn. After the corespinning we will spend a little time learning different techniques for adding flowers, beads, and other items to your handspun yarns. This is an intermediate spinning class so you will need to come to class with a working knowledge of your wheel and basic spinning techniques.




Saturday, March 11th 1-3pm

 
Introduction to Drop Spinning

 

($35)




Come join Robyn a fun afternoon of learning to spin yarn on a drop spindle. Drop spindles are an inexpensive way to get a taste of what goes into the creation of yarn. In this class you will learn basic spindling techniques and some simple plying methods. This is a beginning class so no prior experience is needed. The class price includes a drop spindle and 4oz of combed top, if you already have the supplies you can take $15 off the class price.




 
 

 

 

 

 

Granny Square Class ($15)

 

Come learn to crochet 3 different styles of granny squares with Raellyn. You will need to bring a size H or I crochet hook and worsted weight yarn. Beginners welcomed, but basic crochet experience is needed

.

 

Tuesday, March 28th, 6-8pm