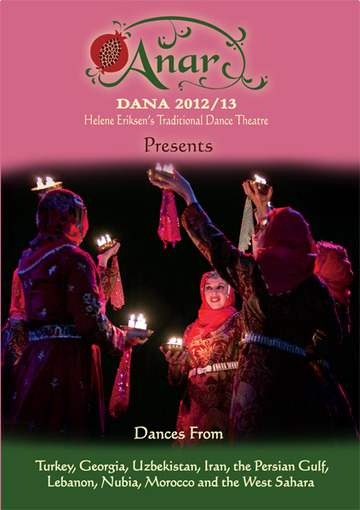 This weekend I head to San Jose to work with the Bay Area ANAR DANA women.  This is the last chance to join this great project!.  We will be working on dances from Tunisia, Egypt (Baladi), Bulgaria, Elazığ in Turkey, Georgia, Iran (Classical Persian) and Ferghana Uzbekistan.  And this Friday evening there is a Cultural Evening in Campbell on Folkdances of Turkey.  Please join us and contact Amanda for more information!  
Then I head to GERMANY for 3 weeks.
Feb. 15-16 I will be in Wismar in northern Germany with and introductory workshop on dances of the Balkan Roma.  If this interests you we will be having an intensive week-long retreat in Southern Hungary in October.  For more information please contact Sonja for more information! 
And then, at the end of February, we have the first weekend of the Bavarian ANAR DANA project.  In Berlin I have women coming from all over Germany as well as Poland, Sweden and South America.  For the project in Bavaria we also have international participants...so just
because you are a little further away doesn't mean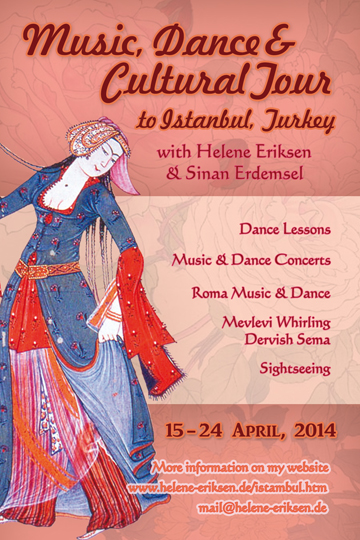 you can't join us for this amazing dance journey.  
Geisenhausen is an easy one hour train ride from München!
In March in Seattle I will be offering weekly classes and a weekend workshop.  Usually the only chance to study with me in Seattle is to join an ANAR DANA program, but this March I will be offering 2 workshops on Persian Classical Dance and Folkdances of the Middle East on March 15-16 and I will also be offering three Wednesday night sessions on Introduction to Kathak, Classical North Indian Dance as well as 4 Tuesday night sessions of Improve your Finger Cymbal Technique AND Balkan Singing.
Please contact me for more details!
In April it is time for our amazing yearly tour to Istanbul!  Last year we had participants from the US, Germany, England, France, Argentina, Brazil and Australia.  This year I am excited to see who will join us for this wonderful experience.  You can join the Face Book Istanbul Tour group here: 
Please!  ANAR DANA really can only exist with your support!!! You can support ANAR DANA by

purchasing

 one of our DVDs.  Currently we have the Seattle performances from 2008, 2011 & 2012 available on DVD.  My Iranian program Under Persian Skies is also available.  
If you are interested in joining an ANAR DANA project near you, you still have two opportunities:
ANAR DANA San Francisco weekend Nr. 2 
1-2 February, 2014 
Contact Amanda for more details 
ANAR DANA Bavaria Weekend Nr. 1
Contact Anne for more details 
You can follow ANAR DANA groups on Facebook:
To find out more about the individual dance styles listed below, please visit the "Workshop Catalog" on my website.
Wishing you peace, happiness and lots of dancing for the coming year!
Helene