BBC'S DIAMOND GEEZERS IN A RUSH
UNIVERSAL GETS PHYSICAL – AND STREAMS – WITH LOVEFILM
AND LOVEFILM GOES HIGH DEF…
BIG BLUE IS BACK IN BLACK
METRODOME'S REGAL NIGHT OUT
TITANIC SETS SALE ON THE OCEAN BLU
UNIVERSAL GUNNING FOR E.T.
MORE UP THAN DOWN FOR BISHOP
BEAT YOURSELF UP WITH EONE
ARROW DIGS DEEP FOR TUNNEL
TRAILERS OF THE WEEK
---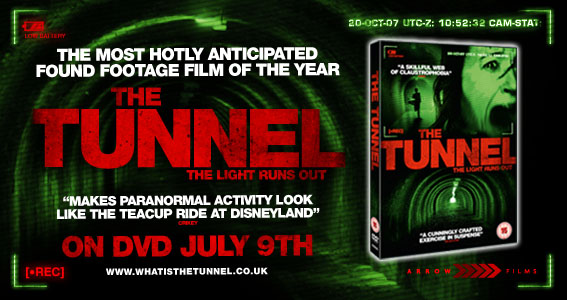 ---
If you can't read this newsletter or see the ads, please click
here
It Was A Good Week For… Nazis, as Iron Sky goosestepped its way into stores…
It Was A Bad Week For… Pirate Bay, as Sky became the latest ISP ordered to block access to the online scourge of our industry…
In case you hadn't noticed, it's the Diamond Jubilee weekend, with a whole host of celebrations marking the 60
th
anniversary of the Queen's reign. And while everyone is off enjoying their extra two days off, spare a thought for BBC Worldwide staffers. For the weekend starts a flurry of activity from the organisation. Film crews and cameramen are on duty all over the four-day weekend, filming all aspects of the celebrations, such as the Thames pageant, carriage procession and thanksgiving service. On Tuesday a team will edit the hours and hours of footage, Wednesday will see a photo being selected for the sleeve and by Friday a final DVD master will be sent for replication. The fevered activity will end with the June 18 release of HM Queen Elizabeth II: The Official BBC Highlights DVD, which, thanks to its BBC branding, is likely to be synonymous with the event…
Universal product has been absent from much of LOVEFiLM's output in recent years but, after inking a major deal with the studio's international television distribution arm, LOVEFiLM members will be able to stream Universal Pictures films. The "exclusive multi-year digital license agreement" will see the films appearing via LOVEFiLM's Instant service during their second pay television window (effectively after Sky Movies has had its run). And what's more, Universal titles are now also available to rent from LOVEFiLM too, with physical copies on offer from the company as rental by post options for after rental terms were agreed by the Amazon-owned company and the studio for its physical content. Titles on offer for streaming include the likes of Bridesmaids, Robin Hood, Scott Pilgrim Vs The World, The American, Leap Year and more. It will eventually include this year's biggies such as The Lorax, Bourne Legacy and Snow White And The Hunstman. LOVEFiLM md Jim Buckle said: "LOVEFiLM is proud to offer its members access to the highest quality content across multiple platforms from another of the world's most respected studios. NBC Universal is also LOVEFiLM's latest exclusive streaming deal in our quest to deliver the widest choice of content on as many platforms as possible."
Also from LOVEFiLM: the company has also brought the world of high definition to its streaming offering. From June onwards LOVEFiLM customers can stream films and TV programming in resolutions of up to 1080p, that figure being available to PC and Mac users, while Xbox360 or Samsung and LG TV users will have 720p resolution. Titles on offer include the likes of The Twilight Saga: Eclipse, Gnomeo And Juliet, Four Lions and TV from the US (Lost) and the UK (Planet Earth, among others). LOVEFiLM md Jim Buckle said: "LOVEFiLM is the number one consumer choice for subscription film and TV series streaming in Europe. The introduction of HD quality content further strengthens the offering and marks another key milestone in delivering our members the best possible service with exceptional value."
---
---
In a big week for retail news, one of the biggest announcements in financial terms came from HMV, which announced that it was selling its Hammersmith Apollo venue. The legendary site, once known as the Hammersmith Odeon, was sold to Stage C Limited, a joint venture between, among others, AEG, for £32 million. At the same time, the HMV Group confirmed it had amended its £220 million bank facility with its existing lenders and extended it to the end of September 2014. The disposal of the Hammersmith Apollo will, the retailer said, enable it to concentrate on its core business and develop its retail offering. Chief executive Simon Fox said: "The Hammersmith Apollo is an iconic London venue and it has been a privilege to own it over the last three years. However the sale will enable HMV to extend its bank facilities, strengthen its capital structure and ensure a strong future for the Group."
Also from HMV, and you couldn't have failed to notice this week that the retailer announced the result of its Diamond Jubilee poll to find out what, in consumers' eyes, was the best British film and album of the past 60 years. The winners – Trainspotting in the former category, Iron Maiden in the latter – helped garner plenty of press coverage for the retailer. HMV's head of brand marketing Mark Robertson Mark Robertson said: ""We've had a really strong response to this campaign - not only from our studio partners and customers but, with 55,000 votes received in total, from the wider British public as well. It's been by far our most extensive social media activity to date, enabling us to get the HMV brand and links to our hmv.com home page on a large number of product, artist and fan sites, such as The Beatles and Harry Potter facebook pages, in a way that we've never managed before. During the month-long voting itself we got over 330,000 facebook mentions and likes, which I'd say is pretty good going, and we've also seen our number of facebook and twitter followers rise significantly off the back of it. The poll's also helped to generate consider PR across press, broadcast and online, so as a brand exercise it's been a great success, and it's also helped to raise interest and drive traffic instore and online to pick up catalogue for the featured albums and films, much of which we've included in our 2 for £10 promotion." He thanked supplier partners at the studios for helping get behind the promotion. You can see the full list of winners on our website.
More retail news and Blockbuster has been making a noise again about its exclusive rental offerings. June 1 saw the release of The Woman In Black, a two week plus window ahead of its standard release. To help plug the release, which the rentailer, affectionately known as the Big Blue, firmly believes will be the rental hit of the summer (it's already its most requested title) it launched a competition offering a limited edition, exclusive print signed by Daniel Radcliffe and a tour backstage at the stage play. Blockbuster's Cat Kebbeh said: "The Woman in Black has been one of the most successful films of the year so far, and we predict that this success will continue as it undoubtedly becomes the most rented title of the summer. We are supporting the title with a massive above the line campaign in conjunction with Momentum Pictures which is a great studio to work with."
And what's happening in stores? Well, this week Revolver's Iron Sky got off to a bright start, with an impressive bow following its much-talked about limited platform theatrical release. The company's Dan Gilson said: ""We're delighted with sales so far, which have surpassed even our lofty expectations. All at Revolver will be glued to their iPhones on Sunday afternoon, waiting for the final chart to come in."
---
To the Empire in a newly revamped Leicester Square for the high profile premiere of iLL Manors, Revolver's harrowing homegrown tale of urban
Deprivation directed by Ben Drew, better known as rapper and singer Plan B. As well as a smattering of industry types we spotted, there were also plenty off stars out in force, with the biggest names in UK hip hop and urban music rubbing shoulders with other assorted names and what can only be described as assorted yoots. Stars there included Professor Green (who's not a real professor), Alesha Dixon, Alexandra Burke, Rizzle Kicks, Ed Sheeran and, er, Paul Young. The film? We at The Raygun were blown away by it, it's a step on from its gritty ghetto predecessors and left us near speechless afterwards. Expect big things on its home entertainment release later in the year after its high profile theatrical bow. Revolver's new marketing director Kate Walker said: " This week the PR has been incredible - everyone across the social media world to tabloid press and broadsheets are talking about the film and hyping it up for next weeks cinema launch. We are really excited about the home entertainment launch and how big the Revolver team can make this in Q4."
Also this week: The Raygun ventured out east to the bi-annual MCM event, the enormous comic convention notable for its scores of attended dressed up as their favourite film and anime heroes. We're glad we turned up a little later on the Saturday afternoon of the three day event, as the weekend drew a whopping 64,000 visitors, a mammoth 37,000 of those on Saturday alone. There were plenty of DVD attendees and although some said actual sales could have been brisker, the Revolver stand, plugging the aforementioned Iron Sky, was hugely busy. And Manga's Jerome Mazandarani reported a successful event for the label, saying:
"We are very pleased with our performance at this past weekend's London MCM Comic Con. We did storming business on the Manga DVD retail booth selling thousands of DVDs, Blu-rays and Box Sets as well as anime CD soundtracks, figurines and manga books on the Kaze and Viz stalls. We distributed 10,000 copies of the Know Your Anime comic book as well as 5,000 Fullmetal Alchemist posters and another 5,000 Welcome To The Space Show posters. We hosted the American voice actors who have dubbed Space Show and enjoyed a 300 strong audience for the panel we ran on Saturday afternoon. Lucky fans were able to see 20 minutes of the movie and be the first fans in the world to see it with the world exclusive English language dub. I am incredibly pleased with how MCM continues to grow and deliver excellent value for money to its sponsors. It's the best Comic Con in Northern Europe bar none."
And another event, as our regular screening correspondent Alex Kidd attended a high profile screening and launch for A Royal Affair, its high profile period epic starring Cannes best actor winner Mads Mikkelsen. The screening was attended by opinion formers (such as our good selves, natch), assorted film writers and representatives from the Danish embassy. Metrodome's Jezz Vernon said: "With the support of the BFI we've put a very substantial national media campaign behind a wide theatrical release on June 15 and the timing couldn't be better coming two weeks after the Diamond Jubilee. As the Queen in the film was an English Princess, (younger sister to the George III), there's been a huge amount of press interest in the story – with one journalist dubbing her the 17th Century Queen of Hearts. We are positioning it as a rich, sumptuous, period epic and we are pushing the illicit 17th century affair in the Danish court that's widely regarded as one of the most famous love affairs in European history." Word is it's a lavish film and the wide platform release sets it up nicely for its impending release.
---
Some recruitment news now and Fox has this week announced that Ryan Virgo will be joining the studio as new release controller, feature film, in the summer. Virgo, currently senior head of marketing for film and TV at Universal and, before his four year stint in New Oxford Street, a brand manager at Disney, will replace Josephine Villegas, who is moving floors at Soho Square to Fox's international theatrical marketing team. Commenting on his appointment, marketing director Mark Horton, whom Virgo will report to, said: "Ryan's appointment is testament to Fox's ambition and focus on brave, creative and game-changing marketing. Ryan has proven himself at Disney and Universal to be a highly creative, self-motivated, dynamic, and energetic marketer with an incredible track record in the industry. He is a great addition to the Fox team and we are really excited about him joining us." Among the titles he'll be working on later this year is Prometheus, which, as some of you may have noticed, launched in the UK this week…
Virgo will also be working on Titanic 3D, all-singing, all-dancing, additional dimension take on James Cameron's classic which, Fox announced this week, will be released on Blu-ray in 2D and 3D on September 10 this year. It will come with a whopping two hours' worth of all-new additional material, and the Blu-ray will include scores of other extras too. Cameron himself said: "Blu-ray extends Titanic's immersive 3D theatrical experience into audiences' homes, where their living room becomes the backdrop for big spectacular environments and intense action, as well as profoundly intimate human moments, allowing generations of fans – new and old – to truly become part of the movie like never before."
A debut Blu-ray release for another box office chart topper was also announced this week, with the news that Steven Spielberg's E.T. The Extra -Terrestrial will be released on November 12, marking its 30th anniversary. What's more, the Universal release will return the film to its former glories, reinserting the government agents' guns – they'd been replaced with walkie-talkies for the 20th anniversary. This too will come complete with a wealth of new and previously unseen material. Universal's home entertainment global supremo Craig Kornblau said: When E.T. The Extra-Terrestrial premiered in 1982, it captured the imaginations of people young, old and everyone in between in a way that was unparalleled in modern movie history. A global cultural phenomenon – and the biggest box-office blockbuster of its day – E.T. brought out the child in all of us. We are thrilled audiences will now be able to experience the film in the astounding quality of Blu-ray."
And more for Q4 too. As the comedy line-up starts to take shape (we've already reported on a clutch of notable releases from 4DVD), BBC Worldwide this week announced that it will be releasing the latest title from stand-up John Bishop, Live: The Rollercoaster Tour on November 12. Its his release, the first was the fastest selling stand-up DVD ever. BBC Worldwide's Gerry Gallacher said: "John's had fantastic success since the launch of his debut DVD – still the fastest-selling debut stand-up ever, despite some strong competition since it came out. The fact that we'll be releasing our third DVD release in three years is testament to his still growing popularity. His last two releases – Elvis Has Left The Building and The Sunshine Tour have sold over 1 million units between them, and as he's about to embark on his biggest arena tour ever, we anticipate even greater success for Rollercoaster."
---
---
We mentioned it a week or two ago when we looked at the marketing for the film, but eOne's Facebook app for Goon, out June 4, has not gone live. And great fun it is too – you can customise your own face to Goonify it, giving it the busted up look sported by Seann William Scott in the comedy. You can see the app here eOne's Stephanie Don said: "Goon has been so much fun to work on – it's given us the chance to create something really exciting and innovative for all the fans to share and have a laugh with. The app itself has been brilliantly designed and we're really happy with the outcome."
It started with an email that arrived in our in-box earlier in the week, that simply posed the question What Is The Tunnel? It linked to a Twitter hashtag of the same name and, after a bit of digging, it turns out that it's part of a smart viral-style campaign from Arrow to promote the July release of its Australian found footage horror The Tunnel. The company has now set up a website using that name that reveals more about the film. Found footage has become a lucrative new strain of the horror genre in recent years, and a previous Australian outing, Second Sight's Lake Mungo, was one of our favourite genre films of 2011. Arrow's Jon Sadler said: "The Tunnel is an exciting release for us in a specialist genre that keeps on racking up hit after hit. The film gained much notoriety upon its original Australian release for being released legally through BitTorrent as well as through all the traditional channels, after being originally produced using a crowd-funded financing model. The film is a cut above many in this genre and has a unique slant in the documentary style presentation of events. We are also harking back to the days of The Blair Witch Project launch and running a fun teaser campaign online." You can see the website here.
Horror festivals are among the leading experts in the genre and have a good eye for merging talent, names and films which excel within the horror field. And in recent years as we've noted here, that eye has been put to good use as horror festivals have become increasingly involved in DVD releases and imprints. The latest horrorfest to make its mark is the wonderfully titled Grimm Up North. It's not only blessed with a smart name, the event has made its mark on Manchester, with annual festivals (it's now in its fourth year) and associated one-off events. And now it's set to launch a DVD imprint too. The Grimm Up North label, released through Koch Media, will launch in September with Some Guy Who Kills People, which premiered at last year's event and stars, among others, Lucy Davis from The Office, giving it local appeal. The film, described as Clerks meets Henry: Portrait Of A Serial Killer, also boasts the involvement of horror maestro John Landis as executive producer. The label is another addition Koch Media's ever-growing roster of distributed labels. Koch Media's Hollie Richmond said: "We are thrilled to have partnered with an exciting label like Grimm Up North - and think Some Guy Who Kills People is a fabulous way to launch this new label. The film itself is hilarious, as gory as any good horror film should be, and heartwarming all at the same time. Expect great things from Grimm Up North."
A week after the Cannes Film Festival and associated market finished there are still plenty of acquisitions announcements and assorted deals landing on our desks. We'll work through them in alphabetical order and Artificial Eye has added to the raft of announcements it made on the last newsletter by picking up the UK rights to the latest from Peter Strickland, Berberian Sound Studio. The film stars the ever-wonderful Toby Jones as an introverted sound engineer enlisted to work on a giallo horror film who soon finds reality and fantasy blurring. Its co-producers include Warp X, and the film's soundtrack, by Broadcast, will be released via Warp Records. Michael Weber from The Match Factory, which handled the sales, said: "We are very pleased to partner again with Artificial Eye, who share our enthusiasm for the film and the director's talent. Artificial Eye provided a great performance with Strickland's first feature film Katalin Varga. They have the right tools and the energy to establish the director and gain a wide audience in theatres."
---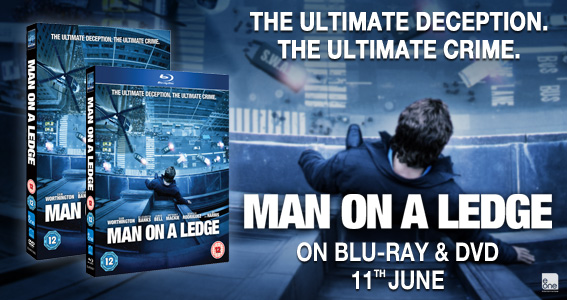 ---
Kaleidoscope was both acquiring and selling, the latter in its role of handling international sales for assorted titles. In terms of acquisitions, it picked up all rights to Jay And Silent Bob Get Old, six live stand-up shows featuring legendary Clerks director Kevin Smith, and his pal Jason Mewes and were filmed at sold out shows in the UK and Ireland. The first three will be released in Q4. On the sales front, its sales increased threefold on last year's event. Films sold in various territories around the world included The Penguin King 3D, Kill Zombie, Panic Button, I Against I, Victim and Interview With A Hitman. Kaleidoscope ceo Spencer Pollard said: "I am delighted with the business we conducted in Cannes and that our sales and marketing efforts were very effective. The speed in which the deals were closed is testament to our own team and the companies and individuals we are doing business with. We have many more deals in play currently and should be able to announce further deals shortly." Kaleidoscope also embarked on a high profile joint venture with Signature, see below for more.
Network has also been busy, picking up UK rights to Laurence Anyways, a tale of a man who has a gender change operation and become a woman. Suzanne Clement pick up Best Actress award in the Un Certain Regard section of the festival for her part in the film, the third film Xavier Dolan. Network's Tim Beddows said: "We are delighted to be working with Dolan again and to have picked up another distinctive, critically acclaimed film from such an outstanding talent." A title previously acquired by the company, No, also picked up a prestigious award at the festival. The film, which stars Gael Garcia Bernal and looks at the pro-democracy referendum in Chile at the tail end of the 1980s, won the Art Cinema Award in the Director's Fortnight strand. Beddows added: "We are delighted that No has picked up this coveted prize and to be working with Pablo Larrain yet again. He is one of the most intelligent filmmakers in Latin America and we look forward to building upon the success we had with Tony Manero and Post Mortem in the UK."
As we noted last week, independent Signature inked a number of deals in the south of France and this week unveiled some of its signings. These include Christian Slater sci-fi starrer Stranded, zombie horror State Of Emergency, the "mind-tripping and emotionally unsettling" sci-fi horror The Corridor, The Romantics, a romcom with an all-star cast including Katie Holmes, Elijah Wood and Josh Duhamel, family sequel The 12 Dogs Of Christmas Part II, a comedy about a sperm donor who's fathered hundred of children called Starbuck, horror The Evil Inside and sci-fi thriller Extracted. Signature's Marc Goldberg said: "I am extremely excited with our latest acquisitions. We are continuing to acquire a range of different genre titles that come with a lot of pedigree as well as looking forward to some extremely commercial product with titles such as Stranded and Extracted. Starbuck will be our first foray into foreign cinema; it's a wonderful film that will be our second theatrical release after The Brooklyn Brothers Beat the Best in July."
Also from Signature: the company has partnered with Kaleidoscope on a joint venture to acquire Stitches, starring British comic Ross Noble. The stand-up turned actor is already a known DVD property with a number of releases under his belt. His feature debut sees him starring as a clown who comes back from the dead. It's due for a release around Halloween, after airing at horror film festivals. Kaleidoscope's Spencer Pollard said: "Stitches is one of the best British horror comedies we have seen in a long time. Ross Noble has an excellent fan base in the UK and Ireland and with a Frightfest Premiere as our launch pad, a healthy theatrical roll out in time for Halloween and the support of Ross himself during his very busy Stand Up comedy tour in Q4, we are excited by the film's potential. We are delighted that this excellent film is the first joint venture between Kaleidoscope and Signature which sees us strengthen our current distribution deal further."
"On paper going to the Film festival looks like an easy life and yes it is a huge privilege to have someone pay for you to be out there - but there is a skill in surviving it. 76 of the 96 hours available I was awake, working and probably with a alcoholic drink in my hand…" That is just part of one of the many Postcards From Cannes we've received from industry types who are at the event for the annual feature on our website. Who said it? You'll have to wait and see. The brief is simple. We're asking anyone who went to Cannes for the festival and market, from acquisitions people to journalists, to marketers and agency people, to finish the following opening to an imaginary postcard to The Raygun and the industry: Cannes 2012 was, for me… It can be as long or as short as you like, you can talk about the serious business elements, titles you may have acquired, great films you saw, brilliant parties you went to, Brits you bumped into… If you were at Cannes, send your Postcards to The Raygun at the usual email address…
Also on our website this week: Our weekly round up of press and PR coverage for home entertainment releases, and, going up shortly, a look at the pfress' continuing obsession with TV box sets. It comes as May ends and The Raygun's website has posted its highest ever visitors for a calendar month. To be part, visit our website on www.theraygun.co.uk
And we'll end with another event, as this week saw the launch of the second film festival celebrating the legacy of the seminal cinema the Scala. Scala Beyond will run from mid-August to the end of September. This year's event is going nationwide and will highlight the passion of film programmers and screenings and Scala Beyond is looking for submissions and interest iun what it claims will be the biggest fringe film festival ever. For more, see www.scalabeyond.com.
---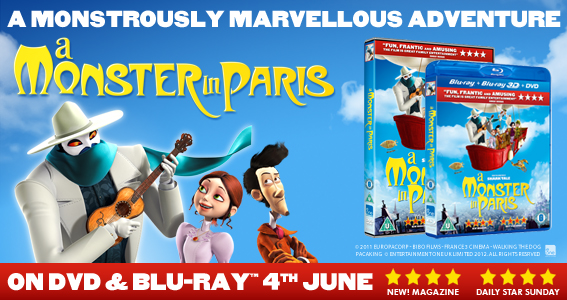 ---
EVENTS OF THE WEEK
Actually, tell a lie, there's more events. And a few Sunday screenings have been keeping us busy. We joined an assortment of women's magazines and mum bloggers at a special event to mark the impending release of eOne's A Monster In Paris over at the Cine Lumiere in South Kensington. The film was outstanding, our junior correspondents loved it. And we've also seen Momentum's excellent Red Tails. The Second World War dogfight flick was preceded by some Airfix model-making adventures and the film is, as one observer noted, a bit like Top Gun for 12-year-olds; our nine-year-old correspondent loved it.
AT THE MOVIES
The warm weather dented theatrical releases at the weekend. Highest new entry was Sony's Men In Black 3, which bowed just under £3 million. It was followed by What To Expect When You're Expecting, which took just under £900,000, and Moonrise Kingdom (£251,769).
Sequel news of the week, and there was a palpable squeal of excitement from the Internet this week as Fox announced release dates for its latest sequels, Dawn Of The Planet Of The Apes and an as yet untitled X-Men First Class follow-up. The former will be released on May 23 2014, the latter a few months later on July 18. Expect Prometheus and Avengers-like whispering campaigns about the films to start, well, about now…
With comic book franchises bigger than ever, it's interesting to see that Universal is readying itself to kick ass once again, pulling together a sequel that looks increasingly likely to pull together many of its original cast, including the breakthrough star Chloe Moretz. It won't however, be directed by Mathew Vaughn, although he has given the project his blessing…
More comic book news, albeit a character from the later history of groundbreaking British publication 2000AD. Its Button Man character is said to be close to being adapted by DreamWorks, with Nicolas Winding Refn at the helm. Refn, director of drive, has recently finished Only God Forgives with Ryan Gosling, who will also star in Refn's remake of Logan's Run…
SITE OF THE WEEK
Seeing as we've mentioned it earlier, how about having a butcher's at Revolver's website for its iLL Manors release –
www.illmanors.co.uk
TWEET OF THE WEEK
TRAILERS OF THE WEEK
New Expendables action, complete with Terminator gag…
Strange ensemble cast, but still looks compelling…
At last, bike messengers get their own film…
To subscribe to The Raygun newsletter, p
lease email
info@theraygun.co.uk
To unsubscribe, email
info@theraygun.co.uk
with unsubscribe in the subject