---
Contact Colleen for a free consultation or to book an EFT or FREED session for an hour of surrogate muscle testing, laughing, fear block blasting and SWEET RELIEF!
---
---
USE EFT and FREED AT YOUR OWN RISK ON YOURSELF AND OTHERS, INCLUDING ANIMALS.
If you apply this newsletter's techniques to yourself or others, you are agreeing to take full responsibility for any side effects and/or outcomes.
---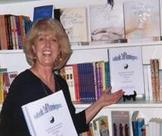 Please forward this newsletter to family and friends who could use the news!

Thank you for subscribing to my newsletter! DISCLAIMER: EFT and FREED are gentle energywork techniques and have produced remarkable results in relieving emotional and physical distress.

Need help identifying the Core Issues to tap on?

Products to help YOU heal your life with the power of Tapping and Louise Hay's teachings.

* * **

Click

HERE

for Private Session information

.
Mega thanks for inviting my Energy Work tips into your in-box!

---
NEW added value for your Energy Work Sessions starting March 1st, 2010!
*
Everyone who invests in a session with me
will ALSO receive 5 days of 1-email-per-day support after their session.
*
You can ask follow-up questions, get surrogate muscle testing readings or energywork tips.
(1-3 per daily email)
*
Save money by investing in multiple-session packages and getting 10, 15 or 20 days of email support.
---
Am now available via Skype and on Facebook.com
---
Featured Article
*
Do you have Prosperity Blocks In Your DNA?*
by Colleen Flanagan
---
Call me a skeptic, but I didn't believe that our DNA could affect anything other than our bodies. I certainly didn't believe it could affect our prosperity... until my muscle testing found over 450 generations of poverty consciousness in my own DNA!
*
Poverty consciousness is a set of attitudes and beliefs that there are not enough resources for everyone to be wealthy, or that no matter what we do, we'll never get rich; no one in our family is wealthy, so why even try?
*
While our conscious minds are busily chanting wealth affirmations, our DNA may be programmed to accept and even expect poverty. Most of us have DNA from hundreds if not thousands of years of ancestors in the working class, who were servants, peasants and even slaves.
*
Using surrogate muscle-testing I have found many ancestral prosperity blocks in my clients' DNA. Luckily, this inherited poverty consciousness is easily released.
*
The below poverty consciousness DNA releasing information can be used AT YOUR OWN RISK and with almost ANY energywork modality, including FREED, EFT, MTT, Reiki, Meditation or whatever you prefer!
*
If you are new to EFT and want to try it, please download the FREE EFT chart that I created. All my FREED clients can use their magnetic releasing techniques, as we did in our sessions.
*
Here's how to clear your DNA--in 1 step!
*
If you're doing FREED, apply your magnet 3 times and repeat the below statement. If you're doing EFT, tap on your karate chop point or rub your sore spot using the below as a setup statement:
*
I now completely and totally clear all generations of my DNA from inherited poverty consciousness! I now feel joy and gratitude for all the wealth, abundant blessings, health, joy and love in my life!
*
You can request for yourself or a loved one as many Angels, Archangels, and waves of healing light, love, peace, bliss and abundance that you desire. Open your energy system up to the ABUNDANCE, bliss, peace and love of the Universe -- you deserve it!
*
Please FORWARD this post to anyone who could use the information! Thank you! Bless you, my precious friends and subscribers!
*
Click
here
for more information on FREED!
Or copy and paste this address into your browser:
*
Clear your energy system for the optimum health of you, your loved ones, and your animal friends!
Colleen Flanagan
www.EmoRescue.com
*
<><><><><><><><><><><><><><><><><><
---
10% of Colleen's session fees are donated to charities -
you're helping yourself and others!
---
*
People around the globe have ordered my
Muscle-Testing and TAPPING SECRETS in
ONE E-BOOK to help themselves, pets and their loved ones! You can NOW get the E-book and 3 bonus e-books through PayPal, then

download them right away

!
*
Check out the Table of Contents and get details by clicking HERE.
---
*
GOT ALLERGIES? Get the facts about worldwide allergies and how TAPPING can help HERE!
---
PET MISBEHAVIOR, ALLERGIES OR ILLNESS?
Get Colleen's 5 years of ANIMAL TAPPING experience and PROVEN TECHNIQUES in one informative e-book.
E-book's table of contents is HERE!
It's the BEST $20 you'll ever invest in your animals' emotional and physical wellness!
---
Do you need a
reliable, talented massage therapist, handyman, Reiki practitioner or intuitive healer
in Phoenix?
I've found them and they're listed
here
!
---
Gift Certificates for Private Sessions with Colleen

are NOW available for birthday or anniversary gift-giving!

Give the gift of health and peace to your loved ones... or ask them to purchase a gift certificate for YOU!
---
Would you like to use EFT more often but don't know what to say? No worries!
Check out Colleen's
E-BOOK

of TAPPING SCRIPTS!
*
*
The TAP LIKE A MANIAC e-book is YOUR ULTIMATE GUIDE to constructing effective Setup Statements and Reminder Phrases for every occasion, plus generic scripts you can modify for fears of failure, rejection, abandonment, success or not being safe, and many tips on surrogate EFT: what it is and how to use it for children and animals.
*
*