Welcome to CMCA(UK)
Hello and welcome to the Spring 2018 CMCA(UK) newsletter. The Newsletter provides a selection of the latest company news and achievements which we hope you will find of interest. If you would like to stay up to date with all CMCA(UK) related activities go to www.cmcauk.co.uk. You can also find us on Twitter and LinkedIn.
DPRTE 2018 - the UK's leading defence procurement & supply chain event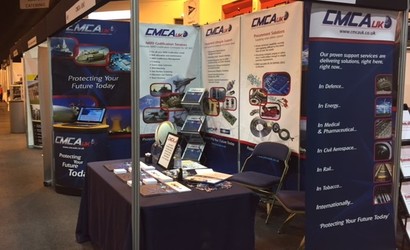 The team at CMCA(UK) is looking forward to exhibiting at this year's Defence Procurement Research, Technology & Exportability (DPRTE) event at the Motorpoint Arena in Cardiff. We will be bringing a whole new look for our stand including interactive displays, competition and more!
As an exhibitor at DPRTE 2018, the UK's leading defence procurement and supply chain event, CMCA(UK) invites you to attend. Tickets are free for MOD/public sector delegates and early bird tickets are £95 for industry.
Taking place on 27th March in Cardiff and officially supported by the MOD, DPRTE 2018 will bring together over 1,500 key decision makers from across the defence procurement marketplace, in addition to hosting a range of features including:
Live Keynote Arena

5 Knowledge Transfer Zones

6 Networking & Collaboration Zones
To register your attendance

click here

and don't forget to visit us on stand 19 just inside the main entrance, opposite the Defence Procurement & Support Zone.
Introducing Rapid Response Procurement - Rapid-P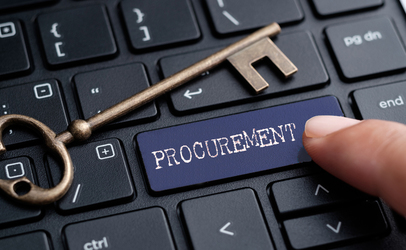 CMCA(UK) is pleased to announce the development and recent launch of a Rapid Procurement (Rapid-P) approach for one of our blue chip customers.
This new approach to Rapid Procurement, which encompasses True Source, Obsolescence Management and Risk Management techniques, has been uniquely designed to provide a quick turnaround solution to overcome equipment deficiencies at all levels.
Rapid-P's primary purpose is to address critical equipment supply shortages that are having a detrimental impact on production or support activities; in many cases these items are either hard to locate or already in an advanced state of obsolescence. The Rapid-P service core aims are to (a) identify an OEM, aftermarket or alternative solution, (b) reduce as far as possible the Purchase Lead Time and (c) resolve the process issues to support continuity of production and supply.
It is anticipated that many other existing and future CMCA(UK) customers could also benefit from our Rapid-P approach and we look forward to providing updates on our progress in this area in future Newsletters.
If however you already have requirements which you believe our Rapid-P solution might support then please contact one of our Business Development Managers via our website. CMCA(UK) will also have our exhibition stand at the DPRTE event in Cardiff on 27th March if you would prefer then please contact us there (Stand Number 19) where our team will be on hand to provide more information on Rapid-P or any of our additional support services.
CMCA(UK) to deliver Global Codification Training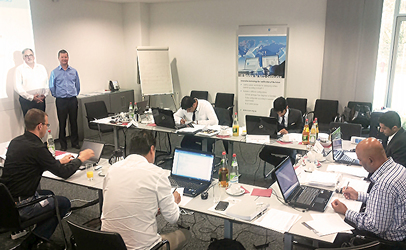 CMCA(UK) will deliver their next Codification training course alongside ESG Elektoniksystem- und Logistik-GmbH in July this year. The training is conducted at ESG's head office in Furstenfeldbruck, Germany. Entitled 'The Practicalities of Codification', the course is designed to equip would-be Codifiers from across the globe with the knowledge and skills required to perform the skilled role.
The 5 day training concentrates on developing the core codification skills that are required for a Codifier to operate effectively within the NATO Codification System (NCS), delivered by CMCA(UK)'s Codification Director Gary Harman and ESG's Herbert Klein, who between them have nearly 50 years of codification experience.The course utilises ESG's leading NATO Codification and Cataloguing Solution "N-CORE" and requires delegates to complete numerous challenging exercises, designed to give them the best insight into the day-to- day activities that they need to complete to enable them to operate effectively. Previous courses have had a truly international audience with attendees from Germany, Greece, Malaysia, Oman, The Netherlands and the USA.
Gary Harman quotes, "We have designed the course to be very "hands-on", as we believe that far more can be achieved by processing codification on a live system and it avoids the "death by PowerPoint" scenario." If you or your business has a need for Codification training

contact us

for further information.
May we take this opportunity to thank you for taking the time to read our newsletter. Please don't hesitate to contact us regarding any of our services or to see how we can help you. Contact either our Business Development Manager Antony Elliott on; +44 (0)1905 458 307 or email

Antony.Elliott@cmcauk.co.uk

.
We at CMCA(UK) like to keep in touch with you about our products and services that you might be interested to know about.

However, you will no longer receive our company newsletter, a quarterly publication covering key company related business, events and developments unless you opt-in for all future communications here in line with the upcoming GDPR legislation.

We will never sell your data to any third party and it will only be used for the purpose of keeping you updated on CMCA(UK) related news. You can unsubscribe at any time by clicking the "unsubscribe" at the bottom of each newsletter or by contacting

emily.barnes@cmcauk.co.uk

.

A Year in Review

As Spring 2018 starts to rear its head we take a moment to look back on the previous 12 months. With year-on-year growth and our service range improving and expanding regularly, we are ever more confident that we are the partner of choice for your Equipment Lifecycle Support, Procurement and Supply Solutions, Long Term Storage and Codification requirements. Whether you're a prime looking to sub-contract, an SME looking for a last-time buy or a large corporation wanting to implement a thorough obsolescence management plan, re-seller, integrator, solution proivider or end-user, CMCA(UK) can deliver the solution that best suits your requirement.

Chris Green, who heads up our Equipment Lifecycle Support department, was invited to present at the recent IIOM meeting held in Milton Keynes in February. The International Institute for Obsolescence Management is the new name for the Component Obsolescence Group (COG) that previously was. The meeting was sponsored by SAFRAN, who are an existing customer of CMCA(UK)'s, and who are a leading Global Aerospace and Defence manufacturer. Chris had been asked to provide a presentation on our technical library, which now includes over 24,000 catalogues, data sheets, specifications, and other documentation. He described the length and breadth of the type of data held and highlighted the age of some of the items, with many from the 1950s and 60s, and some even issued by the War Office.

Chris commented: "We wanted to let the membership know about the vast technical library that we have accumulated, and to try to ascertain if there is any appetite from original equipment manufacturers and designers trying to resolve obsolescence issues to have access to this material. We would be happy to share these resources as a service, as we know how important some of these documents can be.

The GDPR - Are you ready?

The General Data Protection Regulation or GDPR is the buzzword everyone should be thinking about at the moment, and with good reason. On 25th May 2018 Europe's data protection rules will undergo the biggest change in two decades, simply because technological advances means the old legislation is no longer fit for purpose following the huge increase in digital data we all create, capture and store.

The GDPR is Europe's new framework for data protection laws, replacing the previous 1995 data protection directive. Although GDPR changes how businesses can handle personal information, it is not as scary as some people would have you believe.

CMCA(UK) is in the process of reviewing and implementing compliance ahead of the changes in May. Find out more from

ICO here

.