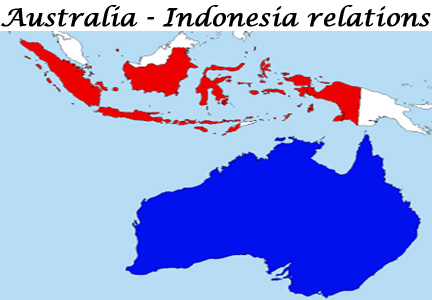 Australia–Indonesia relations began as early as 1640 with contact between Indigenous Australians and Makassan trepangers from southwest Sulawesi, and formalised with Australia's full recognition of the Republic of Indonesia in 1949.
In recent years, the relationship has been characterised by growing mutual trade of $14.9 billion, in addition to close links in government, education, and defence under the Lombok Treaty. Both nations are members of the G20, ASEAN Regional Forum, and the Australia-New Zealand-ASEAN Free Trade Agreement. Indonesia received $541.6 million in Australian development aid in 2012–2013.
The potential execution of two Australian citizens is only the most recent – albeit the most tragic – instance of recent tension in the Australia-Indonesia relationship. There have been two others. In November 2014, Australia's then-immigration minister, Scott Morrison, announced that any asylum seekers registering with the United Nations in Indonesia after June 2014 would not be considered for resettlement in Australia. Secondly, in late January, the Indonesian government reversed part of a decision for free entry visa to nationals from Australia while it was maintained for 4 other countries: Australians would now not be getting visa-free entry.
At the popular level, for a while fewer Australians might holiday in Bali. The government-to-government relationship might be shaken but – again – this would only be a short-term development. There will be some political jostling, but with no major or lasting impact. Both countries are the 2 main powers in South East Asia and they have too much to lose to walk away.
Australians must also be consistent. China and the United States both apply the death penalty, and thus should also be the subject of protests from those Australians – particularly politicians – who are abolitionists. That no Australians are on death row in China or the US makes no difference: Chinese and American lives are as valuable as Australian ones. Aren't they?
READ History: relations betwen 1945 and 1970 AND
READ Indonesia country brief by Australian Department of Foreign Affairs