DEG INTERNATIONAL OUTLINES AIMS…
…SHARING LESSONS FROM OTHER TERRITORIES…
…TO BOOST SALES AND ENGAGEMENT
OFFICIAL FILM CHART UPDATE
SPACE TO SHARE
SIGNATURE UNVEILS Q2…
…WITH KEY GENRES COVERED OFF…
…AS ARNIE MEETS JACKIE
ARROW SEES YOU
EUREKA REVEALS MAY SLATE…
OOKY FAMILY RETURNS…
…WINDSORS EVEN OOKIER
ILLEGAL DEVICE DEALER FORCED TO PAY UP…
…AS AUTHORITIES CLAMP DOWN ON ILLEGAL STREAMING SERVICE
QUOTE OF THE WEEK
AT THE MOVIES
TWEET OF THE WEEK
TRAILERS OF THE WEEK
---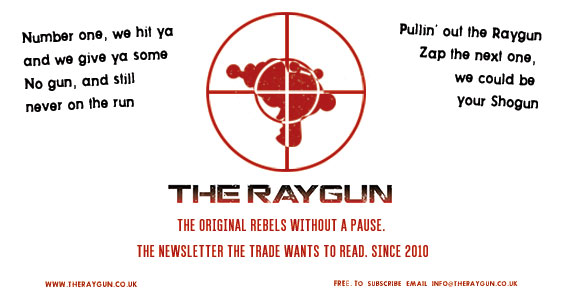 ---
If you can't read this newsletter or see the ads, please click here.
It was a good week for… DEG International looking towards the future…
It was a bad week for… Illegal streaming services hit by FACT…
DEG International, the renamed arm of the Digital Entertainment Group which is spreading beyond its initial European base as it aims to improve the video and home entertainment business worldwide, will enable territories to learn from their contemporaries elsewhere and put key learnings into practice. The new name was unveiled earlier this year, but The Raygun has spoken to its ceo based out of London, Liz Bales, and the US chief of sister organisation Amy Jo Smith about the potential for the newly configured organisation. The move, the pair said, was very much "in recognition of where the market is going", in an increasingly global marketplace, where boundaries were becoming less important. It is, they said, all about exchanging data, best practice ideas, research and information coming out of the US, particularly think tanks and groups there and, in the words of Liz Bales, "tap that into local territories". While there are still local differences (SE Asian territories such as Korea, for example, are more attuned to mobile devices than their Western European counterparts, there are still lessons. Smith said: "There are different habits we see in different markets, but there is a pattern." With activity in the UK, such as Mega Movie Week and more, and similar marketing initiatives in other territories, there is a lot of scope to learn. "We're looking at what messages are really driving home for consumers," said Smith. Sharing was crucial too – it's pointless researching what is driving consumer engagement and not sharing, or to learn how to avoid consumer confusion without passing the lessons on. Much of what is happening will see the US taking the lead, with the findings passed on. "DEG International is able to share those learnings, which can inform other activities," said Smith. For example, Australia is currently running a Movie Frenzy promotion which echoes work elsewhere. "It's different copy, different budgets, but the same proposition," said Bales. "What can we do to grow audiences? If we can bring the category together, we can energise it." Learning from other territories, what works and what doesn't, it makes for less trial and error too.
It was interesting to note too that the DEG and DEG International's work is not only leading to a greater sense of collaboration, but also helping the industry face the challenges ahead with positivity. As we've moved into 2020, DEGI is buoyed by some of the results of big releases in January and February. "We've seen some positive results," said Bales. I know a few weeks isn't the year, but there is a level of optimism. Some of the conversations we've been having have been well received." Going forward, DEG International is not necessarily just looking to repeat successful initiatives from the past, but to build on them, offering up different, new hooks and multiple touch points. "It is about learning, about being evidence-led," said Bales. "There's no one size fits all, but we can look at Germany, the UK and the US…" DEG president and CEO Amy Jo Smith added: "There are things we're looking at in the US, things we can do internationally. We want to support the transactional business, consumers who are engaged in buying or renting a retail or digital releases. At the same time, we're also focused on the direct to consumer offering. It's all about change. There is so much change constantly. Sometimes consumers want to own, sometimes rent, sometimes stream. There's definitely still a marketplace for ownership.:
Summing up with the DEG, while there is an acknowledgement that the industry in physical terms is declining, this doesn't need to be viewed pessimistically – it's still a huge market. And there is potential across physical sales as well as digital. Smith pointed to experiences in the US with Walmart, where the industry had been driving catalogue sales. Bales said: "The consumer has a passion for the content. If you put the consumer first, they will pick the format they want." Smith concluded: "We're continuing to support the transactional business, consumers remain engaged.They want to collect films, TV shows and we can help transition them into the world of vod." Bales concluded: "It's very much about sharing best practice, sharing the learnings we have seen in different territories. With Project 2020 we spent a significant time with Asda, that vision will now be driven into wider grocery partners other retailers in the UK. Other territories had a common agenda for growth, we're looking at what encourages consumers to engage with physical, VOD or EST. We're sharing some of our original consumer research and using that in a way empowers distribution and retail to optimise their sales."
---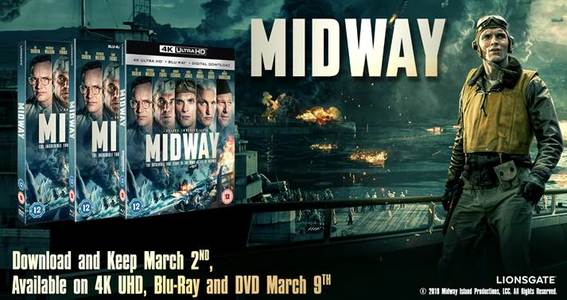 ---
The Official Film Chart is one of the ways the UK industry highlights its wares and hows off new releases to consumers, with this week's announcement seeing Maleficent sequel Mistress Of Evil dislodging Joker from the top slot, boosted by the 100,000 physical units it shifted in its first week. The big new entry came in the shape of the latest big Terminator film, Dark Fate, in its initial release as a download.
To the Screen on the Green in north London, for a Friday night screening of the new Studiocanal sci-fi horror outing Color Out Of Space. The HP Lovecraft adaptation follows hot on the heels from Mandy, the twisted genre film, boasting a star in common (Nic Cage), and the same production team. The film was released at cinemas and vod on Friday February 28, with a short window to its physical home entertainment bow on April 6. It's directed by Richard Stanley, whose career slowly came off the rails following his breakthrough with Hardware some 30 years ago. And the director was on hand, alongside FrightFest's Paul McEvoy for a thoroughly entertaining Q&A after the film. We won't give away too much – it was being recorded for the home entertainment release – but this film is highly recommended and with Cage giving a typically over the top performance, this has plenty of potential. Stanley revealed he had been a Lovecraft fan for years and had long wanted to work on an adaptation, despite popular wisdom. He said: "People convinced themselves his work was unfilmable, but it's not true. There's lots of ways you can go about filming it. But lots of people better Tham myself have tried and failed." As well as praising Cage ("he brought an incredible amount of energy to the shoot"), Stanley also revealed that Color will be the first in a projected Lovecraft trilogy…
With the truly miserable weather and another storm on the way, it may seem strange to be thinking about warmer months, spring and even summer, but we've been talking to a few companies about their Q2 product and looking ahead to the next quarter this week. First up is Signature, which, as you'd expect from the company, has a busy three months ahead from April. As ever, its slate for the quarter includes areas that have proved lucrative for the company over the years – lots of war, lots of family fare, action thrillers and horror and sci-fi genre films. The quarter kicks of with Danger Calls, a multi-million dollar war film that looks at the lesser-known Australian troop activity during the Vietnam War. "It's the perfect combination of emotion and character development and suspenseful action," said Signature's Emilie Barra. "It's got that kind of Band Of Brothers, Thin Red Line and Saving Private Ryan vibe about it." What's more, with the spotlight on war films thanks to the success of 1917, this neatly presents itself as a drafting opportunity alongside the home entertainment release of the Sam Mendes film, especially given their close proximity. Return To Oz sees Dorothy and pals back to the magical world, with the release enabling Signature to capitalise on the hugely well known brand. On the same date, April 6, comes The Beast, a tense murder mystery thriller from South Korea. As Signature's Barra noted: "Films from this country are in the spotlight again, there are so many great films from Korea and this is one of them." The post-Parasite world is certainly a perfect time to be releasing films from the region, given its dark themes, this true crime story, based on a tale that shocked the nation, makes for an even more commercial proposition. The first PVOD of the quarter comes on April 10 in the shape of the dream team pairing of Schwarzenegger and Chan, as Jackie meets Arnie for The Iron Mask, which arrives on EST, VOD and DVD in June. "It's a unique proposition," said Emilie Barra, noting that the genre-hopping feature has plenty of potential. "We're going for as wide an audience as possible, its such a hybrid of genres, with action, sword and sandals, martial arts and more. There's more for the family audience with the release of cute tale The Little Dragon (April 13), with more family fare, albeit in live action form, arriving on the same date courtesy of the Free willy-style adventure My Friend The Dolphin. Andy Garcia stars in the feel good drama The Guardian also on April 13. Meanwhile Escape From Pretoria sees Signature teaming up once more with its old chum Daniel Radcliffe, who has already proved his worth supporting previous Signature releases Imperium and Jungle. It arrives on EST, VOD and DVD in April following its PVOD bow in March. "It's the perfect genre for us," said Emilie Barra. April is rounded with with more impressive releases – sci-fi thriller Sea Fever lands with support at the Dublin film festival and FrightFest's Glasgow event ("it's generating amazing reviews," said Barra); mountaineering doc White Mountain and We Summon The Darkness, an A-list horror flick that will appear under the FrightFest Presents banner having wowed audiences at the festival last year.
Into May with Signature and the company has Enemy Lines, which sees Ed Westwick from Gossip Girl taking on a darker role for this wartime tale that sees a group of tough soldiers going behind the lines of the title to extract a rocket scientist. Survive The Night sees another old Signature favourite Bruce Willis returning to the imprint, this time in a home invasion style thriller. Go Fish is another animated tale with the master of voiceovers, Mark Hamill, providing some of the vocal talent. The Shed is a horror set in the titular outbuilding that is currently picking up strong support from those in the know, while Brightheart is another animated tale, as is Captain Sabretooth. Proximity is a high concept sci-fi thriller, while still in May, Signature can capitalise on interest surrounding Tony Todd on the back of the return of Candyman with The Final Wish, co-starring horror doyenne Lyn Shaye. The month is rounded off with the arrival of Harry Potter-esque animated action in The Academy Of Magic.
Continuing with the next quarter from Signature and ending the quarter in June there's more animation in The Wishmas Tree, which has an Australian bush theme for which Signature is looking to collaborate with charities on the release following the earlier devastating wild fires in the country. Inheritance is, said Signature's Emilie Barra, "another great thriller", a twisty, high stakes affair starring Simon Pegg and Lily Collins. Valhalla Legend Of Thor is a fantasy action thriller which will ride on the back of its norse gods that feature heavily in Marvel titles. "It has very high production values," said Barra, "we're going to work closely with the likes of Comic Con in the UK." The Spy is another WWII thriller which is reminiscent of critical and commercial success Black Book ("it's a tense war thriller film with a great cast in the vein of The Captain or The 12th Man,", said Barra), and the quarter is rounded off with Shepherd The Hero Dog, an incredible true story about a dog who helps a family escape a concentration camp during World War II, straddling some of Signature's favourite genres.
---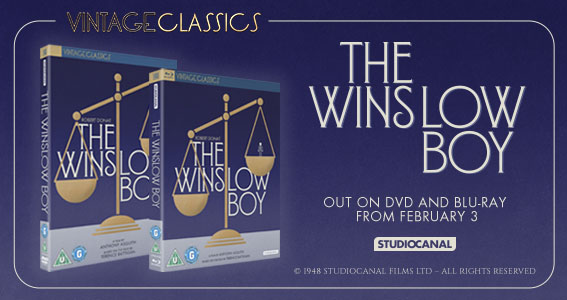 ---
Friday saw more forthcoming release business, with Arrow heading over to social media to unveil its next raft of titles, this time unveiling its wares for May. We spoke to Arrow Video's Kevin Lambert and he talked us through its next batch of releases. He said: "Arrow Video announcement Friday is always a fun day in the office, and this Friday was no exception. This round of announcements sees our May lineup of Bloodtide, Empathy Inc., White Fire, Dream Demon, The Woman, and I See You bringing almost every flavour of cult and genre cinema to the table. Blood Tide, the second in our recent three picture deal with Nico Mastorakis, is a wonderful creature feature starting James Earl Jones. Empathy Inc. is a crazy trip of body swapping, imagine mashing Aronofsky's Pi and Carrurth's Primer together, the result would be close to the madness of Empathy Inc. If you're looking for high octane action then infamous exploitation epic, White Fire is for you, complete with chainsaw mayhem, awkward brotherly love, and a very '80s theme song (for those who fancy a listen: https://youtu.be/y3NQ7Tf0jGw). Next in the queue, long dormant on home media since its original VHS release, Dream Demon arrives on Blu-ray, newly-restored from the original camera negative and in a brand new Director's Cut. Our Limited Edition release this month is Lucky McKee's beautifully brutal The Woman, this blood filled revenge thriller is violent as hell and presented in a new 4K restoration. The release features a bonus disc with its predecessor Offspring, the package is packed to bursting point with extras and all wrapped in a deluxe box. Last but by no means least is I See You a twist-heavy thriller from Adam Randall featuring an outstanding lead performance by Helen Hunt. Stay tuned for next month's announcements which are going to be huge."
Also on social media and other online channels, Eureka announced its May titles too, with the company offering another raft of titles that include some classic spaghetti Western and martial arts fare, both proving to be popular again for Eureka. Here's the company's Marcus Garwood on its forthcoming titles. He said: "For those who weren't quick enough on the draw for its initial Limited Edition release we commence our May 2020 slate with another chance for customers to own our hugely successful A Fistful Of Dynamite (AKA Duck, You Sucker) in a Standard Edition. No hard case on this particular edition, just an Amaray and booklet inside, but the extras on the disc remain the same. Next up we present Fritz Lang's final film and closing chapter of his Dr Mabuse saga. 1960s' The Thousand Eyes of Dr. Mabuse [Die 1000 Augen des Dr. Mabuse] takes its name from the dozens of roving cameras and TV monitors utilised by Dr Mabuse in this tense Cold War era set tale of murder, mayhem & paranoia. Released with a Limited Edition O-Card slipcase featuring stunning newly commissioned artwork, a collector's booklet and a selection of disc extras - it's a fitting tribute to this final Lang Masterwork. Spaghetti Western time follows with a brand new 4k restoration of Sergio Corbucci's 1969 gem The Specialists. Starring French music and film great Johnny Hallyday - robberies and revenge are the catalysts for this action packed Western. Released with a Limited-Edition O-Card slipcase and booklet. Rounding off the month we satiate our ever-growing Martial Arts fan base with acclaimed Director Johnnie To (Mad Detective, Election) and his 2004 film Throw Down. Filled with brutal, no-holds-barred Judo fight scenes, Throw Down is director To's ultra-stylish homage to the great Japanese director Akira Kurosawa. It appears on our Masters Of Cinema imprint in its UK debut from a stunning 4k restoration backed up with a collectors booklet and a host of extras."
A lot closer to home time-wise and Monday sees the release of the latest iteration of comedy horror family favourites The Addams Family, this time in na animated form with a voice cast featuring the likes of Charlize Theron, Chloë Grace Moretz, Snoop Dogg, Oscar Isaac and Allison Janney. The physical release, backed with a raft of extras, is supported by TV advertising, with animated pre-roll activity on the SuperAwesome channel. Radio and Sky Cinema Family vod activity is featuring the film as the perfect family night in, with social campaign targeting fans and parents with children aged between even and 12 years old. Commenting on the release, Universal senior product manager Emily Evans said: ""It's been great to work on this fresh take of such an iconic franchise. I can't stop clicking my fingers."
---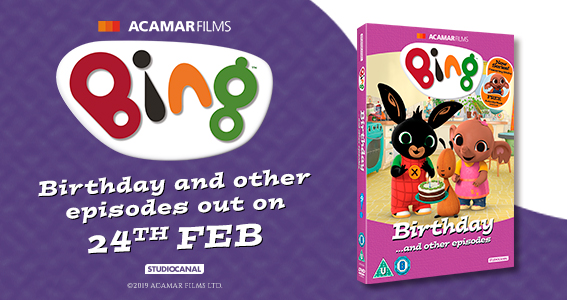 ---
A lot has happened within the Royal Family since the last airing of spoof monarchy sitcom The Windsors, meaning the series' return to TV screens this week was perfectly timed. The programme, peopled by an all-star cast of Brit comedy talent, headed by Harry Enfield as Prince Charles, came back on Channel 4 screens on Wednesday and Acorn used its return to announced its release of the third season on DVD – it will arrive on April 6 as transmission of the show comes to a close, with a box set containing all three series as well as assorted specials landing on the same day. With Harry and Meghan's impending departure, Andrew's assorted antics (see our Twitter feed for the word we usually use to describe the royal) and Philip's car mishaps, there's plenty for the biting satirists to get their teeth stuck into in the coming series too. Commenting on the third outing, Acorn's Helen Squire said: "It's great to see that the fan base continues to grow. We think that this series is funnier than ever, really capitalising on the recent royal shenanigans. Come inside the palace gates and discover the truth behind the headlines on EST and DVD on the April 6."
Over in the battle against piracy, a remarkable victory for the forces fighting against copyright infringement and more, as a man who'd already been sentenced for supplying illegal streaming devices was ordered to pay back more than half a million pounds of his ill-gotten gains. John Dodds had already been sentenced to four and a half years in jail for conspiracy to defraud after admitting supplying pubs and clubs with illegal streaming devices to watch football and sports in premises without paying. He'd tried to hide the proceeds from his Crome and other elements, but this week at Newcastle Crown Court he was ordered to pay back £521,000 within the next three months, or face a further five years in jail. Premier League Director of Legal Services Kevin Plumb said: "This is a welcome judgment and we are pleased the courts have recognised how serious an issue illegal streaming is – it is a crime which has very significant consequences. The defendant has now been ordered to forfeit the proceeds of his criminal activities, which we have requested go directly back to the public purse. The money recovered will go towards funding the courts and law enforcement agencies to help continue the brilliant work they do in helping bring people like this to justice." CEO of FACT Kieron Sharp said: "Today's court order shows emphatically that providing illegal streaming services is a serious criminal offence that will result in a prison sentence for fraud and additional financial consequences. This is a warning to anyone selling subscriptions or devices that allow access to content without remunerating the legitimate provider – you risk time in jail and the loss of your properties, cars and other proceeds of crime. FACT will continue to work with members to crackdown on illegal streaming and to hold those behind it accountable for their actions." Lord Toby Harris, Chair, National Trading Standards, said: "Mr Dodds orchestrated the sale of hundreds of devices that undermined legitimate businesses and ripped off consumers, with many customers paying for Kodi-style boxes and equipment that were faulty. The long prison sentence, combined with the additional confiscation orders announced this week, send a strong message that crime does not pay. This case clearly demonstrates that providing access to unauthorised streams and content is illegal and anyone engaging in piracy of this nature is liable to prosecution."
More from the battle, and FACT has also helped break up a major illegal streaming service after executing warrants in raids in the north west of England. The federation was working with the North West Regional Organised Crime Unit and the service has now been "disrupted". Sergeant Ross Tutton from the North West Regional Organised Crime Unit said: "Today's action in Lancashire should send a message to anyone involved in illegal streaming online. We will continue to work with partner agencies to investigate and pursue those we suspect are involved." Kieron Sharp, CEO of FACT added "Individuals are motivated by the financial benefits from providing illegal content, but FACT is leading the way in combatting digital piracy. We will monitor channels used to advertise, market, sell and distribute apps, devices and streams and will take action against suppliers and operators. We thank the North West ROCU for their work on this so far."
---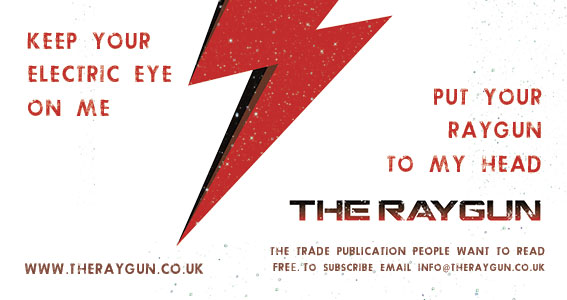 ---
"While this is not the outcome our industry was hoping for, there is a clear economic case for continuing to support UK independent film internationally across the ecosystem. The independent sector does so much to drive the success of our world class film culture — including the producers, sales agents, distributors and exhibitors. It creates valuable exports, ensuring our content reaches new audiences and is the bedrock for our world-class talent.
"We need to build on the successes of the MEDIA programme to make sure our industry has the necessary means to build strong international business relationships, that audiences worldwide are able to enjoy the full cultural diversity of UK film, and everyone in the UK has access to the widest range of world cinema. We are working with government to determine the best way to ensure we remain one of the world's leading screen industries."
BFI chief executive Ben Roberts on the news the government said that the UK will no longer be part of the Creative Europe MEDIA programme which supports production, distribution and more n the UK with European cash, from the end of 2020…
Colin Trevorrow has this week revealed more about the latest Jurassic Park related blockbuster as he commenced filming on the latest iteration of the dinosaur franchise. The film looks set, according to social media posts from the helmer, to be called Jurassic World: Dominion. The film, out next year, will reunite Chris Pratt and Bryce Dallas Howard, alongside a host of familiar faces…
Meanwhile, another old Steven Spielberg franchise, Indiana Jones, will have a new director after the maestro decided not to get back behind the camera. The Uber-director is still involved on the production side and his imprint will certainly be in the film, although it's the first Indy title he won't be directing. Now James Mangold, he of Logan and Le Mans 66 fame, will be filling in in the director's chair…
Follow us on www.twitter.com/theraygun…
Tempted to show you this three times…
You're on The Raygun newsletter mailing list, which has been running for eight years, because you requested it, have been recommended to us or sent us emails. You can unsubscribe at any time, if you're daft, using the link elsewhere or by emailing as below. But of course, you don't want to do that, do you? We don't share your information with anyone else, we don't like cookies and we're the good guys. We care because you do…
To subscribe to The Raygun newsletter, please email
info@theraygun.co.uk
with subscribe in the subject matter
To unsubscribe, email

info@theraygun.co.uk

with unsubscribe in the subject
For editorial or advertising queries, contact

tim@theraygun.co.uk