The Hindu Students Association's Dharma Initiative started with heavy rain and lightning on Friday, May 20, 2011 at Sashi Kejriwalji's Ranch in Lucas, TX.  Despite the treacherous weather conditions faced by the young leaders of the Hindu Students Association (HSA), this leadership development convention had an attendance of more than 50 HSA officers from countless branches across Texas, and Arkansas.  Thanks to Sashiji for letting us use his ranch and ATVs, we were able to enjoy a great outdoor experience. 
Since its inception, HSA has depended solidly on its vision and mission statements.  The national officers emphasized these statements throughout the weekend repeatedly and handed out custom-made Dharma Initiative booklets to all attendees at the start of the convention.  These booklets included the HSA vision and mission statements, schedule for the weekend, as well as, detailed information pertaining to a variety of workshops on leadership development.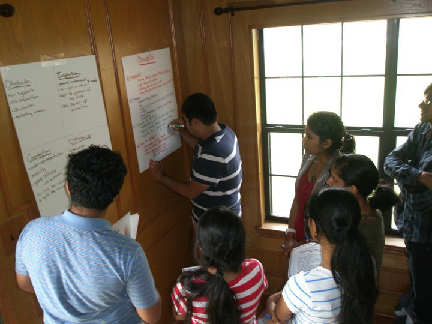 During this convention, students attended various workshops covering topics from "Organizational Affirmations" to "Identifying and Maximizing Personal Strengths."  Each activity was designed to further develop our leadership skills and define our goals more clearly.  After the presentation on affirmations, I gained more confidence in the goals that my branch has set for our second year at the University of Houston-Main Campus.  By repeating positive statements, my officers and I have developed a new perspective and gained more hope in executing a change at UH, in terms of clarifying numerous misconceptions in Hinduism and many other issues.  This workshop proved extremely beneficial and will aid us in accomplishing what we have planned.  Bela Patel, the Bakesale Chair at the UH branch, said, "It brought a feeling of more confidence and success in me, and now I know we will definitely be successful.  After hearing the national HSA affirmation, it improved my understanding of what we stand for as a Hindu organization and gives me the courage to uphold what we believe in."
Another workshop at Dharma Initiative consisted of analyzing Stephen Covey's book on "The 7 Habits Of Highly Effective People," through a Hindu perspective.  For instance, Habit 6 is to synergize, which is the idea of individuals coming together to brainstorm creative ideas and producing groundbreaking and pioneering solutions that are not independently available.  For an organization to be synergetic, Satguru Swami Bodthinathji showed us a video he had prepared for us in which he believes that the group must first establish trust between all officers and members in order to hold open-minded discussions.  After which, these students can brainstorm creative ideas by tapping into their intuition to generate novel and innovative solutions which will benefit, as well as, encourage the entire Hindu organization.  From a leader's perspective, trust is a vital part of this synergetic process and must be given sufficient time in order to be capable of holding impartial discussions.  This video by Swamiji was extraordinary and mentioned numerous qualities that an organization must have in its foundation to be successful and remain religiously moral.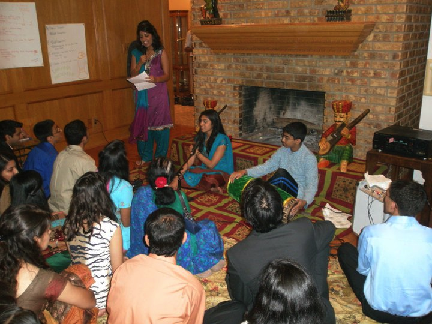 All the officers enjoyed attending these workshops and show a lot of participation in them.  One of the most successful workshops was on indentifying strengths and maximizing their impact.  The national officers placed a lot of emphasis on devoting maximum time to build our strengths rather than minimizing our weaknesses so that our shortcomings grow to be immaterial. Ruchita Naik, the Diwali Chair at the UH branch, felt inspired and expressed that "the strengths workshop compelled [her] to realize what [her] top strengths were and it also coincided with the behavioral workshop accurately.  Understanding this, [she] realized how to improve [her] leadership skills both personally and professionally."
Ultimately, Dharma Initiative was a huge success and a great opportunity provided for young leaders to improve their leadership skills.  The interaction between all the branches was phenomenal.  Not only did we learn the framework that HSA's different branches operate on, but we also formed long-lasting friendships with complete strangers.  Jaimin Patel, President of the UT branch, felt, "It was interesting to listen to the perspectives of students from universities other than my own.  Bouncing ideas off of each other in the future will only make our respective branches stronger."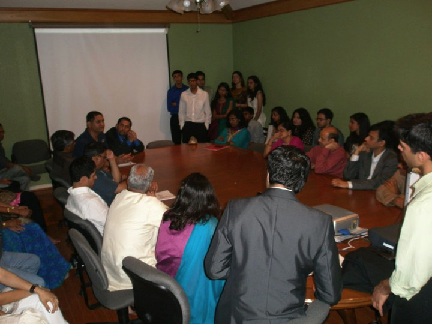 HSA also hosted a community dinner on Saturday night in which we showed our appreciation to the Dallas community leaders.  Two incredible performers added an Indian classical cultural touch to the night.  Nagasri Shankar, who is an officer at Austin College HSA branch, performed the Karnataka vocal, and Sid Nivas, a student at UTD, played the saxophone.  Both of their performances were breath-taking and contributed to making the night livelier.  This dinner gave us a lot of recognition as young HSA leaders and encouraged us to reach out to the working professionals for any help and support we may need.  The community offered their resources for us to utilize and inspired us to confidently execute our meetings and events without any hesitation. 
Finally, to add in a little adventure on a sweltering Sunday afternoon, the final surprise that the national officers had in store for us required us to get wet even more after the heavy rains from Friday night.  Dharma Initiative ended with a surprise activity of jet skiing at a nearby lake.  After this experience, I feel more self-assured in my leadership abilities and have an enhanced Hindu perspective of how my branch and I will accomplish our goals in our second year at UH and look forward to the growth and development of HSA as a whole.   
Supriya Aggarwal is the HSA president at the University of Houston branch.