This Week at the Richmond Memorial Library                                            November 22, 2021

The library will have the following holiday hours this week:

Monday and Tuesday (November 22 and 23): 10am-8pm
Wednesday (November 24): 10am-6pm
Thursday (November 25): CLOSED
Friday (November 26): CLOSED
Saturday (November 27): 10am-4pm

We would like to wish our staff and patrons a very happy Thanksgiving!



Our 25 Days of Cheer Annual Holiday Auction Has Returned
THERE IS ONLY ONE WEEK LEFT!

We are very excited to share that our annual holiday silent auction has returned this year! Tables are now set up inside the library with all of our baskets and boxes that are available to bid on. High bids are posted each morning, so come in daily and keep bidding for your favorite items! The holiday auction runs until Monday, November 29. We would like to extend a huge thank you to everyone who so generously donated to our holiday auction and for those board members and staff members who helped organize and set up the auction. Some of the items that are available to be bid on include: a gold-plated Parker Layering Necklace and $150 gift card to Gorjana, an axe throwing voucher for The Adventure Park Storrs, 2 adult and 2 child tickets to the New Haven Syphony Orchestra, a $50 gift card to Stone Row Kitchen and Bar with 2 bottles of wine, passes to Lutz Children's Museum ... and so, so much more! Check out our sponsors on our website at: http://richmondlibrary.info/8813-2/.
Hoopla Bonus Borrows Have Returned
Hoopla Bonus Borrows have returned for the month of November! Available now through November 30, patrons can choose from hundreds of titles in themes including Holiday Family, Heroes & Villains, Thrills & Chills, Lifelong Learning Adult Education, Learn with hoopla! Kids, and more.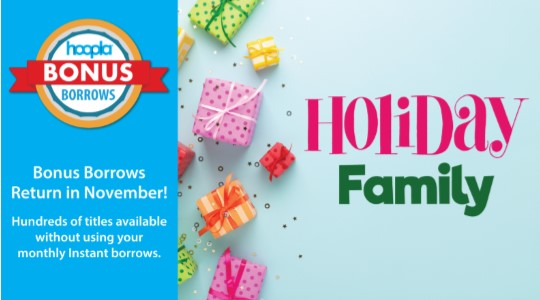 Noah's Ark Animal Workshop Fundraiser
After the success of last year's Noah's Ark Animal Workshop Fundraiser, we are bringing it back with new animals and books this holiday season! A limited number of kits are available at the library to purchase now. All proceeds directly benefit the Richmond Memorial Library.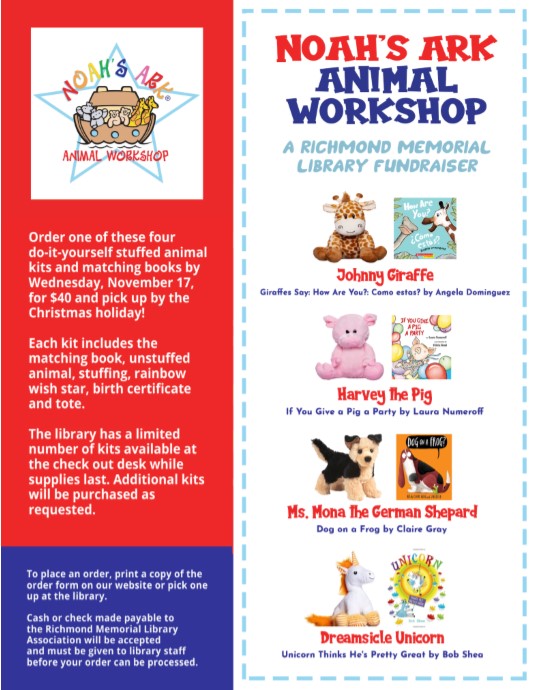 Something new! We've added webcams to our Library of Things, thanks to the Institute of Museum and Library Services and the Connecticut State Library. These webcams were purchased through an ARPA Grant. They are simple and easy to use ... just plug into the USB port and you are good to go. These webcams are perfect for online meetings and interviews.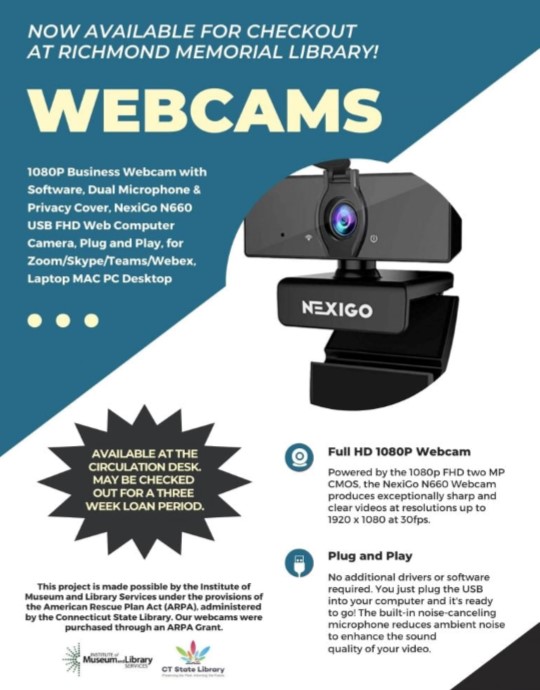 During the month of November, we'll have a Fossil Hunter Scavenger Hunt, a Dinosaur craft Take & Make, and a Guess How Many Dino Eggs in the Jar game. Toddlers can take our bouncy dino for a ride in the library. Teens can grab a "Dino on the Shelf" kit (and don't forget to send us fun pictures of your creations)! It's going to be a rawr-ing good time.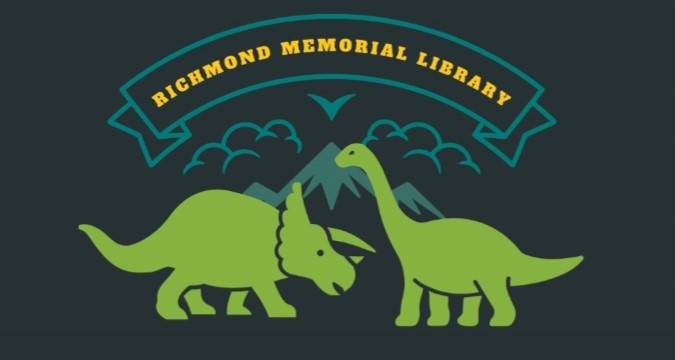 Young Chefs Holiday Edition
Kids ages 8 and up can join us virtually (on Zoom) on Tuesday, December 14, at 6 pm as we work with Food Explorers to teach you how to make chocolate peppermint cupcakes! Email richmondprograms@gmail.com to register and we'll send you a link of the ingredients you will need to have on hand.
Did you know you can shop the same Black Friday Deals using AmazonSmile so that your purchases can help support us? Just remember to shop at smile.amazon.com, or in the Amazon app with AmazonSmile turned ON within Settings, and they will donate 0.5% of your eligible purchases (at no extra cost to you). You can select us as your AmazonSmile charity by visiting: smile.amazon.com/ch/06-6056067. #amazonsmilecharity #amazonsmiledonates

Upcoming Adult and Teen Programs...
The Richmond Memorial Library building is now open Mondays through Thursdays from 10 AM to 8 PM, Fridays 10 AM to 6 PM, and Summer Saturdays, 10 AM to 4 PM.  Curbside pickup services are also available during these times.

We have started to and will continue to host virtual programs for all age groups. Additional information will be found on our website and social media pages, including video tutorials on how to access the virtual formats these programs will be offered in. To register for one of these programs, email the library at richmondprograms@gmail.com.


Tuesday, November 30 at 6:30 pm, Chocolate 101:*** Kim Larkin from Klassic Kreations Workshops will introduce the history of chocolate, test your knowledge with chocolate trivia, and teach you how to make some delicious chocolate creations with her tempering machine in our second indoor program this fall. There is a maximum of 20 adult and teen participants. Social distancing practices must be followed and masks must be worn indoors unless taste-testing your samples. Email richmondprograms@gmail.com to register.

Thursday, December 9 at 6:30 pm, Apple Cranberry Scones: Learn how to make a delicious (and simple) holiday breakfast with Lisa Baisini from The Baking Coach. This is an adult and teen program held on Zoom. A list of ingredients will be sent to participants prior to the program. Email richmondprograms@gmail.com to register.


***Accessibility at RML: The library does not have an elevator. If you need full accommodation, please contact Library Director Aubrey Muscaro at 860-295-6210 or amuscaro@richmondlibrary.info prior to the event (one week preferred) so we can find an alternate space. The meeting room is located on the second floor.

Please call the library at 860-295-6210 or email us at richmondprograms@gmail.com.