CLEAR SIGNALS FROM WWE FILMS
AUTUMN COMEDY SLATE TAKES SHAPE
UMA RUMOURS AND VICIOUS GOSSIP
ACORN ENJOYS THE GOOD LIFE
COMING SOON ON DVD AND AT CINEMAS
---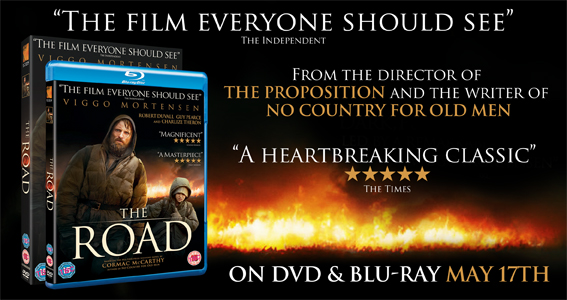 ---
It Was A Good Week For..
.

We know we said it last week, but the week-end figures

for E1's latest in the Twilight saga, New Moon, really were amazing... And congratulations to Revolver too, for its biggest theatrical opening (see below)...
It Was A Bad Week For.

.. Quality journalism, as The Guardian (and others) failed to let the facts – and Metrodome's release strategy for Motherhood – get in the way of their story...
Dateline: Phoenix. And The Raygun was off to Arizona for the annual WWE trip to Wrestlemania with Clear Vision. At a major business seminar held by senior executives at the grappling organisation, the WWE outlined its plans for its feature film slate in the next few years. Eschewing its recent strategy – action features sold and distributed through other companies – the WWE confirmed it is now effectively running its own independent film studio, planning to release through its own partners across the globe, meaning, of course, Clear Vision in the UK. The content will mirror the WWE's new family-friendly PG ambitions, and it is exploring other genres, and, crucially, release windows. This means shortened windows, with platform theatrical releases ahead of DVD and other avenues. A brace of 2010 releases will head a slate of nine films over the next two and a half years, produced almost back to back. Budgeted at lower than previous outings such as John Cena's 12 Rounds, the first two will be out this autumn, and star superstars such as the aforementioned Cena and The Big Show. The former stars in Legendary, a drama; the latter in Knucklehead, a comedy. Others further down the line will have more action content, but for now, the WWE is keen to explore all genres. Clear Vision's Nic Sales said: "We're really pleased to be working with WWE on these film titles. We've been expanding our portfolio and this sees us moving in to film at the same time as working with a brand that we know inside out, the WWE. It's hugely exciting for us."
And on to the wrestling itself – this year's event was as bright and brash as ever, with 72,000 plus fans from all around the globe (and a high proportion of Brits) attending to see, among others, The Undertaker take on Shawn Michaels and the aforementioned Cena take on another potential movie star, Batista (who appeared in E1's recent Wrong Side Of Town). Clear Vision will be releasing the DVD in July and is anticipating strong business for the showpiece event of the WWE catalogue. Sales said: "This year's Wrestlemania event had all the right ingredients for excellent DVD sales, offering up major showdowns between some of the organisation's biggest superstars and the conclusion to several ongoing storylines. We know it will be a big, big seller.
More on last week's storming success for E1's New Moon, which broke all kinds of records for the ever-growing distributor and boasts all kinds of impressive figures. Take a deep breath as we roll some of them out... Its final week one sales topped 1.1 million units, making it the 16th bestselling ever and one of an elite band of just 19 titles that passed the magic million mark in their first week. It was the second best conversion from theatrical to DVD for both films selling more than 1 million units and for those that took more than £20 million at the box office. Its first day sales out of the week's total (55 per cent) was bigger than that of Mamma Mia, showing its real pulling power. It is already Ireland's third best selling title ever, and it notched up the biggest ever week one on iTunes. Obviously, with figures like that it could only drop off sharply, but it is still on target to sell 150,000 or so in its second week... All of which bodes well for Eclipse, due at cinemas in July.
Speaking of E1, the company has inked another deal that will see more potentially big selling product coming its way. The company has signed a first look agreement with screenwriter David Hayter, his production partner Benedict Carver and their company Dark Hero. Hayter's CV includes two X-Men movies, The Scorpion King and Watchmen. The first title to fall under the new deal, which takes in films, television, Internet and games, will be a TV series based on the popular action film Push. E1 Television's president of dramatic programming Noreen Halpern said: "E1 is thrilled to partner creatively with David and Benedict. David has a truly unique voice and has created incredible, unforgettable worlds in so many features. Crossing that voice over into television with the benefit of E1's development strengths is sure to produce something innovative and amazing."
Back to record-breaking performances, however, and it's worth noting Revolver's impressive performance with the first ever production from its own in-house production arm Gunslinger. Shank took £278,904 over the weekend across 86 screens, giving it one of the weekend's best screen averages of £3,243, and seeing it outperform plenty of Hollywood blockbusters at individual cinemas. All of which means Shank has now become the thriving independent's biggest ever opening release. Revolver ceo Justin Marciano said: "[Writer Paul Van Cater, producer Nick Raussig and director Mo Ali] have managed to deliver exactly what this audience was asking for. We've built up an extraordinary relationship with young audiences over the last few years, and all that we have gained in experience has paid off this weekend." A sequel is already in development, with the DVD due later this year.
---
---
HBO's eagerly-awaited The Pacific starts on Sky's movie channel on Easter Monday and HBO's DVD arm has now revealed that the series will be released this Q4 on DVD and Blu-ray with both versions appearing in a special tin packaging format. The Pacific went down a storm at a special preview screening for assorted trade representatives last week which also saw HBO discuss other titles that are currently in production. The forthcoming slate from the television giant includes Boardwalk Empire, a Terence Winter and Martin Scorsese drama series set in Atlantic City at the dawn of Prohibition, and Treme the new show from The Wire creator David Simon, which takes place during the rebuilding of post-Katrina New Orleans and stars John Goodman. HBO's Ian Fullerton said: "We've got some phenomenal shows coming over the next 12 months. And this week we were able to announce that the British Film Institute will be screening a special HBO Weekend in April that will include the European premier of David Simon's new drama Treme." That event takes place, incidentally, on April 24 and 25. See you down the front...
The hmvcurzon joint venture between the retailer and cinema chain is set to grow following what the pair have described as a successful trial above HMV's Wimbledon store. Up to 20 cinemas carrying the hmvcurzon brand are set to roll out as the duo scout the country for suitable new venues with the aim of opening between two and five cnemas a year. The Wimbledon experience offers a three screen cinema more akin to a plush West End screening room than your average multiplex, with a cosy cafe bar which has DVDs racked out in it, all allied to an HMV store. HMV ceo Simon Fox said: "We're really pleased that there's been such a positive response to the hmvcurzon trial in Wimbledon. We feel there is now a viable platform to roll the concept out to other locations within the business. This move further underlines HMV's commitment to extending content and choice to its customers through a number of channels and through the 'live' experience in particular." Curzon Artificial Eye ceo Philip Knatchbull added: "Working with the HMV Group will ensure a perfect match of central high street locations and a wealth of exciting programming opportunities - be it the latest Hollywood blockbusters, independent award winners, activities for kids, or live broadcasts of opera, concerts and sporting events. We have worked well alongside the dedicated and enthusiastic team at HMV to make Wimbledon a success, and I feel extremely positive about the prospect of opening further venues with them."
It may only be April, but the autumn schedule for the big Q4 releases is beginning to take shape. 4DVD has put three of its big comedy releases for November on the slate. Jimmy Carr's latest, entitled Making People Laugh, is due on November 8, while a week later, on the 15th, comes the eagerly awaited sophomore outing from Frankie Boyle. Better still is its title, as it is going to take the likely name of If I Could Reach Out Through Your TV And Strangle You I Would. And a week beyond that, November 22, comes the second outing from Rhod Gilbert, whose first title was the fastest selling debut comedy DVD of 2009. The show was entitled The Cat That Looked Like Nicholas Lyndhurst, although great as it is, that has yet to be confirmed for DVD. These dates are, of course, subject to change, but we love the idea of locking down release dates in the same way blockbuster films do. 4DVD's Karla Berry said: "4DVDis committed to developing stand-up comedy and we are absolutely delighted with the sales results of our stand-up DVDs. We've had fantastic results with Jimmy Carr over the years, and more recently Frankie and Rhod's debut DVDs have been extremely successful and we look forward to building on this success in the autumn."
Speaking of live comedy, see our Release Of The Week (below) for more on Universal's Channel 4 Comedy Gala Live At The O2, this week's event that the major has snapped up the rights to.
LOVEFiLM has had another busy week, offering up a groundbreaking first by hosting an interactive webchat with Dear John stars Amanda Seyfried and Channing Tatum at London's Prince Charles Cinema. In front of an audience of LOVEFiLM competition winners, the duo chatted with not only those present, but scores of fans in a real-time chat room. The content will now be hosted by the company on the way to the film's eventual DVD release from Momentum. LOVEFiLM editor Helen Cowley said: "It was great, we were talking to the talent, the audience and online at the same time. It was a first for them too. We've wanted to do this for a while and Dear John seemed like the perfect fit. Technically it was a huge accomplishment and we're hoping to do more in the future. It really shows us supporting film right through [its history]."
How journalism works (part 2): We've been tracking the way the media has followed Uma Thurman's Motherhood and its performance at the box office. It started off with a blog post and was picked up by other Internet warriors before ending up at its final resting place, Saturday's Guardian, which tended to ignore Metrodome's multi-platform release strategy and instead opted to concentrate on the £88 earned at UK cinemas by the film. It is, it appears, a case of never letting the facts get in the way of a good story, and one that has infuriated Metrodome and other observers (us at The Raygun included). It took paragraph after paragraph before the newspaper deigned to mention the independent's release strategy; one that was not dependent on its cinema grosses, instead using the release to enable it to receive national newspaper theatrical review coverage. In a statement, Metrodome said: "It is important at this stage to emphasise that our release of Motherhood in the UK was a multi-platform release. We wanted to offer customers the opportunity to watch the film on whichever platform they chose and, in this case, they chose to watch the film in other ways. We never expected our one print theatrical result to be a commercial success. The result across the DVD and the VOD platforms, despite the lack of critical support, have been in line with our expectations. For example we can confirm that over 6000 units were sold in the week of its first release and initial reports on the VOD element are encouraging. Our release plans for this film were significantly scaled back following the poor US result and we opted instead to try something different with a more inventive release strategy. We feel that in this economic climate we should be applauded for experimentation and not scalped for trying something new."
Acorn has secured a coup for the release of the second series in its ongoing release of 70s sitcom classic The Good Life. The independent TV and fitness specialist has managed to snag star Richard Briers to complete an interview for the release, due out on May 24. The series is currently celebrating its 35th anniversary and Acorn has embarked on an ongoing series of releases of individual series to mark its birthday. The first series was released this week; the PR campaign for which saw series creator Bob Larbey carry out numerous interviews. Star Felicity Kendall will also appear on Jonathan Ross' Radio 2 show, alongside a giveaway of the first series, later this month. Acorn's Paul Holland said: "We are delighted to be re-launching The Good Life on DVD throughout 2010. It is a brand which has become synonymous with Acorn's success over the last 10 years and now that we have the support of the original cast members, including Richard Briers, this will help drive sales on to an even higher level."
---
---
QUOTE OF THE WEEK
"People are downloading movies in such large quantities that Spain is on the brink of no longer being a viable home entertainment market for us." Michael Lynton, chair of Sony Pictures Entertainment, referring to the fact that the major – and others too, reportedly – are thinking of pulling out of the territory due to rampant piracy. Almost a third of the population uses file-sharing sites, double the average in the rest of Europe.

Universal was this week filming the mammoth Channel 4 comedy Gala at London's O2 arena for DVD release on April 26. The DVD is being sold in aid of Great Ormond Street Hospital (GOSH) and will feature the complete show, which saw some 35 comics taking to the stage. That and the 15,000 people in the arena makes it the biggest live stand-up show in history. The line includes Alan Carr, Bill Bailey, Catherine Tate, the ubiquitous James Corden, Michael McIntyre, Rob Brydon, Jonathan Ross (whose C-word based routine drew much national newspaper comment, naturally), Lee Evans, Noel Fielding and even Katie Price and Alex Reid. The title, Channel 4's Comedy Gala Live At The O2, to give it its full moniker, will be supported by what Universal promises to be a multi-media campaign, taking in TV, radio, press and online. Commenting on the release, Universal's Giles Pogson said: "It's one of those great, great projects – the biggest ever stand up gig, an absolutely amazing show with an unbelievable, stellar line up and all in aid of a brilliant charity."
AT THE MOVIES
Tim Burton's Alice In Wonderland was finally deposed in both the US and the UK after its lengthy run at the top of the pile. In each instance it was knocked off by another family friendly film, although both were somewhat different from Burton's latest (and each other, it must be noted). In the UK Universal'a Nanny McPhee And The Big Bang took a touch over £2.5 million to blow it off the top, while in the US DreamWorks' How To Drain Your Dragon blazed a trail to number one with receipts of $43.7 million. Other notable new entries were, in the UK, Warner's Oscar-friendly The Blind Side (£1.3 million) and Revolver's record-breaking Shank (see above), and, in the US, the wonderfully named Hot Tub Time Machine entered at number three with $14 million.
He's back. Despite the lukewarm critical reaction to his last outing in 1998, legendary Japanese monster Godzilla is set to return to the big screen in two years from now. Legendary Pictures has signed a deal with rights owner Toho that will see Warner co-financing (and distributing) a new adventure featuring the big green lizard. Sony's take performed well enough all right, but it hardly got audiences excited. The new film will, thankfully avoid the bluster of Roland Emmerich's most recent take and instead return the creature feature to its original post-war, post atom bomb roots.
"Chris Evans is playing Captain America?" we shrieked when we first heard the news. "That's preposterous." He'd already ruined Radio 2's breakfast show (that's for our older readers). Then we looked it up on IMDB, and realised, that, thankfully, it wasn't THAT one. No, the Marvel WWII-era superhero will not be played by ginger TV personality Chris Evans, but by his namesake, er, Chris Evans. Although weirdly, instead of saying "Wasn't that bloke in Don't Forget Your Toothbrush?", fans (and other superheros, especially come The Avengers movie that the character is also slated to appear in) will be asking how come Captain America looks like The Human Torch from Fantastic Four? And that, we pledge, is the last time we make any reference to that rather weak Chris Evans gag. Like Iron Man and its forthcoming sequel, the title is being produced by comic book giant Marvel and distributed by Paramount.
David Fincher, the director who, it appears, can do little wrong (apart from Panic Room – opening credits aside), is being lined up to helm the Hollywood version of Stieg Larsson's "ooh look, I'm reading the same book as everyone else on the tube" novel, The Girl With The Dragon Tattoo. That same rumour mill has Carey Mulligan playing the titular role alongside either Brad Pitt or George Clooney. Despite the fact that Momentum's version, due on DVD later this year, was good enough for us, Fincher's output is always worth a look...
SITE OF THE WEEK
We at The Raygun love Wordpress (and we'll love it even more once we iron out the bugs from our site and get it up and running – stay tuned for more) and it really works for agencies, especially those on the design and creative side; so much so we can't work out why more people don't use it regularly. One agency at the forefront of using the format is Name Creative, a bright new agency run by a trio of experienced and enthusiastic staffers (and the same team, incidentally, that came up with our Raygun logo). Their site, http://www.namecreative.co.uk/, really uses Wordpress' flexibility and ease to update daily and enables you to keep a close eye on what it's been up to...
EVENTS OF THE WEEK
Well, there was, of course, Wrestlemania XXVI in Phoenix to contend with, and, of course the fact that not only did we manage to sit just behind R n B songstress Rihanna on the plane, but one retailer also managed to pap her along the way... We also had a kraken good time at a screening of Warner's re-invention of Clash Of The Titans where we relived our youth watching the adventures of Perseus, Andromeda and Pegasus all over again. No Bubo, the clockwork owl though, although Ray Harryhausen's creation does make a brief cameo.
---
---
Internet fanboys have been going mad for this trailer this week, and no wonder, it's the latest from Edgar Wright.
And if that didn't get them going, then this did:
The latest from the Bruckheimer and Disney partnership...
We didn't think the first trailer was that exciting, this, however, is much more like it:
OUT THE NEXT WEEK ON DVD (APRIL 5)
30 Rock Season 3 (Universal Playback)
Another Sunday And Sweet FA (Network)
Bad Behaviour (Lionsgate)
Burn Notice Season 2 (Fox)
Da Vinci Angels V Demons (Demand DVD)
Day Of The Dead (Arrow) (Blu-ray)
The Divorce Of Lady X (Network)
Doctor Jekyll & Sister Hyde (Optimum)
Fireman Sam – The Great Fire (HIT)
Forever Green Series 2 (April 5) (Network)
Funny Games (Kaleidoscope) (DVD ad Blu-ray)
Ghost Hunt Complete Series 1 box set (Manga)
Gungrave Complete Collection (MVM)
Hard Revenge Milly Bloody Battle (Cine Asia)
His Name Was Jason 30 Years Of Friday The 13th (4Digital Media)
Invitation Only (Momentum)
Last Stop 174 (Brightspark)
Live And Become (Bluebell Films)
Married Single Other (2entertain)
The Merry Gentlemen (Universal indi VISION)
Negima: Complete Series 2 (Manga)
Original Spider-Man Season 3 Volume 2 Clear Vision)
Le Professionel (Optimum)
Ready When You Are Mr McGill (Network)
Slayers Next box set (MVM)
Sounds Of Sand (Bluebell Films)
Spongebob SquarePants Viking Sized Adventure (Paramount)
UFC 106 Ortiz Vs Griffin 2 (Clear Vision)
Universal Soldier Regeneration (Optimum) (DVD and Blu-ray)
We Live in Public (Dogwoof)
WWE TLC Tables, Ladders & Chairs (Clear Vision)
Wycliffe The Complete Second Series (Network)
Yes Men Fix The World (Dogwoof)
Yus My Dear The Complete Second Series (Network)
OUT THE FOLLOWING WEEK ON DVD (APRIL 12)
Being Human Series 2 (2entertain) (DVD and Blu-ray)
Alvin And The Chipmunks 2 – The Squeakquel (Fox) (DVD and Blu-ray)
The Bicycle Thieves (Arrow)
The Big I Am (E1 Entertainment)
Blood And Oil (2entertain)
The Chief Series 2 (Network)
Confessions Of A Superhero (Brightspark)
The Count Of Monte Cristo The Complete Series (Network)
Dancing On Ice Series 5 (ITV)
D.Gray Man: Series 1 Part 2 (Manga)
The Descent Part 2 (Pathe) (DVD and Blu-ray)
Destination South Africa 2010 (Green Umbrella)
The Devil's Mercy (Scanbox)
Dolan's Cadillac (Momentum) (DVD and Blu-ray)
Examined Life (ICA Films)
Fresh Fields Series 1 (Network)
The Gentle Touch Series 4 (Network)
Ghost Machine (Anchor Bay/Starz)
The Girlfriend Experience (Revolver)
The Greatest (High Fliers)
Harvey Birdman (Revolver)
Henry Lee Lucas: Serial Killer (Lionsgate)
History Of The National Railway Museum (Demand DVD)
I'm Gonna Explode (Artificial Eye)
Jonathan Creek The Judas Tree (2entertain)
The Larkins Series 2 (Network)
Law Abiding Citizen (Momentum) (DVD and Blu-ray)
Law & Order Season 7 (Universal Playback)
The Man With The Gun (Optimum)
Mapping Murder (Demand DVD)
Midsomer Murders: The Sword Of Guillaume (Acorn)
My Father My Lord (Artificial Eye)
Only The Brave (Scanbox) (rental)
OSS 117 Lost In Rio (ICA Films)
Powerboat P1 World Championship Review 2009 (Demand DVD)
Raging Phoenix (Cine Asia)
Rosalie Goes Shopping (Drakes Avenue)
Rosamunde Pilcher's Four Seasons: Winter And Spring (Acorn)
Salmonberries (Drakes Avenue)
Sherlock Holmes (Revolver)
Shiva Rea Yogini (Acacia)
The Shouting Men (Revolver)
The Slayers Next Complete Box Set (MVM)
The Sisters (High Fliers)
Step By Step Belly Dance With Leilainia (Acacia)
Superjail Adult Swim (Revolver)
Thomas Hardy's Wessex Tales (Acorn)
A Touch Of Frost Series 15 (ITV)
Trudie Styler's Core Strength Pilates (Clear Vision)
UFC: Best Of 2009 (Clear Vision)
Undeniable: The Rise Of Dwayne Wade (Clear Vision)
We Live In Public (Dogwoof)
Wonders Of The Solar System (2entertain) (DVD and Blu-ray)
WWE Survivor Series 2001 & Vengeance 2001 (Clear Vision)
Clash Of The Titans (Warner)
How To Train Your Dragon (DreamWorks/Paramount)
Kakera A Piece Of Our Life (Third Window Films)
The Railway Children 40th Anniversary (Optimum)
Samson & Delilah (Trinity)
OUT THE FOLLOWING WEEK AT CINEMAS
I Know You Know (Network)
To subscribe to The Raygun newsletter, please email
info@theraygun.co.uk
with subscribe in the subject matter
To unsubscribe, email
info@theraygun.co.uk
with unsubscribe in the subject
For editorial or advertising queries, contact
tim@theraygun.co.uk