IT'S A BIGGIE…
HORROR BALLOONS INTO NUMBER ONE
BLUE PLANET LIFTS 4K…
…AND DARCEY'S STRICTLY A HIT TOO
BEEB PLAYS A BLINDER
MIDWEEK CHART UPDATE
PADDINGTON 2 DATED FOR MARCH 12
MAN, IT'S GOOD
STUDIOCANAL SHOWS MERCY
BRITANNIA RULES THE AIRWAVES
STX'S RIVER SET TO FLOW
VICTORIA STILL REIGNS
88 ENJOYS A RECORD YEAR
ACADEMY RATING FOR FOPP
NEW DEAL STRUCK
HANCOCK'S HALF HOUR
FAREWELL TO LOMAX
LAST CALL FOR YEAR-END SURVEY
QUOTE OF THE WEEK
AT THE MOVIES
TRAILERS OF THE WEEK
---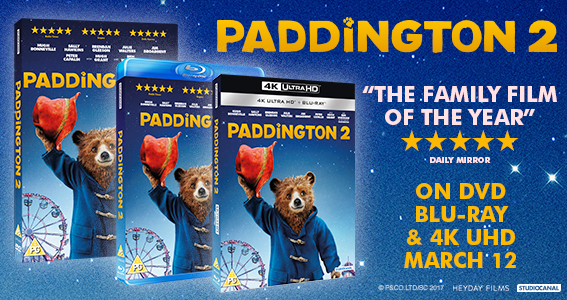 ---
If you can't read this newsletter or see the ads, please click here
It Was A Good Week For… IT: the balloon's gone up
It Was A Bad Week For… Word reaches us that there are changes afoot in the sales sector. More next week…
More like a major blockbuster release than your average horror film… That was the verdict on the new feature film take on Stephen King's classic tale IT, released on Blu-ray and DVD on Monday courtesy of Warner. In keeping with its mammoth theatrical haul when the film was released at UK cinemas (and globally), the new release did the kind of numbers not normally associated with a horror flick. According to the Official Charts Company's midweek bulletin, the film, which had already grossed more than £32 million at UK cinemas, shifted 76,000 in its first three days on sale. It was aided by a TV campaign carefully targeting consumers aged over 15 years old, with an outdoor campaign across the capital. And, as is the norm these days, the PR campaign saw, on Blue Monday, as the day of the film's release had been dubbed, was rechristened Boo Monday for a media drop to journalists and influencers at the likes of BBC Radio 1, Digital Spy, Yahoo Movies, Flickering Myth, HeyUGuys and Total Film. Support from influencers Jeremy Ray Taylor and Jaeden Lieberher posted on their social medial channels to more than 1 million followers.
The release of IT was also further boosted by in-store activity, with red balloons aplenty and retailers such as HMV tweeting scores of pictures from its stores featuring balloons and yellow coats. Commenting on its success, vp and director of film marketing at Warner Alex Lewis said: "We're thrilled to see IT continue to transcend the horror genre and build on its theatrical box office success - home entertainment sales are comparable to some of our other recent blockbusters; Kong Skull Island, Wonder Woman and LEGO Batman - a fantastic result!"
---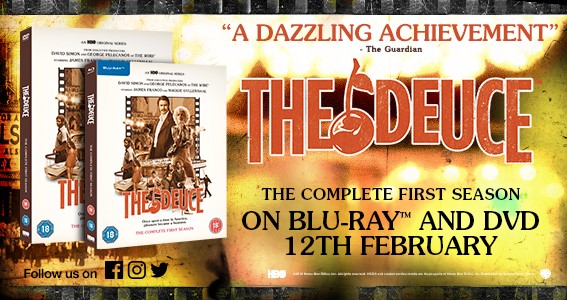 ---
The 4K Ultra HD format received another welcome boost as the premium priced Blue Planet II, one of 2017's bestsellers on DVD and Blu-ray arrived on ultra high definition disc. And, like the high profile release of Planet Earth II last year, BBC Worldwide's first 4K release, which became the bestseller for the format in 2017, this latest Attenborough is blazing a trail for 4K and also giving further impetus to other formats of Blue Planet II. The release has helped propel the title a whopping 88 places up the Official Charts Company's midweek bulletin and back into the top five, it's sitting at number four this week. BBC Worldwide's home entertainment director Lesley Johnson said: "We are delighted Blue Planet II continues to raise the bar in picture quality for 4k content. The incredible images pay testament to the continuous innovation of the Natural History Unit in Bristol."
It's been a good week for BBC Worldwide as, sitting pretty behind Blue Planet II is its latest fitness outing, as Strictly Come Dancing judge Darcey Bussell's debut keep fit release, Diverse Dance Mix, shoots up the Official Chart Company's midweek listing to number six, a rise of 23 places. We reported on the title when it was announced, but its success is another feather in BBC Worldwide's cap; a genuinely original title for the keep fit sector and a smart piece of video publishing. Comment on its success, BBC Worldwide's head of sales Rhidian Bragg said: "2018 has also started with a bang with Darcey Bussell's DDMix Diverse Dance Mix growing week on week off the back of some great support from Darcey."
There's more to come from BBC Worldwide too, as Monday sees the release of the fourth series of Peaky Blinders. It's been a slow rise to dominance, but the programme really came good in 2017, as the arrival of the fourth season on TV screens led to a huge surge of interest in previous outings, and the third series and the accompanying (at the time) complete box went on to score in the TV sector during the last part of the year and ended up among the year's top TV category sellers. It was the most successful programme on BBC iPlayer over Christmas too, as the Daily Telegraph noted: "Peaky Blinders was the most successful of the reinstated box sets, with 8m requests so far and episode six becoming the third most-watched show of the week." It's become a bona fide phenomenon too – groups of lads are dressing as the Brummie mobsters, while there are themed nights and bars opening around the country.
---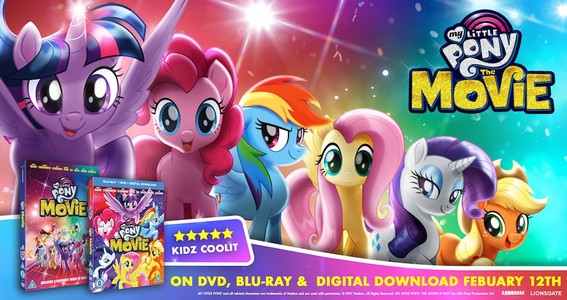 ---
Elsewhere in the midweeks, American Assassin, the Lionsgate release featured here last week, is a new entry at number two in the midweeks, with, further down the listing, the original Jumanji enjoying a strong resurgence and new lease of life on the back of the new take on the tale, up to number 31, while A Ghost Story, also from Lionsgate, is a new entry at number 37.
With its UK box office soaring past that of its predecessor, and its US release helping it to a rarely heard of 100 per cent rating on Rotten Tomatoes, this week is as good a time as any for Studiocanal to unveil the release date for its family blockbuster Paddington 2. The sequel's UK haul now stands at more than £41 million, easily surpassing the first film featuring the lovable Peruvian bear, making it Studiocanal's biggest theatrical release ever in the UK. And the film will make its home entertainment bow on March 12 on DVD and Blu-ray, with a digital release on March 5. it will come complete in a variety of SKUs – standard Blu-ray and DVD, boxsets featuring both Paddington films on both formats, and a Steelbook. Extras will appeal to both the younger fans and grown-ups too. Given the love for the film and its repeat viewing potential, as well as its mammoth box office, this has the ability to keep on selling – its predecessor has already hit the 1.5 million mark. We'll have loads more on this, one of our favourite films not just of last year, but ever, in the coming weeks, but comment on its release date announcement, Studiocanal's Olivia Dean said: "We're delighted to announce Paddington 2's home entertainment release on the back of three BAFTA nominations, including a nod for Hugh Grant in his role as the film's flamboyant villain. With fantastic retail presence and an all-singing-all-dancing campaign to match THAT scene, Paddington 2 truly is the family film of the year that parents and kids alike will want to re-watch time and time again."
Sticking with Studiocanal, and get ready for another big-grossing box office smash to make its way to home entertainment, as the company readies itself for the release at cinemas of Early Man, the latest from the creative genius that is Nick Park and the company he made his name at, Aardman Animation. The film opens at cinemas this weekend, after premiering at the weekend. And it's another hugely commercial family outing for Studiocanal, with all the hallmarks of Aardman productions: a great voice cast, a rollicking storyline, marvellous animation, loads of little in-jokes and attention to detail and some great marketing behind it too. The film will arrive later in the year, after what we're certain will be a strong run at cinemas. Commenting on the release, Studiocanal's Thom Leaman said: "We're thrilled here at StudioCanal to be bringing the latest offering from our fruitful partnership with Aardman Animation to the viewing public. Early Man delivers on every level and we're confident of entering the home entertainment window on the back of a very healthy box office. Having already banked a wealth of talent activity and with some incredible promotional partners already lined up, Early Man should have an unparalleled set up for its HE launch."
And lastly from Studiocanal, The Raygun, alongside a few retailers, was out and about this week at the sumptuous Soho Hotel screening room for a preview of The Mercy, its forthcoming based on a true story tale featuring a stellar cast of homegrown talent, headed by Colin Firth and Rachel Weisz, about an amateur sailor and inventor who set off on a single-handed round the world trip in a homemade boat. It's an amazing film, with a cracking cast and will crossover to all kinds of audiences, not least the older cinemagoers – the kind still buying DVDs by the bucketload, as the success of the likes of Lady In The Van showed. It's due at cinemas on February 9, ahead of home entertainment release later in the year… Commenting on the film, Studiocanal's Olivia Dean said: "A dramatic and unsolved mystery that shook the world, the incredible true story of Donald Crowhurst is one to look forward to this spring. Both Firth and Weisz's performances are outstanding and are supported by strong turns from David Thewlis, Jonathon Bailey and Andrew Buchan. The theatrical campaign is set to make a splash and we'll follow up with stellar set up for home entertainment."
---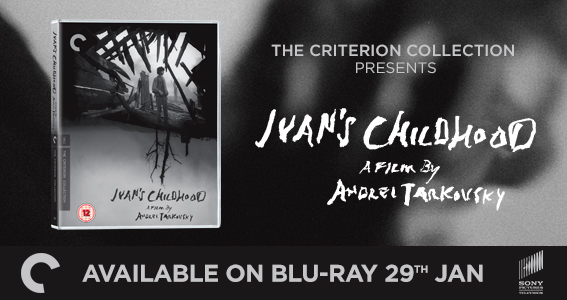 ---
One can't have failed to notice Sky's massive campaign for its new blockbuster sword and sandal series Britannia. The series has a strong fantasy element and an Impressive cast of familiar Brit faces, which has already earned it a slew of comparisons to Game Of Thrones. And Sky is pushing the boat out with the kind of marketing that only the television giant can muster. This means loads of advertising, including a plethora of spots on its own channels, as well as a wealth of PR. And the title will be heading to home entertainment formats after it's aired too - Sony Pictures Home Entertainment will be releasing the first series in March. Given its recent track record with TV on DVD titles, most recently with The Crown, it's the perfect home for the release. SPHE's product marketing manager Amy Sawyer said: "We're thrilled to distribute the first season of Sky's epic mythical drama Britannia which promises to deliver on unruly action, magical sorcery and gripping battle sequences between warring tribes. Sky's noisy above the line campaign has drummed up huge visibility for the series, and we're excited to give people the chance to own this powerful story." More on the marketing closer to the release.
Meanwhile, the first product from SPHE's deal with fledgling UK distributor hits the shelves on Monday January 22, with the release of the eagerly awaited Wind River. It kicks off a flurry of activity, which will include both Home Again and Breathe in the first quarter of this year. STX has already amassed an impressive slate going beyond this too, with titles due at theatrical including the likes of Den Of Thieves, due in early February and starring Gerard Butler and Curtis "50 Cent" Jackson; Gringo, a dark comedy cum actioner featuring Joel Edgerton alongside David Oyelowo, Charlize Theron and Thandie Newton and, beyond those, Amy Schumer, Michelle Williams and model Emily Ratjakowski in comedy I Feel Pretty as well as a bizarre Muppet-style puppets meet live action characters in The Happytime Murders. Commenting on the release and the slate going forward, Katie O'Connor, marketing manager third party partners at SPHE said: "We're delighted to launch our first title from STX's exceptional, star-studded slate. Wind River is off to an incredible start on digital and is set to deliver a great result when it lands in stores. To bring this gripping story to life, we invited media on a press trip to the snowy planes of Wyoming, complete with snow mobiles, mountain hikes and an excursion to the Wind River Indian Reservation to learn the art of tracking."
The big releases keep on coming and one that should please that older audience who, as noted above, are still buying DVDs and physical product, is Victoria And Abdul, a film which charts an unlikely friendship between the long-reigning queen and one of her Commonwealth subjects. Universal is targeting the older female target audience with TV advertising across ITV and Channel 4, with ads around period drama programmes. This is supported by print advertising in more upmarket magazines. PR support includes interviews with cast and crew, while former royal correspondent Jennie Bond providing support to help secure further coverage. Visits to some of the film locations and a press drop have further will provide coverage across print, websites and social media. Senior product manager Emma Sihra said: "It has been fantastic to work on the campaign for such a high quality, British title. We have fantastic retail support, beautiful packaging and POS, and are looking forward to a great release!"
As we've noted here, a few independents we regularly speak to had enjoyed record years in 2017 and another label that we feature here has also this week reported a strong 2017. Step forward then, 88 Films, which has enjoyed not just impressive sales over the past 12 months, but has also bagged awards nominations for the first productions it has been involved in. What's more, it's planning more titles across its specialist horror imprints in 2018 too. Here's the label's Richard Elliott updating on the company's progess: "We had our best year yet in 2017 including a record month at Amazon in December. Our Slasher, Italian and Asian collections will be added to in 2018 and we hope to try a few more left-field standalone titles throughout the year too with even more of an emphasis on quality as we embark on some ambitious in-house restoration projects. Also our two in-house feature productions from 2017 in partnership with Creative Studios, Essex Heist and Hellriser have both been nominated at the National Film awards, not bad for our first two features!"
---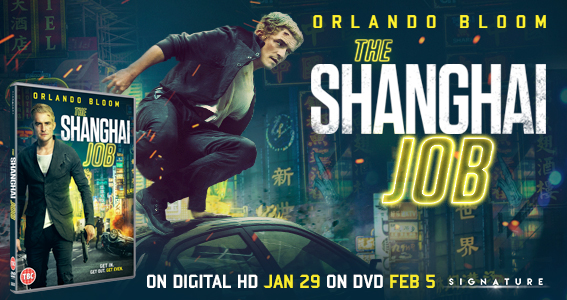 ---
In stores and Arrow is back at the forefront in Fopp stores, this time with a major promotion for its Arrow Academy imprint. The classic cinema label is benefiting from the kind of activity that the retailer specialises in and it follows on the back of hugely successful offers for its sister Arrow Video label. It kicked off on January 2 and both distributor and retailer alike are pleased with the results. Arrow's head of sales Pete Thompson said: "We're delighted with the first fortnight of sales, which have already surpassed our initial forecast. It's positive to see sales coming from across the range with newer titles such as Hard To Be A God and Cosmos keeping pace with classics such as Bicycle Thieves and Closely Observed Trains. Fopp have cultivated this audience incredibly well over the years and we are thrilled that they continue to support our brands." Fopp commercial manager Zak Kilburn added: "As always Fopp is extremely proud to be partnering with Arrow to bring the Arrow Academy promotion to stores. It's the first time for their great range of catalogue titles at amazing prices. The breadth and quality of titles has been reflected in the very strong weeks of sales, a trend we are hoping to continue with this promo and future Arrow ones."
Media giants Turner and Warner have joined forces with UK operation Curzon to launch a new svod service in the UK. It is expected the new platform, Filmstruck Curzon, which takes it inspiration from a similar joint venture between Turner and Warner in the US, Filmstruck, will roll out across Europe. Its product will include Criterion titles from Turner, alongside the from Warner and Curzon Artificial Eye too. It will feature mainstream, cult, independent, classics, art house, foreign and documentary film, as well as Criterion extras and additional material. Turner evp Aksel van der Wal said: "We're thrilled to take this significant step together as a joint venture with Warner Bros. Digital Networks, after many years of growing collaboration across various other projects with Warner Bros. as a whole. FilmStruck helps us realise a shared vision for what we see as a clear gap in the market for film lovers around the world. We're also delighted to be working with a partner of Curzon's heritage and prestige." Warner Bros TV group president Craig Hunegs said: "International film fans now have a new home for a wide and diverse range of movies including some of Warner Bros.' most iconic titles. It's Warner's and Turner's heritage to bring the best films to audiences, and Warner Bros. Digital Networks is very excited to partner with Aksel and the Turner team to do this in an even more direct and compelling way." "It is tremendously exciting to see Filmstruck Curzon launching in UK. We look forward to collaborating on the curation of the site and introducing this excellent service to our customers across the Curzon group. Our shared vision with Turner and Warner Bros. Digital teams has enormous potential. Curzon is thrilled to be joining at this early stage and see this collaboration as a further marker in our commitment to premium consumer services in the UK and internationally," said Philip Mordecai, Director of Digital Ventures, Curzon.
New secretary of state for culture Matt Hancock was one of the key speakers at a reception hosted by he Alliance For IP this week, giving a speech highlighting the need for protection. And it was good to see the new minister showing a strong working knowledge of the threats facing our industry. He said: "Rather than copyright simply concerning what comes off the printing press, there are now international video and streaming platforms which host colossal amounts of content. Four hundred hours of video is uploaded to YouTube every minute. Of course the internet means distribution is easier than ever. Both legal and illegal. And the viral nature of social media means ownership can be harder than ever to enforce. To paraphrase Mark Twain, a stolen joke is no laughing matter. You understand this. IP rules may be technical but their importance can't be overstated. Intellectual property is vital to encouraging creativity and as a Government we are committed to protecting it. We remain fully committed to addressing the transfer of value from the creative industries and closing the value gap that fails to reward our creators. We are making some real progress in this area. Research shows there has been a drop in infringement levels from 17% to 15% since 2013, partly due to the increased availability of legal content. But there is much more to do. The research also shows that pirates are increasingly turning to illegal streaming devices and websites. You have told me this. This must be stopped and there is a lot of work taking place to do this."
The industry bade a fond farewell to one of its stalwarts and legendary characters, Colin Lomax, on Friday January 19 at Mortlake Crematorium. It was standing room only, a sign of just how popular the former VCI, PolyGram, Universal, Maximum, Anchor Bay and Manga executive was. Industry representatives both past and present were out in force, with former Universal supremo Pete Smith leading the tributes to the much missed Lomax, before the hugely influential chraacter was given a proper send off… Tales of his exploits reverberated around the venue and it's certain that he will be sorely missed; our industry will not see his like again. You can read assorted industry tributes to Colin here and here.
Last call! And we'll end with a gentle nudge to complete our 2017 Raygun Year-End Poll thingy, we've got a raft of entries in from across the board, but would love a few more… Email the answers to the questions below to tim@theraygun.co.uk… THey'll be up on our websites shortly…
Biggest challenge in 2018:
What I'm most looking forward to in 2018:
---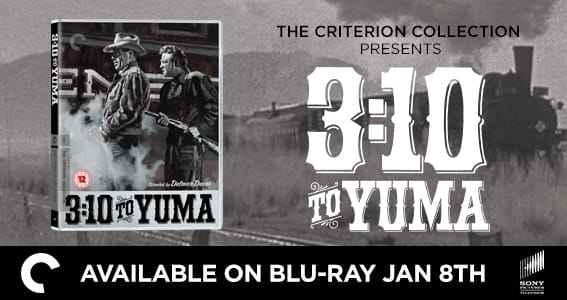 ---
QUOTE OF THE WEEK
The new Secretary of State should make platform responsibility a priority. A joined-up strategy to curb proliferation of illegal, often age-inappropriate and malware-laden content online must include addressing the websites, environments and apps that host and facilitate piracy.
In addition to hurting one of Britain's most important industries, they are overwhelmingly likely to harm children and adult consumers through nasty ads, links to adult content with no age verification, scams, fraud and other unpleasantness.
Building on last year's voluntary deal with search engines, the Government should stay at the cutting edge of ensuring that everyone in the ecosystem – including search engines, platforms and social media companies – takes a fair share of responsibility.
Illegal streaming devices loaded with piracy apps and malware – not to mention the occasional electrical failure – are proliferating across the UK, to the detriment of consumers and industry. The sector is still waiting for the Intellectual Property Office to publish the report on its Call for Views on this subject. This will be one of several opportunities, along with the promised Digital Charter, to make clear that these devices and the apps and content they supply are unacceptable, dangerous to consumers, and harmful to the creative industry.
The UK still has a vote and a responsibility to work with EU Member States to shape the EU's Digital Single Market agenda in 2018. Most important is to oppose the "buy one Member State, get the rest thrown in" approach to licensing broadcaster online services. This is a point where the UK can work constructively with other member states trying to make sure the Commission does not inadvertently undermine the system of financing productions and thus limit the content available for consumers.
MPA EMEA chief Stan McCoy on what new culture secretary Matt Hancock should make his priorities… You can read his full suggestions here…

AT THE MOVIES
Universal's faith in The Darkest Hour and Gary Oldman's career defining turn as wartime leader Winston Churchill has paid off handsomely and then some – the film amassed more than £4 million in its opening weekend, a figure that exceeded one of its previous awards-friendly comparables, The King's Speech. And with tales about audiences standing up and applauding at the end of the film, the word of mouth should ensure it has a long run at cinemas in the run up to the inevitable further gongs for Oldman. Jumanji continues to power on, it will have passed £30 million by the time you read thus, while another Oscar and BAFTA contender, Three Billboards Outside Ebbing, Missouri got off to a strong start with almost £2.4 million in its opening frame. The other new entry was the latest chapter in the Insidious saga, The Last Key, with £1.8 million in its first few days on release.
JJ Abrams may have plenty on his plate, taking in the trifling matter of the next Star Wars film among other things, as well as an involvement in the mooted Tarantino take on Star Trek, but that's not stopping the prolific director and producer. For Abrams is this week said to be working on a new TV project. The new series, which follows the likes of Lost into his sever-expanding CV, will be sci-fi based…
And svod services continue to ink lucrative deals for talent, hoovering up big names to work on exclusive prjects. Latest to sign a contract is Sharon Horgan, who has inked a deal with Amazon Prime which will see her working exclusively on new projects with Amazon Prime over the next two years; she's additionally signed a first-look seal with the service for her Merman production company. "Sharon Horgan is one of the sharpest and most engaging actresses, writers, and directors working in television today. We are thrilled she is expanding her collaboration with us at Amazon to create new groundbreaking content," said Sharon Tal Yguado, Head of Scripted Series, Amazon Studios. "Her strong creative voice and storytelling sensibility have resonated with audiences globally and will make for outstanding shows for our Prime members."
No S1 on DVD yet, but the second is on the way…
TV series makes its way to the big screen…
More from this returning franchise…
More from the impending Potter gold…
To subscribe to The Raygun newsletter, please email
info@theraygun.co.uk
with subscribe in the subject matter
To unsubscribe, email

info@theraygun.co.uk

with unsubscribe in the subject
For editorial or advertising queries, contact

tim@theraygun.co.uk