Support Winter Soldier: Iraq & Afghanistan
From March 13-16, 2008, Iraq Veterans Against the War members will gather near Washington DC to disclose the realities of U.S. war policy. They need your support! There are many ways to help.

Students rally against recruiting
Berkeley, California students put pro-war, right-wing mob on defensive. Later, City Council refuses to back down from anti-military recruiting position. Courage to Resist report, photos, and video from the front.

Col. Wright (ret.) event video, book
Cindy Sheehan and Daniel Ellsberg recently joined former diplomat Col. Ann Wright (ret.) at an Oakland event—here's the 7 min. highlight video. Also: Col. Wright's new book "Dissent: Voices of Conscience" now available from Courage to Resist.

Write GI resisters in military brig (link only)
Andrew Hegerty and Jeffrey Gauntt with the Army's 173rd Airborne remain imprisoned in Mannheim Prison (Germany) for refusing Afghanistan deployment.

"Dear Canada: Let U.S. War Resisters Stay" (link only)
If you have not already done so, please sign the letter online today.
---
Support Winter Soldier: Iraq and Afghanistan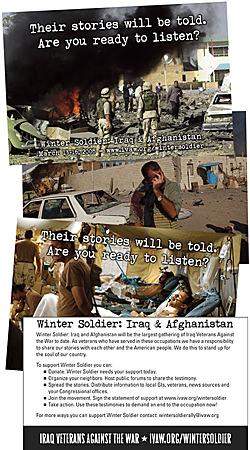 End the war. Support the troops who oppose it.
From March 13-16, 2008, Iraq Veterans Against the War (IVAW) members will gather near Washington DC to disclose the realities of U.S. war policy in a public investigation called "Winter Soldier: Iraq and Afghanistan." Continuing in a long tradition of courage, veterans and civilian survivors of both occupations will give public testimony and share eyewitness stories that have been censored from the American public about the true human cost of these occupations.
Sign the Statement of support
"We Support the Troops Who Oppose the War: Truth, honesty and integrity are essential components to a functioning democracy. Concerned veterans are taking it upon themselves to make their experiences available to everyone who cares about the direction of our country. Soldiers and Marines are not to blame for the suffering of the people of Iraq and Afghanistan. These veterans stories will indicate that responsibility belongs to those in the seat of power and the problem goes much deeper than the atrocities of Abu Ghraib and Haditha."
—from the Winter Soldier Statement of Support
Read and sign the Winter Soldier Statement of Support here, and encourage friends, family, coworkers and members of your group to sign it as well.
Order free promotional postcards
Winter Soldier promotional postcards are now available without charge. As part of Courage to Resist's efforts to support Winter Soldier, we are working with IVAW to facilitate the production and distribution of two-sided, full-color 6" x 4" promotional cards (pictured above right). We suggest ordering between 25 and 250 to start out with. Please order only as many as you can actually distribute, but hurry as supplies are limited and the hearings are only days away. Order postcards today.
Attend or organize a local Winter Soldier viewing
Check the Winter Soldier events calendar for events near you.
If nothing is yet scheduled locally, think about organizing the local event yourself! If you do, make sure to post your event on the calendar so others can find it and so that you get additional information as it becomes available.
There will be a number of ways to get a live audio/video feeds from the Washington DC hearings to present at your local event. Live television broadcasts via satellite tv will be accessible via Dish Network as well as public access stations that choose to carry the broadcast (Friday and Saturday only). Contact your local public access stations and encourage them to broadcast Winter Soldier (satellite details available soon). A live video stream will be available from the IVAW website Thursday through Sunday. Live radio broadcasts will be aired on KPFA in Northern California and other Pacifica member stations nationwide Friday through Sunday. A live internet audio stream will be available via KPFA's website Friday through Sunday. For up-to-date technical information regarding live feeds, visit IVAW's Winter Soldier webpage.
Many other ways to support Winter Soldier
Click hear for more information from Courage to Resist about how to:
Donate to Iraq Veterans Against the War and Winter Soldier
Help spread the word
Tell your elected officials to bear witness to Winter Soldier
Make this a story covered by your local media
Provide emotional support for veterans and GI's
Use Winter Soldier testimonies to help end the war
Attending the Washington DC hearings
---
Hundreds of students rally against recruiting
Berkeley students put pro-war, right-wing mob on defensive
Courage to Resist. February 19, 2008
For months, the anti-war women's group CodePink staged near-daily protests outside of a Marine recruiting station in downtown Berkeley, California. These gatherings became a part of the local landscape. However, vigil-as-usual ended when the Berkeley City Council voted to officially endorse these ongoing protests and to send a letter to the Marine recruiters asking them to leave town. Right-wing radio rallied their listeners to "punish" the city, and anti-military recruiting advocates rallied to defend the council's actions.
National right-wing groups such as Move America Forward and their media outlets attacked the council vote. U.S. Senator Jim DeMint (R-South Carolina) and five other Republican senators moved to introduce the "Semper Fi Act" that would cut off over $2 million in federal funds to Berkeley, including a public school lunch program. A Republican State Assemblyman pledged to try to deny Berkeley over $3 million in state funds for road repairs. While these moves have little chance of succeeding, they effectively placed the council on notice that "the powers that be" were not happy.
A showdown of epic proportions (even for Berkeley) ensued around Berkeley City Hall February 12. With out-of-town pro-war individuals descending on Berkeley to intimidate the City Council for its anti-war position, Courage to Resist joined CodePink, ANSWER Coalition, World Can't Wait, Veterans for Peace and other community groups to mobilize over a thousand people to support the council's opposition to the Iraq War and military recruiting—and continue the struggle to oppose military recruiting in our community. Knowing that pro-war, pro-recruiting people intended to begin their rally before dawn, anti-war groups set up a 24-hour encampment on the City Hall lawn beginning the night before.
Beginning at 5:00 am sharp, the two sides squared off against each other with opposing arguments, chants and signage. Anti-war, pro-impeachment, anti-torture, and GI resistance pickets on one side; slogans such as "waterboard liberals", "try burning this (U.S. flag) asshole", and "free speech for Marines" on the other.
Pro-war supporters had to clarify that they were not actually advocating for an expansion of GI rights, but only that Marine recruiters and commanders should have limitless "free speech" to recruit and advocate for endless war and occupation. Indeed, the Pentagon purchases $6 billion of "free speech" advertising on military recruiting annually!
These supporters of "the troops AND THEIR MISSIONS" travelled from as far away as Georgia and Colorado to force a retreat by the council. Their numbers grew to a few hundred by the end of the day. However, it was hundreds of Berkeley High students that left their campus down the street to courageously and defiantly surround and hound the pro-war mobilization that really set the tone and put the right-wing mobilization on the defensive.
Throughout the day and into the evening, groups of anti-war, anti-recruiting students loudly debated intimidating-looking motorcycle clubbers, right-war ideologs, and a handful of young Republicans—often with riot police moving in to push back the students.
---
Dissent: Voices of Conscience
Government Insiders Speak Out Against the War in Iraq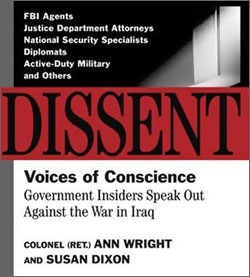 A new book by former diplomat and Army Colonel (ret.) Ann Wright features the stories of a number of Iraq War GI resisters. Published by Koa Books (paperback, 278 pages) with a forward by Daniel Ellsberg, this important book government insiders whose loyalty to the Constitution ultimately transcended partisan politics.
Now available from Courage to Resist for a $20 donation.
"Talk about an organization that is really helping the men and women who are in our military. They are there when these men and women take their stands of conscience," says Col. Wright (ret.) of Courage to Resist