Good Morning CSA Members,
  Today, Wednesday August 24th is a CSA pick up.  Your share will be available for pick up from 4-7pm at your chosen pick-up location. 
    It's cloudy which can mean only one thing, my favorite time of year, Soup Season!
Edamame
Kale
Garlic
Cucumbers
Potatoes
Sweet Corn
Tomatoes
Peppers
Parsley
Fruit share: Peaches, Nectarines, and Plums
Egg Share: pick-up every week
Flower Share: Mixed Bouquet
Bread Share: next week
Coffee Share: next week
Wine & Cheese share: next week
Babette's: next week
Coming next week: tomatoes, greens, zucchini, eggplant, and more.....
      O me O my O edamame!  It is the little things in life such as our dear edamame that make the puzzle pieces fit together oh so nicely.  And sweet peppers let us not forget the peppers as they add the color to the plate and flavor to the palate. 
    Watching the clouds come in and stay in is truly a reminder of the change that is in the air.  The first yellow leaves sprinkling on the cottonwood and aspen trees also give you notice that soon you will have to wear a sweater. 
    Altogther the seasons give such a rhythm and tempo that it is easy to sleep in during these adagio mornings and yet the fire remains to awake and continue. To reap the harvest, water the greens and begin the beguine.
    Upward and Onward we march,
Enjoy!
Chili Lime Edamame

1 pound fresh edamame
1 tablespoon olive oil
2 cloves garlic, sliced
1 teaspoon ground Chipotle pepper
Juice from half a lime
Directions
Bring a pot of water to a boil. Add edamame and cook 4 minutes. Drain and use paper towels to pat edamame completely dry.
Heat oil in a large sauté pan over medium high heat. Add garlic and ground Chipotle pepper and cook, stirring constantly, until fragrant, about a minute. Add drained edamame and cook, tossing until edamame is evenly coated and heated through, 2-3 minutes.
Add lime juice and season with salt and pepper.
Cucumber Tomato Salad with Lemon Poppy Seed Viniagarette
1/4 cup fresh lemon juice
2 tablespoons granulated sugar
2 tablespoon extra light olive oil
1/2 tablespoon poppy seeds
1/2 tablespoon Dijon mustard
1/2 teaspoon minced garlic
1/4 teaspoon salt
1/4 teaspoon onion powder
2 cucumbers, cut into half coins
2 cups tomatoes, halved, or cubed
1/2 red onion, sliced thin
Directions
Combine lemon juice, sugar, olive oil, poppy seeds, mustard, garlic, salt, and onion powder in a large bowl. Whisk well until dressing is completely combined.
Add cucumbers, tomatoes, and onion to the bowl. Toss to combine.
Chill until ready to serve. Enjoy!
Marinated Flank Steak with Chimichuri

FOR THE TERIYAKI MARINADE
1 large flank steak
¾ cup soy sauce
¼ cup citrus juice (I have used orange juice, pineapple juice and a mixture of citrus juice)
4-5 cloves of garlic (chopped finely)
1 Tbsp of grated ginger 3 Tbsp brown sugar or honey

FOR THE CHIMICHURI SAUCE
1 large bunch cilantro
½ bunch parsley
3 garlic cloves
juice of 3 limes
1 tsp ground cumin
¼ tsp cayenne pepper
1 tsp salt
½ cup olive oil
Directions
Place everything in a ziplock bag and marinate the flank steak at least 4-5 hour or overnight is best.
Fill a blender or food processor with the cilantro and parsley. Then add the lime juice, garlic, cumin and cayenne, and salt.
While the blender is on, add the olive oil slowly. Blend until it is well pureed and somewhat smooth.
Heat your barbecue to medium-high heat. Wait for it to get nice and hot. So you can't hold your hand over the grill for more than a second.
Throw your steak on the grill and cook for 4 mins. Then turn slightly, a quarter turn, and cook for another 4 mins. This will get you beautiful criss-cross char marks on your steak. Then turn it over and do the same on the other side.
Take the steak off the grill and tent (cover) it with foil for at least 5 mins or up to 10 to let it rest and the juices redistribute.
With a sharp knife, slice the steak in thin slices against the grain.
Serve with more chimichuri sauce on the side. Enjoy!

 
     Brief History of Edamame.
 The earliest reliable evidence of consumption of edamame dates from 1275 AD in Japan (
Shurtleff and Aoyagi, 2009
). Year by year, varieties that were larger-seeded, smoother, sweeter or that had more interesting flavor (not to mention desirable field traits) were selected for replanting. Henry Yonge was the first documented person to plant soybean in what is now the US on his farm in Thunderbolt, Georgia in 1765 (Hymowitz and Harlan, 1983), though his crop was most likely a grain type soybean. The first reported use of "green vegetable soybean" in the US was in 1856, and in 1915 William Morse of the USDA wrote that they "compare favorably with the butter or lima bean." To address food scarcity issues in World War I, the USDA sent an envoy to China to investigate the soybean as a human food rich in protein and other nutrients. During USDA soybean collection missions from
1929 to 1931
, Morse and P.H. Dorsett were fascinated to discover many varieties of soybean "used as a green vegetable." They brought back about 100 varieties and planted them on the USDA's Arlington, Virginia farm. The best yielding varieties were sent to state agricultural experiment stations where they were
further tested
. Cooking and composition tests were also conducted and the new vegetable types were found to be "some of the most nutritious vegetables ever analyzed."
     Many of you have inquired if it is possible to add a wine and cheese share  Is this possible you may say?  But of course! 
    If you would like to add a wine and cheese selection beginning next week please let us know and we can get you what you need. 
Just email: cureorganicfarm@yahoo.com
Subject line:  I need wine and cheese!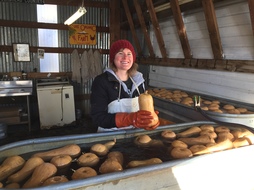 The beets are getting big, carrots are sprouting, and we're starting to see some winter squash! Here are some more details on our Winter CSA Share for 2016.
 Registration begins on Wednesday, September 7, 2016
Winter Share will begin on Wednesday, October 19, 2016 and continue for 8 weeks until December 7, 2016.
Pick-up will be Wednesdays from 3:00-6:30
The cost of the share is $200 ($25 per week)
     Winter Share offers both salad greens as well as cooking greens each week.  Other root crops like potatoes, carrots, beets, turnips, parsnips, radishes, leeks, onions, garlic and more.  Winter squashes and apples or pears are also included each week.
     The registration link will be available through our CSA newletter beginning September 7th. Please let us know if you have any other questions!
If it ain't broke don't fix it
The saintly Farmer John Ellis
Quinoa Skillet
1 tablespoon oil
1 onion, diced
1 lb ground pork
1 green bell pepper, diced
1 red bell pepper, diced
4 cloves garlic, minced
½ 7 oz can of pickled jalapeno, diced, optional (adds a bit of heat. Could also use pre diced green chilies, or diced fresh jalapeno)
1 tablespoon chili powder
2 teaspoons ground cumin
 3 ears boiled corn on the cob
1 (19 oz) can black beans, drained and rinsed
4 medium diced tomatoes
1 cup quinoa, cooked
Optional: diced avocado, shredded cheddar cheese, sour cream, for serving
Directions
Sauté onion in oil, over medium about 4-5 minutes.
Add turkey, cook until brown, about 5-7 minutes.
Add peppers, jalapenos and garlic, cook about 3 minutes.
Add corn, beans, tomatoes and spices. Add water if needed. Bring to boil, then lower heat and simmer about 25 minutes.
Add quinoa and serve.
Garnish with diced avocado, shredded cheddar cheese and sour cream, if desired.



Cure Organic Farm

7416 Valmont Rd.
Boulder, CO 80301
cureorganicfarm@yahoo.com
www.cureorganicfarm.com