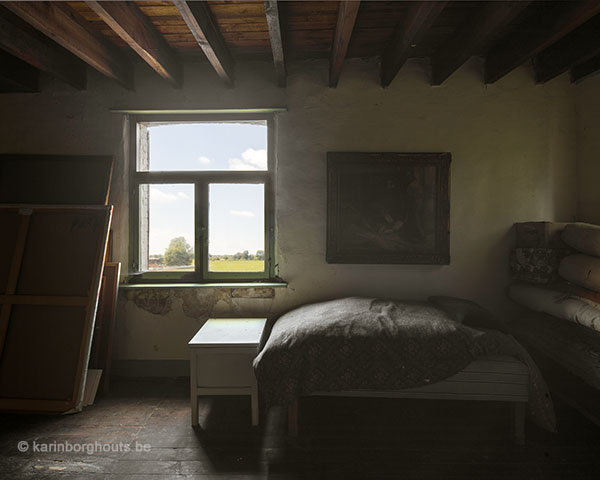 'A painter's house' 
© Karin Borghouts, 2017 - archival pigment print 100 x 125 cm

TRACES OF MEMORY
DUO EXHIBITION IN KNOKKE BELGIUM

Karin Borghouts photography

 

- Mieke Teirlinck paintings
Karin Borghouts shows a new series of photos: 'A painter's house'.
 After his death, the house of the painter Marten Melsen (1870-1947) was inhabited by his daughters. The sisters continued to live there until they were well into their eighties. They kept the house intact, as their father left it behind.The photos of these authentic interiors offer a view to a time that is not too far behind us, but yet has ended. Through her art painters education, and also due to a beautiful light, Karin Borghouts knows how to unveil this photogenic environment with a special and empathic sensitivity.
Karin Borghouts is an artist photographer best known for her series The house, photos of her burned parental house.
The recent paintings by Mieke Teirlinck depict a great sensitivity to traumatic memories.
October 27, 2018 - January 6, 2019
Open on Friday, Saturday and Sunday 2 - 6 pm

Opening on Saturday 27, 2-6 pm in the presence of the artists (during Art Knokke-Heist weekend).


Zeedijk 816 - Het Zoute

Belgium


A painter's house, photo © Karin Borghouts, 2017                     The appointment, oil on canvas © Mieke Teirlinck, 2017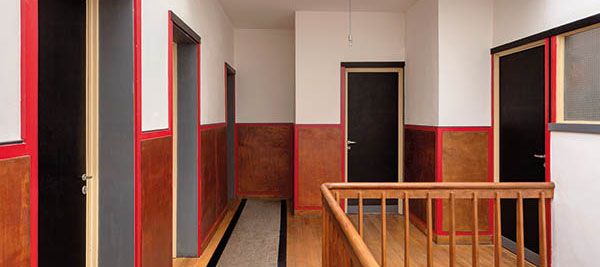 Interior house Huib Hoste in Knokke (detail), photo
© Karin Borghouts, 2018
EXHIBITION EXPERIMENTAL PHOTOGRAPHY
IN THE HOUSE HUIB HOSTE

The house De Beir is a modernist building designed by the Belgian architect Huib Hoste in 1924. It is situated in Knokke Belgium close to the Northsea. Gallery Ronny Van de Velde commissioned Karin Borghouts to photograph exterior and interiors and has organized four art exhibitions in the house during 2018.
The fourth and final exhibition shows Belgian experimental photography of, among others, Willy Kessels, Julien Coulommier, Serge Vandercam, Antoon Dries and Filip Tas, as well as visual work by other artists.
A richly illustrated, bilingual catalog with an essay by Xavier Canonne, director of the Photographiy Museum in Charleroi Belgium, will be published.
October 6 - December 16, 2018

Experimental photography in Belgium

Dumortierlaan 8 (hoek Mosselmansstraat)
8300 Knokke Belgium
Open fr-sat-sun 12- am - 6 pm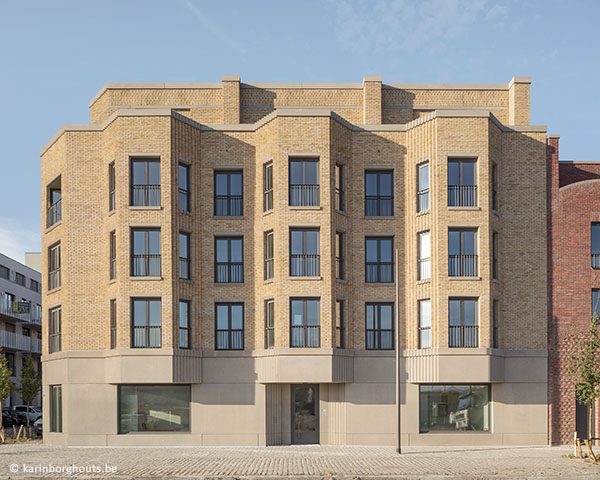 Cadix Antwerp, social housing by HappelCornelisseVerhoeven Architecten, photo
© Karin Borghouts, 2018
ARCHITECTURE PHOTOGRAPHY IN ANTWERP

Karin Borghouts photographed a social housing complex designed by HappelCornelisseVerhoeven Architecten (HCVA). North of the centre of Antwerp lies the former docks area of Cadix. The district developed in the 19th and early 20th centuries and consists of a heterogeneous block structure of warehouses, tenements and row housing. During the coming years all this will gradually be transformed into an urban live-work environment. Together with Stephen Taylor Architects, Happel Cornelisse Verhoeven designed two corner buildings containing a total of 60 dwellings, a car park and a child care centre for the client Woonhaven. 

Look here and here.
Missed a ZICHT?
View the archive here:

ZICHT

is a monthly newsletter of Belgian artist photographer Karin Borghouts.
She is working on her own projects and on commissioned assignments by museums, art
and heritage institutions, architects, publishers and city councils.
We respect your privacy and do not share or sell our mailinglist. We do not track you or record information about you.

We do enjoy keeping you informed of our exhibitions and our artist's news via email; however, if you do not want to receive these emails anymore, you can unsubscribe below at the bottom of the page.  
Subscribe to ZICHT on the homepage, scroll down.



2018 Copyright Karin Borghouts/SOFAM