To Unsubscribe: Please use the link at the bottom of this email if you would like to no longer receive our invites or need to change your information.  Thank you!

Another Very Special Fischer Haus Concerts Invitation to




(from Canada)


 

On Saturday March 16th, 2019




 
Details for this show are below.  Please RSVP if you plan to attend ~ Thank you!
The LYNNeS
Saturday March 16th, 2019

Gate opens at 6:30pm
(food service begins)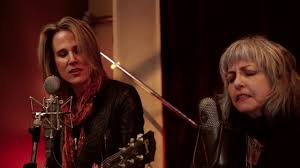 The LYNNeS
are Juno award winning songwriter
Lynn Miles
and award-winning songwriter
Lynne Hanson
. The two Canadian heartbreak poets are multi-instrumentalists (piano, acoustic, electric guitar, mandolin), fusing tight vocal harmonies with hauntingly gritty lyrics.  Individually they have toured North America and Europe, and their debut album Heartbreak Song For The Radio was released in 2018.  The album has been nominated for
5 Canadian Folk Music Awards
(Producer, English Songwriter, Ensemble, Vocal Group, Contemporary Album).
The LYNNeS are Canadian heartbreak poets Lynn Miles and Lynne Hanson. The two songwriters are not new to working together, having toured and written songs off and on over the past 10 years, and with Miles having produced two of Hanson's albums (River of Sand, 2014 and 7 Deadly Spins, 2015). For THE LYNNeS songs are what matter the most, and their debut album "Heartbreak Song For The Radio" pairs hauntingly gritty lyrics with tight vocal harmonies.  
The duo adopted an old school approach to recording their album, choosing to record to tape and recording all the bed tracks and many of the vocal and acoustic guitar parts live off the floor at Little Bullhorn Studio. Tracks like "Don't Look Down" and "Dark Waltz" showcase the unmistakable touch of Juno-award winning guitarist Kevin Breit (Norah Jones, KD Lang, Rosanne Cash). The infectious "Recipe for Disaster" highlights the songwriting duo's knack to craft a catchy melody and memorable lyrics, while the radio-friendly title track "Heartbreak For The Radio" begs for the listener to hit repeat. The athletic groove of the funky "Halfway To Happy" is a brilliant counterweight to the airy "Blue Tattoo," which would not be out of place on a Fleetwood Mac album.  
Each song on the album is a co-write, producing a truly collaborative effort, drawing on the strengths two Lynn(e), to create a sum greater than two individual parts.
is back serving up some of tastiest food this side of the River!
Sauce Y Mama's New Orleans Chicken & Sausage Gumbo
(A deep dark roux and rich chicken broth loaded with chicken & sausage, of course the blessed Trinity of veggies (bell pepper, oinon and celery).
Hearty with just a little Cajun kick of heat.
  Served with rice, salad and french bread ~ $10
Bread Pudding New Orleans style with Bourbon sauce ~ $4

2019 Haus Concert Line-up
OUR BASIC RULES AND POLICIES
All shows are considered private (you must RSVP) and on a Cash Door Donation (set by the Artist).  All who are attending are required to Check-In at the Front Gate or Merchandise Booth. Thank you!!

We are also:
Cash Only

BYOB -

Beverages


Food is available to purchase or can bring your own

 

Family Friendly

 

(children 16 and under free, also please ask the kiddo's to use their inside voices during the performances.) ~ Thank You!

No Dogs please - Service Dogs are welcome

Please RSVP if you are planning on attending a show

Camping available ~ (check ahead)


No Smoking in the Cantina first 2 rows or when sides are down

- OUTSIDE SMOKERS PLEASE USE BUTT CANS, DO NOT TOSS ON THE GROUND

Trash, recycles, etc. -

WE DO RECYCLE

- please put glass, plastic and cans in recycle bins not the trash cans

Tables and chairs will be setup in the Cantina (first come or can reserve a table for 6 (limited), You can bring outside chairs and seat cushions and/or blankets.  We will always make arrangements for reserved easy access seating for those who

have special needs. 

 




We typically have a Campfire Jam after an evening show, feel free to join in....  and burn ban is currently off! Please, no minors at the Campfire Jam unless prior approval is given.

PLEASE DO NOT FEED ANY OF OUR FARM ANIMALS

A HUGE Thank you from all of us volunteers....
"WE'RE ALL HERE 'CAUSE WE AINT ALL THERE" - FISCHER TX

Jan & Dennis - Hosts

Randy & Paul - Sound & lights

Biskit & Chris - Check-in
Bubba, Paul, Unkle Jimmy & Sue - Setup and ongoing maintenance
Mark & Linda- Parking/Check-in/Merch/Security

David and others who get y'all in those parking spacings

Special Thanks to all our volunteers and everyone else who has helped keep this lil Hill Country Haus Concerts going!