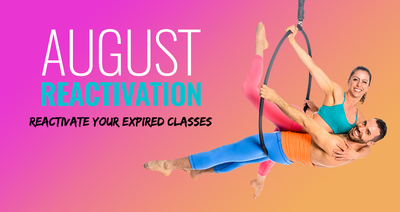 REACTIVATE YOUR EXPIRED CLASSES WITH A NEW CLASS PACKAGE PURCHASE THIS MONTH!
THE DETAILS:
1. Your new purchase must correspond to the package type you wish to reactivate.
Example: To reactivate a cross-training package, purchase cross-
training, to reactivate pole/aerial/flex, purchase pole/aerial/flex!
2. New purchase must be made in the month of August 2018
3. New purchase will add extension to any expired packages from August 2017 or later. Extensions will be as follows based on purchase:
- Purchase (New) 5 Class Package - 3 month extension
- Purchase (New) 10 Class Package - 4 month extension
- Purchase (New) 20 Class Package - 6 month extension
4. New purchase extends all covered expired classes (Example: 6 months with 20 class package purchase) from new purchase date.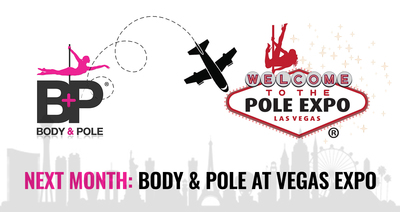 BODY & POLE WILL BE AT POLE EXPO!
WORKSHOPS
There is still space in the following signature Body & Pole workshops!
Pole Fluidity Open Level with Magnus Labbe
Friday, September 7th 12:45 - 2:00 PM
Pole Power Open Level with Sam Star
Saturday, September 8th 12:45 - 2:00 PM
Finding Your Freestyle with Tracee Kafer
Sunday, September 9th 12:45 - 2:00 PM
WANT AN INVITE TO THE 2ND ANNUAL B&P POOL PARTY?
Stop by the Body & Pole booth for an exclusive invite!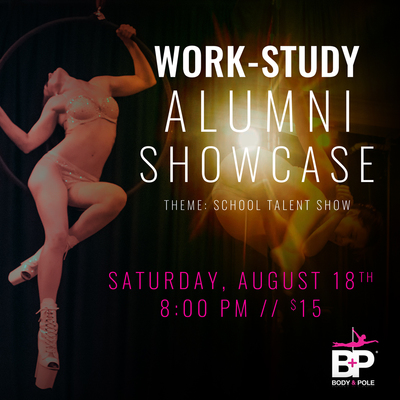 WORK-STUDY ALUMNI SHOWCASE
SHOW THEME: SCHOOL TALENT SHOW
SATURDAY, AUGUST 18TH
DOORS 7:30 PM / SHOW AT 8:00 PM
TICKETS: $15
Performers: 
Regina Armand, Elina Shams, Irmingard Mayer, Zhanna Nova, Glenda Peaton, Abigail Williams, Veronica Chou, Donna Carnow, Amanda Barnett and Stella Fink, Crystelle Reola
Come support your work-study alumni at this showcase at Body & Pole!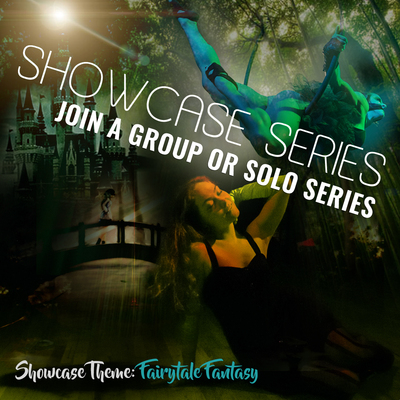 SHOWCASE THEME: FAIRYTALE FANTASY
JOIN A GROUP SERIES WITH SAM DOBLICK, KYRA JOHANNESEN, ELENA DELGADO, TYLER SHAQIRI, OR JESSI JAMZ
JOIN A SOLO SERIES WITH MATHIEU LEOPOLD, MAGNUS LABBE, AND BRENNA BRADBURY
This professionally-produced show (lights! cameras! seating!) will take place at Body & Pole on Saturday, October 13th. Consisting of multiple unique shows, each will highlight instructor-created work and student-created work!

It's a low-stress yet exciting way to show your friends and family all the skills and passion in your practice. And we offer a lot of ways to participate, from joining a group piece, working one-on-one with a coach, to submitting a piece!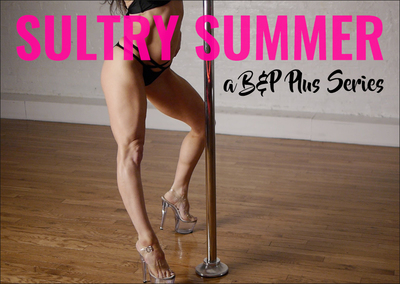 CHECK OUT THE FULL SULTRY SUMMER SERIES
We have absolutely loved offering these limited-run classes all Summer long for the Sultry Summer Series. Enjoy turning up the heat with classes like Low Flow Heels and Dangerous Curves in our final month!
AMIRAH
Our work-study of the month for July was Amirah! Consistently helpful, and friendly to all staff, Amirah is a truly positive presence in the studio. To show our appreciation, Amirah 
will receive a free private lesson with the instructor of her choice! Thank you for everything.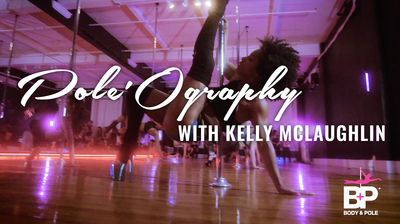 POLE'OGRAPHY WITH KELLY MCLAUGHLIN
& CHECK OUT THE WHOLE VIDEO SERIES!
We just posted up this HOT HEELS Pole'Ography piece from Kelly McLaughlin! Also on the blog this month is more videos of choreography from Kyra Johannesen and Armando Gonzalez.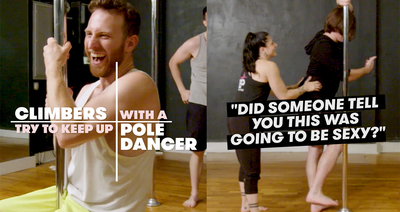 SAM STAR FEATURED ON SELF
ROCK CLIMBERS TRY TO KEEP UP WITH A POLE DANCER
Last month Body & Pole instructor and dept. manager Sam Star taught some rock climbers a pole dancing lesson at our studio! This video is amazing, and with over 100,000 views and counting, a definite must see.
NEW BODY & POLE ONLINE INSTRUCTORS:
ARMANDO, STELLA, IRMINGARD, AND ROZ
- PRACTICE ANYWHERE IN THE WORLD
- ONLY $19.99 A MONTH
- POLE & FLEXIBILITY TRAINING FOR ALL LEVELS

JESSI COLON - USA
Jessi joins Adira Amram & The Experience for the Tigers and Monkeys album release at the Littlefield in Brooklyn August 2nd. More info
HERE
. She also heads to Michigan this month to lead a Pole Level 1 ElevatED teacher training. @jessijamzzz
Irmingard visits Berlin on the 26th and Munich September 2nd for workshops and guest teaching. @irm212

TRACEE KAFER - NEW YORK
Tracee is bringing back the
FIND YOUR FREE
Retreat to New York's Hudson Valley this month! There are three spots left, and a discount available for current B&P students.
Contact her
for sign up info. @findingyourfreestyle
elevatED IS COMING TO TORONTO FOR A FLEXIBILITY TEACHER TRAINING!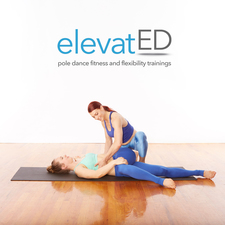 FLEXIBILITY TEACHER TRAINING SEPTEMBER 14-16 AT REDEFINE FITNESS IN TORONTO, CANADA
Want to incorporate Flexibility Training into your schedule or training regimen, but not confident about proper teaching technique? Frustrated or confused by conflicting views on how to stretch? Not sure how to prepare the body for deep flexibility work? Or just want to expand your movement vocabulary for flexibility class? Find the answers to all these questions with Lara Michaels in this training!
Additional info: Email wendy@elevateducation.com for details, discounts, and payment plans.
Thank you all for being such loyal students, and supporting us as we grow and evolve.
We are honored to teach you and help you learn, create, and transform.
You can retrieve classes that have expired, just by making a class package purchase this month? See left for details.