"In a society that worships love, freedom, and beauty, dance is sacred. It is a prayer for the future, a remembrance of the past and a joyful exclamation of thanks for the present."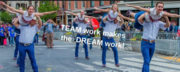 Non Profit Board of Directors:
Jerry Goldman (Chair)
Michelle DeBlasi
Nicola Creary
Shireen Dickson
David Leventhal
Greg Miller
Philip Ribolow
Steering Commitee:
Greg Miller, Executive Director
Henya Emmer, Parade Production
Janelle Issis, Parade Programming
Dori Garcia, Team Coordination
Darya Mars, Project Manager
Alan Wright, Grandstand
Gabriel Kutnik, Grandstand
Carlye Eckert, Education
Jamila Holman, Festival Production
Sherrell Whitmore, Festival
DJ McDonald, Curatorial
Jessii Parham, Team Coordination
Rebecca Myles, Media
Audrey Ross, Media
Doug Kowlessar, Finance
Nosa Omoregie, Finance
Natalya Grigoriev, Finance (CPA)
Brian Austin, Creative
Jason Parrish, Creative
Chauncey Dandridge, Social Media
Dori Garcia
Ali Coleman
Honorary Committee:
(Power Team & Grand Marshals)
Dr. Valerie Feit
Mahayana Landowne
Kevin Farley
Erik Bryan Slavin
Bill T. Jones
Baayork Lee
Louis Mofsie
DJ Dara
Camille A. Brown
Mickela Mallozzi
Rafael Espinal
Doc Martin
Maurice Hines
Frankie Bones
Mestre Joao Grande
Rosie Mendez
Garth Fagan
Kwikstep
Rokafella
Carmen de Lavallade
Robert Battle
Mary Verdi-Fletcher
Rekha Malhotra
Savion Glover
Jawolle Willa Jo Zollar
Hex Hector
Jacqulyn Buglisi
Baba Chuck Davis
Louie Vega
Ashley Tuttle
Elisa Monte
Bill Shannon
Trevor Hochman
Peter Zehren
Samir Bitar
Mel Alvarez
Jonathan Peters
Charles Reinhart
"Billy Elliot" (Joseph Harrington)
Kat Wildish
Amy Marshall
Jellybean Benitez
Elizabeth Zimmer
Ellenore Scott
Don Campbell "Campbellock"
Morocco (Carolina Varga Dinicu)
Luis Salgado
Luigi
Kool Herc
Danny Tenaglia
Djoniba Mouflet
Advisory Board:
Jeanne Fleming
David Katz
Teddie Kern
Anil Kumar
Joseph McElroy
Tasha Blank
Sponsorship Team:
Greg Miller
Lauren Williams
DJ McDonald
Nikki Creary
Phil Ribolow
Parade Production:
Henya Emmer (Production Lead)
Janelle Issis (Programming Lead)
Alan Wright 

Fitz

Disco Mike Park

Festival Production:
Jamila Holman (Production Lead)

Sherrell Whitmore (Assistant Lead)
Mona Freeman (Curatorial Chair)

DJ McDonald

Chinese Committee
Kate Xie (Co-Chair)

Justin Wei (Co-Chair)

Jie (Jessica) Feng
Yi Lu
Xie Zhu
Educational Outreach
Carlye Eckert (Chair)
Jacque Colburn
Shireen Dickson
Jamee Schliefer
Finance:
Doug Kowlessar (Chair)
Nosa Omoregie
JoAnne Bute
Natalya Grigoriev
Legal:
Victoria Behr
Carmen Casado
Jerry Goldman
David Leventhal
Paul Llewellyn
Kaye Scholer LLP
Marketing:
Greg Miller
Alan Wright
Media & Promotions Team:
Rebecca Myles
Audrey Ross
Nhadyr Reyes Cardenas
Chauncey Dandridge
Josef Pinlac
Ali Coleman
Nic Holler
Kevin Farley
Shiela Jamison
Special thanks:

·New York City Mayor Bill de Blasio
·NYS Governor Andrew Cuomo
·Manhattan Borough President Gale Brewer
·City Council Member Carolina Rivera
·NYC Cultural Affairs Commissioner
Tom Finkelpearl, Assistant Commissioner Kathleen Hughes and Program Officer Alana Dapena Fraiz
·Community Boards 2 and 3

·NYC & Co Foundation
·NYPD Lt Christopher Cheng and Sgt Patrick McGuire, 9th Precinct Det. Jaime Herandez
·NYC Department for the Aging
·New York State Council on the Arts
·Lower Manhattan Cultural Council
·NYC Parks & Recreation Director Claudia Pepe, District Supervisor Terese Flores, Deputy Director Venus Melo (Citywide)
·NYC Dept of Sanitation Superintendent Joseph Signoril
·NYC Dept of Transportation Event Coordinators Michael Callery, Ivory Henderson-Robb and G.I.S. / Events Coordinator Shuan Bruney
With Dance Parade six months away, we've launched our parade and festival registration and today are announcing our 2020 theme:"DANCE WITHOUT BORDERS!"

Highlighting our commitment to celebrate diversity, cultural equity and inclusion, we recognize that dance transcends borders. No border--whether defined by our age, capabilities of our bodies, politics, race, creed, gender, income or country--is needed for the artistry and passion found in dance.
As artists and art-lovers alike, we at Dance Parade continue our tradition to follow Thanksgiving by coming to together for the city's largest holiday festival, Winter's Eve, where we present multi-cultural dance on Monday December 2nd.
Then comes #GivingTuesday the following day and we're pleased to join the charitable community worldwide with our campaign to provide ten week dance residencies to schools and community centers throughout all five boroughs of New York City as well as parade scholarships to under-resourced groups.



Executive Director





 

 

 

 

 

Dancer: Director Greg Miller at the 13th Annual Dance Parade 5/18/19, photo by Totally Cool

®

Richard Renda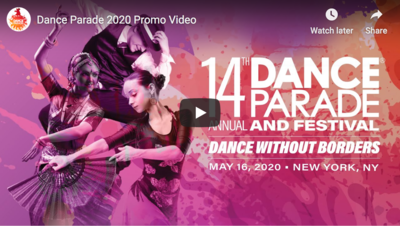 DANCE WITHOUT BORDERS is set to deliver New York CIty's largest dance event Saturday May 16th, showcasing over 100 unique styles of dance.  
The ribbon is cut at 1pm by our Grand Marshals on Broadway and 21st street, unleashing 10,000 dancers down through Union Square, University Place and across East 8th Street to our Grand Stand in Astor Plaza. Culminating at Avenue A, DanceFest runs from 3 to 7pm and caps the day off with five performance stages, dance teaser lessons and a dance party.

Come out to see Dance Parade's Multicultural dances at New York's largest holiday festival!
Winter's Eve at Lincoln Square features free entertainment, family fun, outdoor food tastings and more, and begins with the Upper West Side's tree lighting ceremony at Dante Park. The event takes place from 5:30pm - 9:00pm (rain or shine!) in public spaces, in select indoor venues and along the sidewalks of Lincoln Square, the gateway to the Upper West Side, from The Shops at Columbus Circle to 70th Street - in and around Broadway.
 













Dance Parade is a 501(c)3 non-profit supported by a passionate team of dance lovers. In this issue we put the team spotlight on Ali Coleman!




My current role with Dance Parade is helping to coordinate Sponsorship. For me, I've been involved coordinating the House Coalition along with Luis Vargas for 14 years and consider Dance Parade as the Super Bowl of all my events each year!  Having run an ad agency with a lot of nightlife industry contacts, I'm pyshced to join Dance Parade's Steering Committee, many of whom I've known for years.

What are you up to when you're not helping with Dance Parade?
I am a veteran NYC DJ, party organizer & promoter and Nightlife Advocate.




Mark your calendars and join the worldwide movement to pitch in toward our charitable programs.  Our Community Engagement programs provide schools, City Parks and Senior centers with 10-12 week residency programs. Particpants then culminate their programs by coming together to present their work in the May 16th Dance Parade and Festival!






At 
Dance
 Parade, we are grateful for every tax deductible donation no matter how small.
Make check payable to "

Dance

 Parade" and mail to: 455 FDR Drive, Suite B104, New York, NY 10002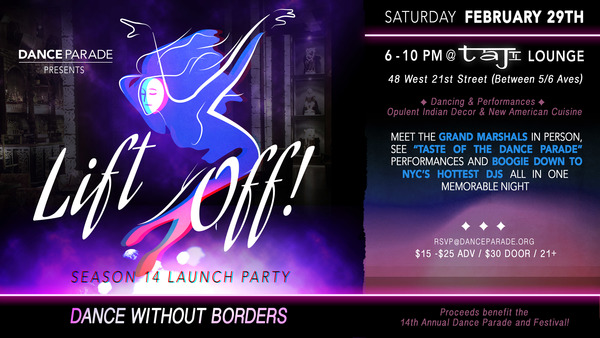 Feliz Noviembre! 

Con Dance Parade a seis meses de distancia, hemos lanzado nuestro desfile y el registro del festival y hoy anunciamos nuestro tema 2020: "DANCE WITHOUT BORDERS!" (BAILE SIN FRONTERAS!) Destacando nuestro compromiso por celebrar la diversidad, la equidad cultural y la inclusión; enfatizamos que no hay fronteras sea dada por nuestra edad o capacidades de nuestros cuerpos, política, raza, género, ingresos o país, es necesario para el arte y la pasión que se encuentra en la danza. 
Luego viene
#GivingTuesday
al día siguiente y nos complace unirnos a la comunidad caritativa en todo el mundo con nuestra campaña para proporcionar proyectos de baile de diez semanas a escuelas y centros comunitarios en los cinco condados de la ciudad de Nueva York, así como desfiles de becas para grupos de bajos recursos.



Executive Director





 

 

 

 

 

Dancer: Director Greg Miller at the 13th Annual Dance Parade 5/18/19, photo by Totally Cool

®

Richard Renda

 

 

 

 



距离舞蹈游行还有六个月的时间,我们已经开始了舞蹈游行和狂欢节节的报名,今天我们宣布了2020年的主题:"无边界之舞!"强调我们对庆祝多样性,文化平等和包容性的承诺,我们强调没有边界—-不管是由我们的年龄或身体能力,政治,种族,信条,性别,收入或国家/地区来定义的内容,这对于舞蹈中的艺术性和激情是必不可少的。
无论是艺术家还是艺术爱好者,我们在Dance Parade继续我们的传统,跟随感恩节,一起参加该市最大的节日-冬夜节,我们在12月2日星期一进行多元文化舞蹈表演和庆祝活动。   
然后是第二天的#GivingTuesday,我们很高兴与全球慈善团体一起参加我们的运动,为纽约市所有五个行政区的学校和社区中心提供十周的舞蹈表演,并为资源匮乏的团体提供巡回奖学金。



Executive Director 





 

 

 

 

 

Dancer: Director Greg Miller at the 13th Annual Dance Parade 5/18/19, photo by Totally Cool 

®

 Richard Renda

 

 

 

 



Dance Parade New York is a 501(c)3 Non-Profit Organization