Welcome to CMCA(UK)
Hello and welcome to the Summer 2019 CMCA(UK) newsletter. This quarterly newsletter provides a selection of the latest company news and achievements which we hope you will find of interest. If you would like to stay up to date with all CMCA(UK) related activities as they happen go to www.cmcauk.co.uk. You can also find us on Twitter and LinkedIn.
You can unsubscribe from this newsletter at any time by clicking UNSUBSCRIBE at the bottom of this email.
Sultanate of Oman visit to Worcester HQ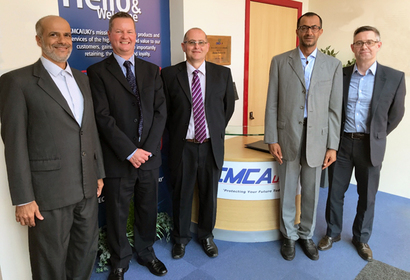 CMCA(UK)'s headquarters in Brindley Court recently played host to a delegation of senior visitors from the Omani government and the United Kingdom National Codification Bureau.
The UK Ministry of Defence has always enjoyed an excellent working relationship with their Omani counterparts and a bilateral framework exists between the two countries to share military knowledge and best practice. On this occasion, and in our capacity as the MOD's single source codification contractor, the purpose of the meeting was to explore opportunities for greater cooperation in the areas of codification training and knowledge transfer. We look forward to continuing our joint dialogue with the Omani National Codification Bureau and a reciprocal visit to Muscat is planned before the end of the year.
Pictured above: Representatives from CMCA(UK), the Sultanate of Oman Ministry of Defence and the UK National Codification Bureau at our premises in Brindley Court, Worcester.
Practicalities of Codification Training Course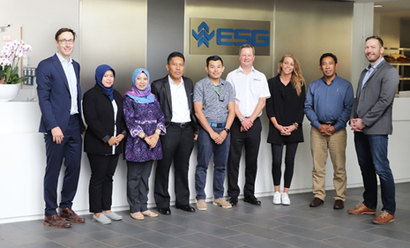 In July CMCA(UK)'s Head of Codification Services, Gary Harman spent a week delivering the annually presented "Practicalities of Codification" training course. The course was held at the Furstenfeldbruck offices of ESG Elektroniksystem- und Logistik GmbH, who are the provider of world leading codification software tool N-CORE.
The course was attended by National Codification Bureau and industry representatives from Germany, The Netherlands, Malaysia and Indonesia. Gary commented "it is always a very enjoyable week and the attendees benefit from learning skills and gaining vital codification knowledge that will greatly assist them in their day to day roles".
IIOM International Conference & Exhibition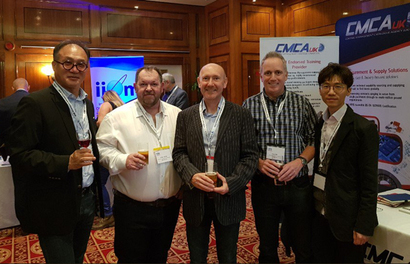 The Business Development team were back on the road in June for three superb days of the biennial IIOM Conference in London. From behind the doors of the Copthorne Tara Hotel Kensington, engineering professionals, subject matter experts and solution providers gathered for what was, to-date, one of the best attended conferences there has been. An agenda of informative presentations, open debate and discussions was punctuated with buffet lunches and coffee breaks providing great opportunities to network and engage with the customers of tomorrow.
CMCA(UK) welcomed friends both old and new to their stand, discussing our range of Obsolescence management Solutions, IIOM Accredited Training and REACH Regulations… roll-on 2021.
Three Counties Defence & Security Expo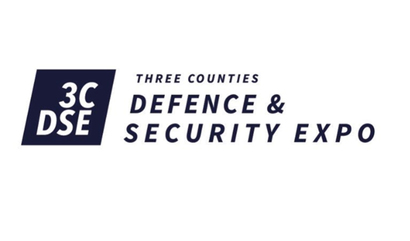 A great day of engagement was enjoyed by all at 3CDSE back in July.
Soaring temperatures welcomed delegates, guests and visitors alike to The Three Counties Defence Security Expo.
Held at the foot of Worcestershire's picturesque Malvern Hills, this relative newcomer to the defence exhibition circuit showed no signs of stage fright, hosting an excellent show, drawing in droves of exhibitors and customers.
Our Business Development Team were on hand in The Severn Hall throughout the day, discussing a range of topics to include, NATO Codification, Obsolescence Management, REACH Regulations and Implementation and Procurement Solutions.
It was a long day but a worthy one, at what appears to be quickly becoming a firm favourite amongst exhibitors and delegates on the events calendar.
May we take this opportunity to thank you for taking the time to read our newsletter. Please don't hesitate to contact us regarding any of our services or to see how we can help you. Contact our Business Development Manager Antony Elliott on; +44 (0)1905 458 307 or email

Antony.Elliott@cmcauk.co.uk

.
Date: Tuesday 1st October

CMCA(UK) is delighted to be exhibiting at this annual conference held by REACHReady and the Chemical Industries Association. This event features experts from both industry and government covering REACH related issues and Brexit implications on the regulation going forward.

Further details of this popular event can be found here.

In attendance from CMCA(UK) will be our REACH Subject Matter Expert Glenn Hill and newly appointed Senior Business Development Manager Andy Davis.

Obsolescence Management Training

As advertised during our previous Newsletters, CMCA(UK) hope to be holding our first IIOM endorsed training course between the 23rd and 25th September.

At the time of going to print, we have just had our endorsed trainer status confirmed by IIOM and the prospectus will soon be available on the website.

There has been a lot of interest already with a number of bookings already taken. If you'd like to reserve a place on the course, please give us a call or contact Antony.Elliott@cmcauk.co.uk.

CMCA(UK) is delighted to welcome Andy Davis as our new Senior Business Development Manager. Andy joins us after previously working for 17 years at Parker Hannifin as Market Development Leader, developing opportunities primarily within the Defence Industry. During this time, he gained a wealth of experience working with customers such as BAE Systems, Rheinmetall, General Dynamics and Krauss Maffei, working on a variety of projects and applications, from speculative enquiries to contract negotiation and award, predominantly in the land domain. Andy comments, "I am excited about joining CMCA(UK) and further developing my Business Development experience whilst broadening our market exposure."

Management Team Update

Readers of our newsletter might be interested to learn that we've introduced some changes to the roles performed by our senior management team. With effect from August 2019 Glenn Hill, as Head of Technical Services, will assume responsibility for the Obsolescence Management department as well as retaining control of the Long Term Storage, testing and REACH Management capabilities. Chris Green, our former Head of Obsolescence Management Services, has now taken on the role of Head of Business Development, with Andy Davis also joining 'the road squad' as Senior Business Development Manager.

Codification Roadshow, Abbey Wood

Back in May CMCA(UK) subject matter experts joined forces with their UKNCB colleagues to converge on Abbey Wood MoD, manning the stands of The Codification Roadshow.

Working their way through Neighbourhoods One to Four, Monday to Thursday, they enjoyed four busy days of interaction with various Project-Team (PT) members from across all services.

The Roadshow was designed to provide an opportunity for PT members to engage with CMCA(UK), the MoD's only supplier of NATO Codification and Codification subject matter experts, to provide clarity and advice on any issues or queries relating to codification within the UK and NATO Countries.

Supported by UKNCB the event was recognised as a great success and certainly one to repeat over the coming years.