In our previous newsletter, in August, we hinted that the publication of the new edition of 'East Coast Pilot' was imminent.
It has indeed now appeared on the bookshelves, after months of work on our part, not to mention the huge amount of effort that the great people at Imrays put into the layout of the book during preparation for printing. Our grateful thanks are also due to the local sailors who helped us a great deal along the way.
As with each of the previous editions, this book is not simply a recompilation; we aim with every new edition to visit every location covered by the book yet again, preferably by boat, check every minute detail again and take new photographs if we possibly can.
Sections get rewritten in the interests of greater clarity and detail, and an added bonus this time has been the availability of a host of new aerial photographs which add clarity to the layout of harbours and marinas. We hope these will help newcomers to feel more confident at visiting venues that are unfamiliar to them.
One of these new aerial photos was chosen by Imrays for the front cover, and has already caused a stir in my own club because it's perhaps slightly off the normal beaten track for East Coast cruisers.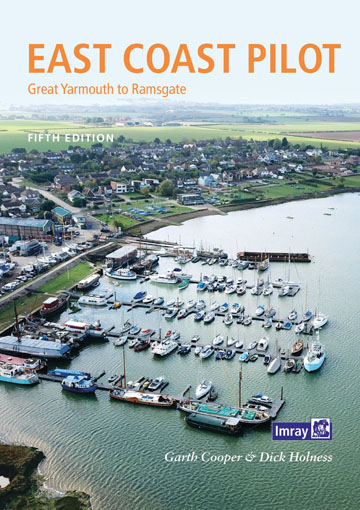 The book is already listed at some online booksellers, and of course should be available at your local chandlers and will also be at stands such as ChartCo at the Southampton Boat Show. Alternatively you can get a copy from the source, Imrays.
If you haven't upgraded with each new edition we hope that you will choose this one to get yourself up to date - there have been literally thousands of changes of detail since that pioneering First Edition 14 years ago. With the publication of the 5th, new amendments to the 4th will now cease although the full listing will be available on our website for a few more weeks.
We hope you will enjoy our new offering and that it will quickly establish itself on board as you cruise our wonderful East Coast.
East Coast Pilot.
Follow us on Twitter....at @eastcoastpilot
Header photo: Lake Lothing, Lowestoft, from the air.
If you no longer wish to receive our newsletters you can
unsubscribe using the link below.